Max Verstappen crashes in Q1 and will start Monaco GP from pit lane
Dutchman into the swimming pool barriers after "driver error"
By Matt Morlidge
Last Updated: 29/05/16 12:18pm
Max Verstappen went from hero to zero at the Monaco GP after crashing his Red Bull at the swimming pool chicane in Q1.
In his first qualifying session since his record-breaking debut victory in the RB12 in Spain, Verstappen clipped the barrier on his way into the corner - with the kerb then diverting him into the wall.
Debris flew off his Red Bull but the Dutchman was unharmed despite the heavy impact, as Q1 was momentarily red flagged.
Qualifying report: Ricciardo on pole, Lewis third
Verstappen had yet to set a competitive flying lap in the session and will start Sunday's race from the pit lane, making his chances of any points incredibly difficult on the narrow Monte Carlo streets.
"I'm ok," Verstappen said via team radio, while Sky F1's Martin Brundle admitted the crash was "driver error". The teenager will join Felipe Nasr from the pits after the Sauber driver's engine blow-up at the start of Q1.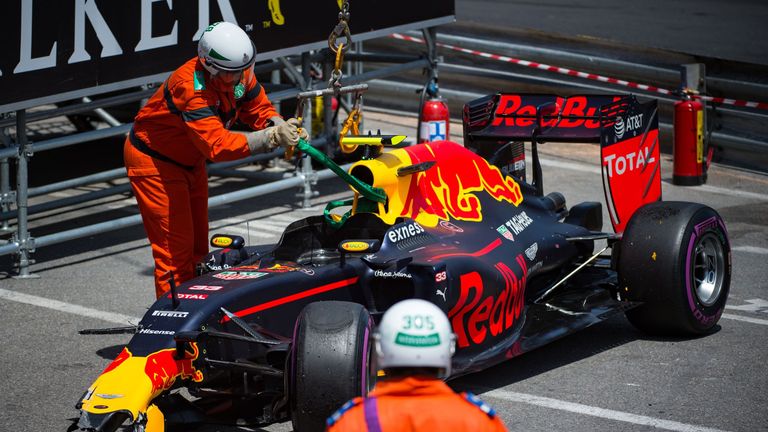 "I turned in a bit too early so I clipped the wall and broke the suspension as I hit the wall," Verstappen added on Sky Sports F1.
"I felt quite good, I felt confident on my push lap. Car balance was good, it was all coming together but into the chicane I underestimated the grip I had. I turned in too early and it was all wrong.
"Hopefully the weather will help tomorrow but if you start 21st, it's going to be difficult."
Verstappen's woes will be all the more frustrating from him given the Red Bull's pace, with team-mate Daniel Ricciardo going on to secure a stunning pole position.
"It's desperately unlucky on his first lap," said team principal Christian Horner. "It's a reminder in this sport of how fine the margins are. We'll be expecting something a bit special from him tomorrow."
Verstappen, competing in his second Monaco GP, crashed in last year's race at St Devote while he also clipped the wall at Massinet during P3.
Watch the Monaco GP live on Sky Sports F1. The race starts at 1pm on Sunday, with build-up underway at 11.30am. Or watch the race without a contract for £6.99 on NOW TV.