Max Verstappen now has better understanding of F1 driving standards, says Jenson Button
Verstappen's defence of position from Raikkonen in Hungary raised in drivers' meeting at Hockenheim; Whiting reveals stewards ruled driving "firm but fair" after no penalty given
By James Galloway at Hockenheim
Last Updated: 01/08/16 3:40pm
Jenson Button believes Max Verstappen now "understands a little bit better" the defensive driving acceptable in F1 after Friday's drivers' briefing at Hockenheim.
Verstappen's defence of position against Ferrari's Kimi Raikkonen in last Sunday's Hungarian GP had proved a talking point with Button among several drivers on Thursday to echo the Finn's view that the Red Bull teenager had moved too often in braking zones.
The matter was raised in Friday's regular driver meeting in Germany and Button told Sky Sports News HQ: "I don't want to talk about what we talk about in drivers' briefing, but I'm sure he understands a little bit better now than before."
Toro Rosso's Carlos Sainz divulged more detail of the drivers' discussion and now expects the FIA to take a harder-line approach on such defensive tactics.
"All the drivers agreed that moving under braking is probably the most dangerous thing you can do and now the FIA should take it a bit more seriously," Sainz told reporters.
"I've done it previously and I know it's dangerous and I didn't get a penalty. I accept it, but now it's getting to a point where every driver is using it maybe a bit too much to defend a position."
Practice Two report: Rosberg doubles up 
Despite the subsequent criticism of his driving, stewards in Hungary had not actually penalised Verstappen and, speaking before Friday's meeting, the Dutchman was adamant his driving had not been over the top.
"I don't need to defend myself," he told SSNHQ. "I'm confident I did nothing wrong."
In a briefing with journalists, FIA race director Charlie Whiting confirmed he had referred the incidents with Raikkonen to the stewards both during and after last Sunday's race.
However, they decided no investigation was warranted as the moves, while "robust", were ultimately "firm but fair".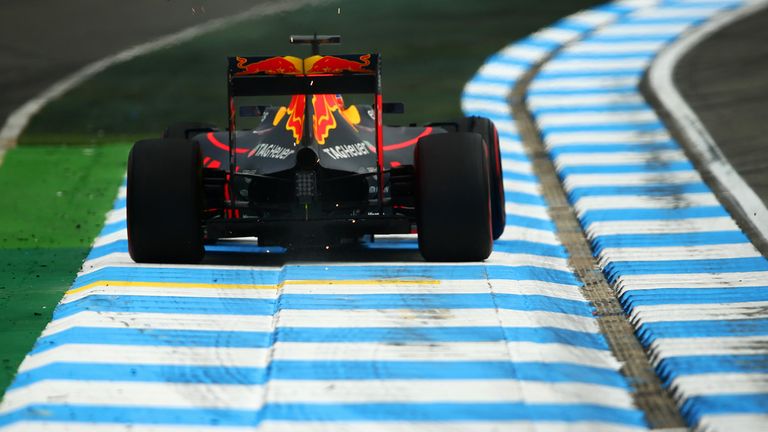 "A lot of people, including the teams concerned, felt that Max had moved more than once to defend his position, but we don't believe he did," Whiting said.
"There's no actual rule about moving in the braking zone, although it's a fairly undesirable thing according to most drivers. Obviously we will discuss it later [in the drivers' meeting].
"I think it was on the edge of being fair. I asked the stewards to look at both incidents during the race and then I asked them to review them again after the race. But they felt it was firm but fair. 'Robust defence' I think was the judgement used."