Max Verstappen sets new record for overtaking in 2016
Teenager's total of 78 most recorded since data was first available in 1983; Vettel overtaken just once; Passing moves increase
By Matt Morlidge
Last Updated: 15/12/16 3:38pm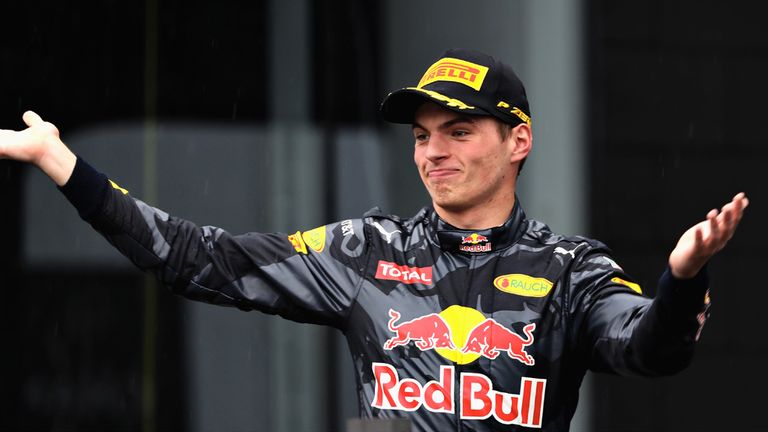 Max Verstappen completed the most overtakes in a Formula 1 season for the second year running in 2016, setting a new record in the process.
Verstappen's 78 overtakes over the course of the 21-race campaign - as calculated by F1 tyre supplier Pirelli - is the highest value recorded since the data was first available more than 30 years ago.
The teenager, whose dream 2016 included a first Formula 1 win on his debut for Red Bull following a mid-season promotion, completed 18 overtakes for Toro Rosso and 60 for Red Bull - averaging 3.7 per race.
Unsurprisingly, Red Bull made more overtakes stick than any other team, with Verstappen's team-mate Daniel Ricciardo finishing with 61 and Daniil Kvyat, who was replaced four races into the campaign, 15.
Overtaking as a whole was on the up in 2016, too, with 866 moves completed over the season at an average of 41.2 per race. That compares to 509 last year and 636 in 2014, though there were less races and cars in both those seasons.
Pirelli claim that overtakes are only counted if they take place 'during complete flying laps (so not on the opening lap) and maintained all the way to the lap's finish line', and that 'position changes due to major mechanical problems or lapping/unlapping are not counted'.
In other statistics released, Ferrari's Sebastian Vettel was remarkably passed only once throughout the campaign, and that was by Verstappen in a Brazilian GP which produced the most overtakes for a wet race with 68.
It was the Chinese GP which had the highest number of overtaking manoeuvres in the dry with 128, and Lewis Hamilton's 18 passes in Shanghai were the most recorded in a single race. The Brit rose from 22nd on the grid to finish seventh.
Mercedes enjoyed another dominant season, winning 19 of the 21 races, and were indeed the team who were overtaken the least. World champion Nico Rosberg was passed four times, and Hamilton three.
Fernando Alonso, meanwhile, was the driver who made up most places on the opening lap having gained 41 positions off the grid for McLaren.
Other records broken during the 2016 season included Valtteri Bottas setting the highest speed on a Pirelli tyre in an official F1 session, having reached 372.5km/h at the Mexican GP.