2015 Mexican GP preview
Everything you need to know about this weekend's race!
Last Updated: 02/11/15 11:17am
F1 is heading back to Mexico for the first time since 1992 at a revamped Autodromo Hermanos Rodriguez.
The track has been modified extensively for F1's return to Mexico City, with perhaps the most famous corner, the Peraltada - a long, banked right hander that finished the lap - no more and replaced by a stadium section through a baseball ground.
So read on below as Sky Sports provide your one-stop shop for everything you need to know about the grand prix weekend.
The 2015 Mexican GP in a nutshell
Track: Autodromo Hermanos Rodriguez. Permanent circuit.
Race start time: 7pm UK time Sunday (1pm local).
Laps: 71.
Track length: 4.304  km.
Tyre allocation: Yellow (soft) and medium (white).
DRS Zones: Two with one detection point (pit-straight and between turns three and four).
Driver steward: Mark Blundell.
Lap record: N/A.
2014 pole: N/A.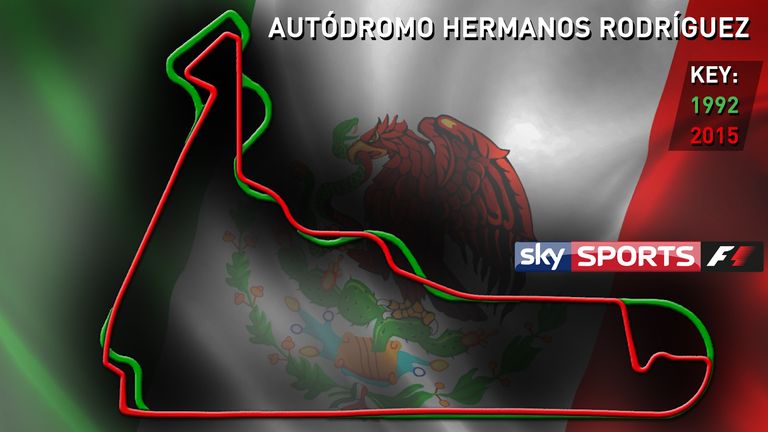 Sky Sports F1's schedule
Thursday October 29
5pm - Drivers' Press Conference - Live!
Fernando Alonso (McLaren), Lewis Hamilton (Mercedes), Pastor Maldonado (Lotus), Sergio Perez (Force India), Carlos Sainz (Toro Rosso), Will Stevens (Manor).
1pm - Paddock Uncut
Friday October 30
3:45pm - Mexican GP Practice One - Live!
7:45pm - Mexican GP Practice Two - Live!
10pm - Team Principals' Press Conference - Live!
Yasuhisa Arai (Honda), Maurizio Arrivabene (Ferrari), Robert Fernley (Force India), Claire Williams (Williams), Toto Wolff (Mercedes)
Midnight - The F1 Show - Live!
Saturday October 31
3:45pm - Mexican GP Practice Three - Live!
6pm - Mexican GP Qualifying - Live!
11:25pm - Ted's Qualifying Notebook.
Sunday November 1
5:30pm - The 2015 Mexican GP - Track Parade - Live!
6pm - The 2015 Mexican GP - Pit lane - Live!
6:30pm - The 2015 Mexican GP - Race - Live!
9:30pm - The 2015 Mexican GP - Paddock Live!
Monday November 2
12:45am - Ted's Race Notebook.
Form guide
With no Mexican GP since 1992, none of the current F1 drivers have a history with the race. Nigel Mansell, Alain Prost and Jim Clark have all won the Mexican GP on two occasions, with Clark adding a third win at non-championship race in 1962.
Last five winners in Mexico:1992: Nigel Mansell (Williams); 1991: Riccardo Patrese (Williams); 1990: Alain Prost (Ferrari); 1989: Ayrton Senna (McLaren); 1988: Alain Prost (McLaren).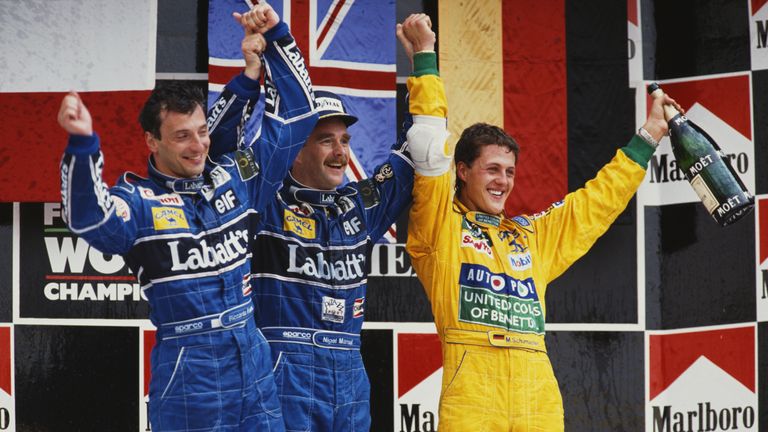 Tyre allocation
Pirelli will bring the yellow-marked soft and the white-banded medium tyres to Mexico.
"Nominating the compounds for a new track is not without its challenges, but simulation - one of the most important areas of growth in Formula 1 technology recently - is very accurate now, although it's inevitable that we would incline towards a more conservative choice during the first year at a new track," said Pirelli's Paul Hembery.
"As always, we are still aiming for two pit stops at the Mexican Grand Prix, but the uncertain weather that is affecting a large part of North America during the next week or so will clearly have a big influence.
"The track has been designed with overtaking in mind, so together with the different options for strategy that will become clearer during a very important free practice day on Friday, there is clear potential for an entertaining race that allows drivers to move up through the field."
Sky Bet odds
Newly crowned world champion Lewis Hamilton is favourite for the race victory with Sky Bet. Check out the latest full range of race and title odds here.