Why F1's complexity can be transformed by the sound of silence
Sky F1's Mark Hughes explains the intricate balancing acts driving Sunday's Canadian GP - and then ponders what sort of race it would have been if only the drivers had to manage it for themselves...
Last Updated: 11/06/15 9:17am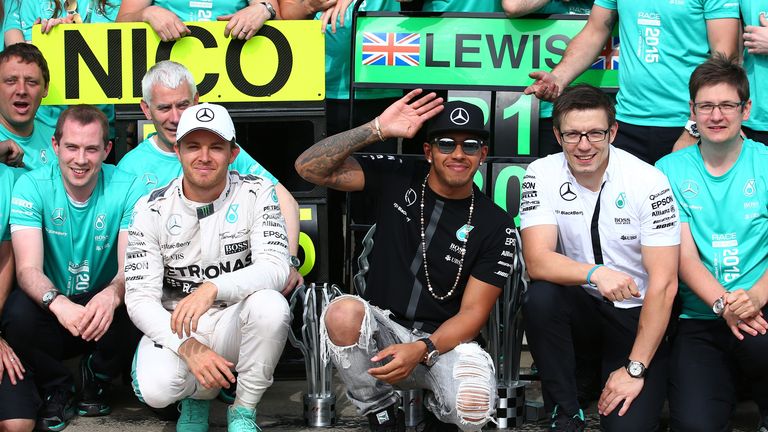 Lewis Hamilton was using less fuel than Nico Rosberg at Montreal, but it was Hamilton who was having to conserve more, regularly backing off and being instructed to lift and coast in the last few laps.
So if Hamilton was using less - as confirmed by the FOM readings shown on-screen at regular intervals - but was closer to running out, it can only be because he was fuelled lighter to begin with.
Despite Montreal featuring one of the heaviest fuel demands on the calendar, Mercedes had elected not to fill him with all the permitted 100kg allocation.
Partly it would be because the probability of a Safety Car - when fuel consumption can be reduced by up to 60% - around Montreal was high. Partly it was because Mercedes expected to run an efficient race from the front, unencumbered by having to dice with other cars. But partly it was just a reflection of how F1 teams today run their races. It is generally faster to fuel light and rein-in the pace as required than it is to use a higher fuel load to run all-out.
It is also generally faster to have brake cooling that verges on marginal and to back off just enough to keep the brakes from overheating than to have fully adequate cooling that would allow you to push harder but which would cost aerodynamic performance.
As an order of magnitude example, a car starting with just 95kg would initially be around 0.15 seconds per lap quicker than one which began with the full 100kg because of the reduced weight. Braking, acceleration and grip would all be increased - by a tiny but significant amount. That advantage would gradually diminish as each lap passed by and the fuel was used up - until at the end, the fuel load would be the same for the two cars. That lighter car's advantage would average out to a race distance theoretically around five seconds faster. But there's obviously only so far you can go in reducing the fuel load until you arrive at a point where the engine no longer has enough to complete the distance. So the driver has to economise during parts of the race - both with fuel maps and driving technique. So long as he does not cost himself more than five seconds over a race distance doing these things, then the under-fuelled car will remain faster over a race distance. 
A similar process unfolds when doing the comparison between a car with fully adequate brake cooling and one with cooling ducts that are perhaps 5% smaller. The car with the under-cooled brakes will be in the order 0.1s per lap faster because the downforce produced by the front wing is less compromised by the ducts. Over a 70-lap race, this would nominally be worth seven seconds - but of course, not all of that is accessible because the driver will need to manage his brake temperatures more. But so long as his brake-saving techniques cost less than seven seconds over the distance, then it's overall a faster way of running the race. And if he's having to lift off to save fuel anyway, then this brake saving effectively comes for free.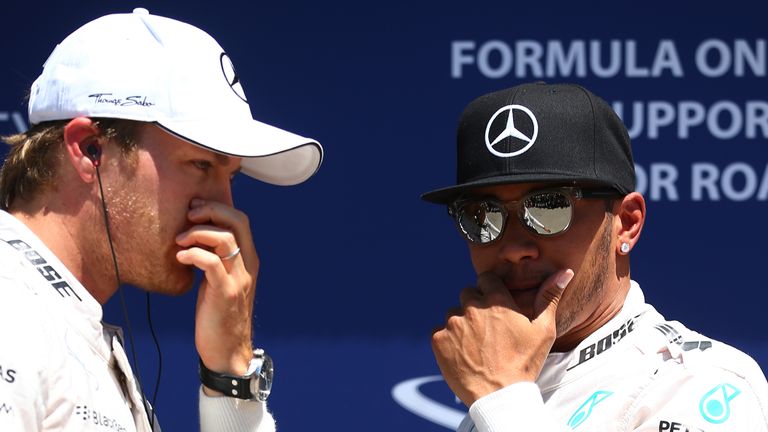 But these are tiny margins and for such an approach to work obviously demands that the team is monitoring the consumables and instructing the driver accordingly. This was largely responsible for Sunday's race being so uneventful despite a track that inflicts the heaviest fuel consumption and brake wear on the calendar.
Imagine how the race might have panned out had all the crucial decisions been left to the drivers. They would have nowhere near as much detail available to them on fuel usage and brake wear, nor of tyre temperatures and other vital data. They would each just have to feel for how it was panning out for them and judge their pace accordingly - and of when to push and when to conserve. They would invariably each do it in a different way and there would be much more ebb and flow variation in pace between them. It would add greater texture to the race.
Fernando Alonso was heard railing against the data-managed way of conducting his race. Frustrated by the slow pace this was imposing on his McLaren, he wanted to push beyond his fuel allocation for at least a time in order not to 'look like amateurs' and worry about the fuel later. As it happened, the car broke before it had a chance to run out of fuel.
But as the future format of the sport comes under scrutiny, the one thing that is not being widely discussed is taking the teams out of the equation once the start lights have gone out - and leaving it all to the drivers.
It's time this was put back close to the top of the agenda.   
MH
Don't miss the F1 Midweek Report for all the analysis of the Canadian GP. Former F1 driver Mark Blundell and F1 tech expert Craig Scarborough join Natalie Pinkham in the studio. Catch it at 8:30pm on Wednesday June 10 on Sky Sports F1.