Why Romain Grosjean is still seriously under-rated in F1
Sky F1's Mark Hughes says Spa gave Frenchman the chance to remind the world once again just what he is capable of
Last Updated: 27/08/15 9:40am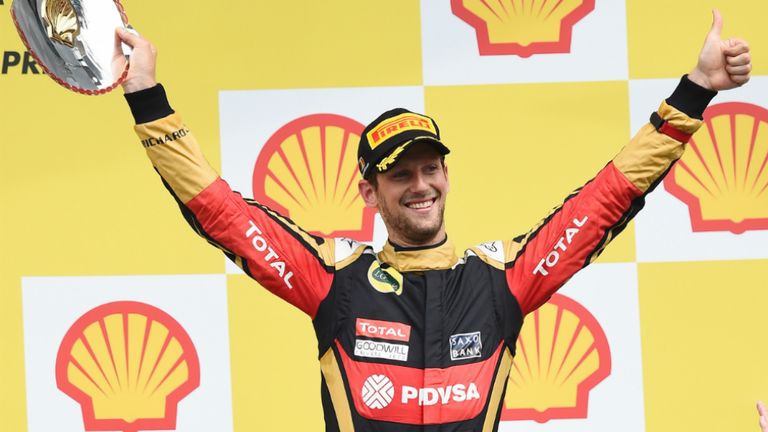 The last time I wrote a column for Sky Sports about Romain Grosjean it was 2012 and he'd just been banned for a race for the latest in a sequence of incidents – he'd caused a scary-looking first lap accident at Spa that took out also Lewis Hamilton and Fernando Alonso.
Mention that time to him now and he breaks out into his characteristic beaming grin: "Yes, every time I take a start here in Spa, everyone remembers that time. It was a bit of a tough time for me, but on the other side it helped me be who I am today."
But whilst everyone is quick to recall the driver who'd had so many incidents through 2012 and the tag of 'first lap nutcase' given him by an irate Mark Webber, ironically they have been quick to forget what a very fine driver he had developed into by the latter half of 2013.
"People are asking was I surprised by Romain's performance here," said Lotus' engineering chief Alan Permane after Grosjean had finished a terrific third at Spa, "but of course I wasn't. It's only two years ago, when we had a more competitive car, that he was delivering drives like this week in, week out."
Indeed, in the second half of 2013, he was the only man consistently challenging Sebastian Vettel's dominant Red Bull, the only driver actually threatening to deprive him of the odd victory on merit. At both the Nurburgring and Suzuka, he had Vettel under big pressure – in a Lotus that, whilst good, was no Red Bull.
In that period, he was the one driver out there transcending the level of his car. He'd retained his earlier, sometimes breath-taking commitment in the car – witness his stunning around-the-outside pass of Felipe Massa at the Hungaroring's fast and blind exit turn four – but with the judgement and consistency previously lacking.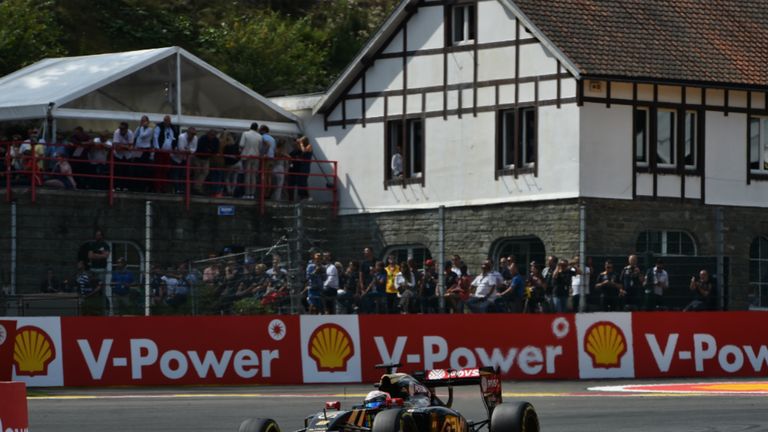 But with the evacuation of top technical staff from the financially-beleaguered team, Lotus produced a dire 2014 car. Just as Grosjean's career had been on the point of take-off, it was pulled up short. In such a car there was nothing any driver could have done to get himself noticed – even though he was doing a job every bit as good as before.
"As a racing driver in general, every time we start a race the idea is to try to win it," he said on Sunday. "You know what you have in your hands and you know that sometimes it is not possible but as long as you do everything with 100 per cent of your performance you can fly home in the evening being proud of what you did. That's what I want to achieve. Sometimes there's been times in the past year where you score one point or two points and it has been an incredible performance, probably you can't see it on TV because it's hidden by the fact that the car is not as good – but every time I'm in the car it's to give my best."
Given that his level could no longer be demonstrated at the front of the field, the only possible external gauge of his performance was how he fared against his team-mate. Pastor Maldonado has many flaws as an F1 driver but the raw speed of the 2012 Spanish GP winner has never been in question. Last year Grosjean out-qualified him 15 times to four. The 2015 qualifying score between them currently stands at 10-1 in Grosjean's favour. These are extraordinary – and highly unusual – numbers in the closely competitive world of F1 and reflect the simple fact that Grosjean is an extraordinarily good F1 driver, one who is still seriously under-rated.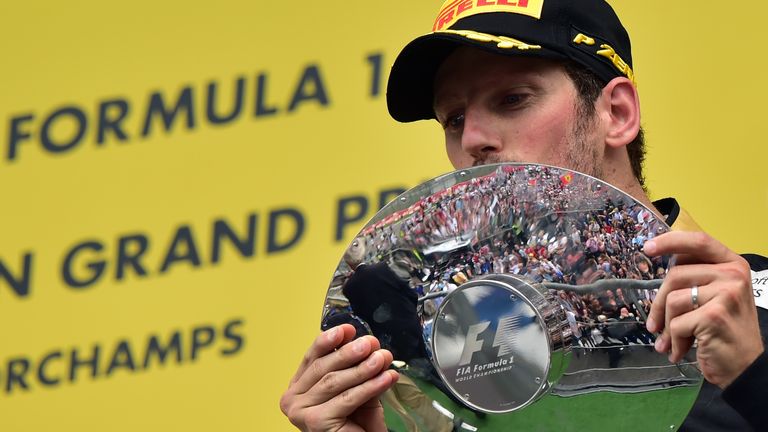 The 2015 Lotus E23, whilst a big improvement on last year's flawed twin-tusk E22, is still no better than average in reality. In fact the biggest improvement from last year has undoubtedly been exchanging Renault power for Mercedes. At Spa, the value of the Mercedes' power advantage over the Ferrari and Renault units brought the E23 up from its usual lower Q3/upper Q2 midfield level.
That and the demands Spa makes upon the drivers allowed Grosjean to remind the world once again just what he is capable of. Fourth fastest in qualifying flattered the car (subsequently disguised by his gearbox change grid penalty) but he proved it all over again on Sunday – and in circumstances, with the bailiffs technically having impounded the Lotuses, that lent a fairytale quality to his place on the podium.
But the greatness of the driver Romain Grosjean is no fairytale. Here is a potential world champion raging against the possibility that his career will fall through the cracks and demanding to be noticed.
MH