Formula 1 Reporter & Columnist
Rachel's Diary: Watching and waiting at an eventful Russian GP
Sky Sports' Rachel Brookes with tales from Sochi of unusual service, conspiracy theories, and drivers' emotions on display in 'The Pen'
Last Updated: 05/05/16 2:59pm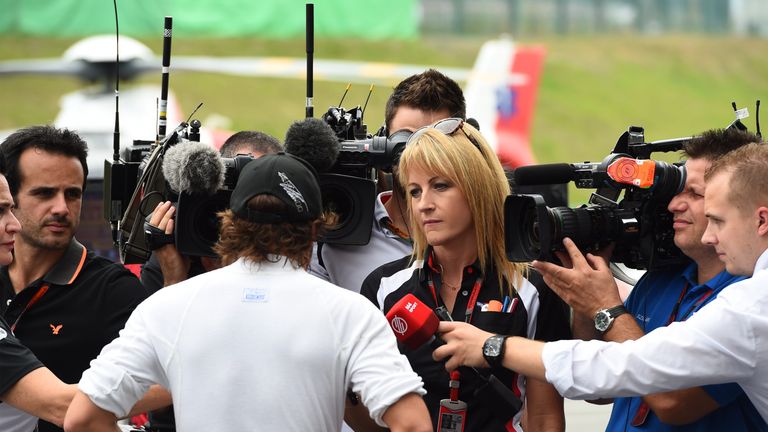 If you search for scheduled flights from London to Sochi, you will struggle to find one that takes less than nine hours.
They make one stop en route and it is usually an overnight journey too. That is why on a chilly April morning, much of the Formula 1 paddock descended on Gatwick's South Terminal to board a charter flight which would fly directly to Sochi in just over four hours.
Our plane included team principals, press officers, engineers and even a couple of drivers - although a large number of the drivers chose to share a private jet from Nice to Sochi instead. Can't think why?!
As I mentioned in last year's diary, we stay in what was the athletes' accommodation during the 2014 Winter Olympic Games. It feels like a university Halls of Residence, without the communal kitchen and late-night parties.
I am not sure what actually happens when the Formula 1 is not there, as even on the night we arrived, the restaurants on site decided to remain closed. Instead, being the creatures of habit that we are, we ventured to a large hotel about a 15-minute walk away for dinner in their Italian restaurant just as we did last year.
I mentioned the service in Russia before and this year, although it was definitely quicker, there were still moments of surprise.
For example, one of our friends that night found his tiramisu arrived before his main course, and he wasn't even sure he had actually ordered a dessert! While for Crofty, his main course arrived at the same time as the post-meal coffees.
It adds to the experience and you know it's going to happen, so my advice is eat whatever you can, whenever it turns up, and you'll be fine.
As in previous years, there were plenty of drivers also dining in the restaurant that night. At the table behind was Dani Kvyat and his father. He had been to the bobsled track with Simon Lazenby that day and was showing us photos of Simon in his Lycra.
You will have seen the finished piece on our race show by now and after Crofty in a wetsuit on a jet ski, I am not sure how Damon and Johnny can top them... and I am not convinced we want them to!
The Sochi paddock is fairly narrow and shaded by relatively tall buildings on both sides so there is always a breeze and it feels colder than elsewhere around the circuit. It makes it more difficult to gauge the temperatures out on track and, despite good forecasts, we all found it colder than expected. The race used to be in October but April didn't seem to provide any more heat than six months earlier had.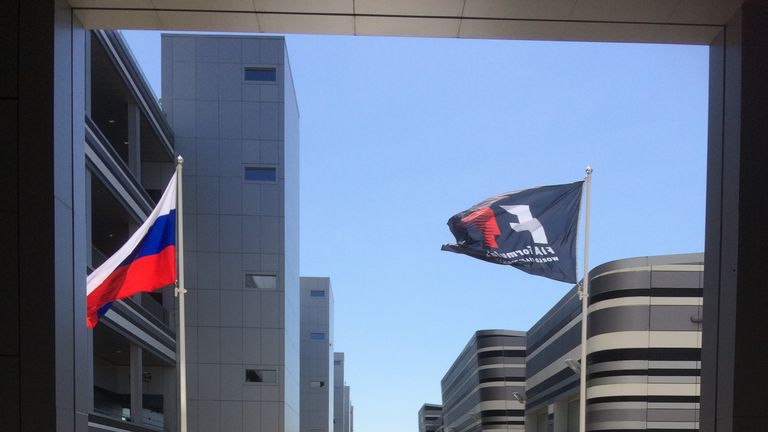 On Thursday evening, we ventured out to another hotel nearby, again in search of food (I am detecting a theme here...) and this time, it was the hotel that some of the other teams stay in.
In a corner of the restaurant, Nico Rosberg was having dinner with his manager and his trainer, as he would do on Saturday night too before flying his drone in the table tennis room next door!
On Friday morning, my alarm was set for 5.30am as I was having breakfast with Rio Haryanto for Facebook Live. We are hoping to do lots more of these this season where you just join the Sky Sports F1 Facebook page and we will do live interviews with drivers for you to watch and submit questions to in real time and get an instant response.
Unfortunately for Rio, our site canteen didn't make for the most salubrious backdrop! After the chat, it was time to walk over to the paddock for Friday practice.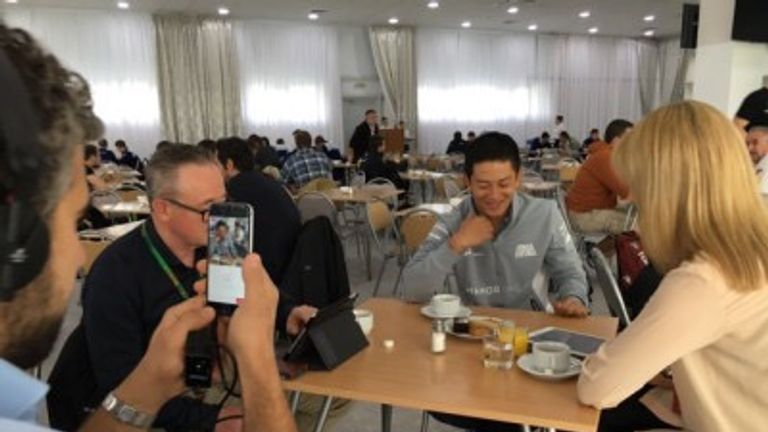 We saw the Red Bull 'aero screen' for the first time this weekend. Daniel Ricciardo took it out for a single lap of the Sochi circuit and while some found it aesthetically more pleasing than the Ferrari halo device seen in winter testing, the drivers gave me mixed reactions to it.
There seems to be a divide on the real need for it at all, with many of the younger drivers in the grid not wanting any device at all, while some of the older drivers are keen for it to be brought in as early as next year. Verdict? The jury's out.
Also on Friday, I got measured for my race helmet. I have borrowed one up until now but when it started to lift when I was full throttle on the straight, I realised the importance of a good fit! What I didn't realise is that there are cheek measurements too! It appears I have the same size head as Kevin Magnussen but more rounded cheeks! Who knew?!
My measurements were taken with a tape measure, but for F1 drivers, helmet manufacturers scan their heads and get exact measurements all the way round. I now need to work out the design for my helmet so I'll be asking for your help on that soon...
On Saturday, we all felt set for a battle between the two Mercedes' for pole - but it wasn't to be. While waiting for the drivers eliminated in Q2 to arrive at the interview pen, Lewis Hamilton walked past me, in his race suit but with sunglasses and cap on.
He went straight into the FIA stewards' office, but it was clear he was out of qualifying. He knew he had to answer for not going around the 'keep left' bollard at Turn Two, but no driver would do that while still taking part in qualifying - they would wait until the end, so I knew something was up.
Mercedes then informed the media of a failure in the power unit and while I was scribbling down the details, Lewis appeared in front of me. Aside from asking him what happened and when the problem was first discovered, there are never going to be many questions you can ask in that situation that will get an answer of any great length.
While in China, he was pragmatic and considered in his responses. Here, he had just got out of the car, had a telling off from the FIA, and knew he could be facing starting the race from the back of the grid, so he was understandably gutted and I was his first interview. It doesn't matter who the driver is in these circumstances, I never hold it against them for being short with their answers.
If he had just won the race, it would be different, but 60 seconds after another disappointment like that? I certainly wouldn't feel in the mood to talk.
Which is why on Sunday I was very fortunate to speak to Kvyat at the end of his round of interviews. While he was talking to another channel across the pen from me, I noticed the race was being re-run on the TV screen next to us. If he could just talk for a minute longer to them, as he walked over to me he would catch sight of the start and a reply of the incident with Vettel and Ricciardo.
Luckily for me, that is exactly what happened. He stopped and watched it in real time then watched the slow-motion replays. It meant that for our interview, he had had a chance to reflect on what happened and see what part he had played. He was obviously hugely disappointed that his home race had turned out this way and admitted he may have apologies to make.
One thing that couldn't be ignored this weekend was the mounting abuse aimed at Mercedes, with accusations of sabotage being thrown at the team.
Hamilton's run of bad luck has seen some use social media to claim there is some conspiracy theory to help Rosberg win. Our timelines are full of such messages but the team have received many more - some abusive and some aimed directly at team members, suggesting they are deliberately engineering a Rosberg world title this year.
The only thing the team are engineering right now is a third constructors' title in a row. Every single person on that team is working their hardest, whether they are in Brackley, Brixworth or Stuttgart or at the track on the race weekend. The guys and girls in the garage work incredibly long hours to make sure Lewis and Nico have the best tools they can possibly have at their disposal.
The voices have been getting louder with every passing weekend but hopefully now that the team, and Lewis, have had a chance to respond those voices will get back to cheering on their man.
I am writing this diary while waiting for my bag at Luton airport. We landed two hours ago but, as in previous years, it is taking an age for our luggage to arrive. It is 4.30am Russia time and we are scattered around the carousel, some sitting on it, others sitting on the floor, and some raiding the vending machines for snacks.
But then we have just arrived back from Russia, so I guess one more wait is appropriate...
RB