Formula 1 Reporter & Columnist
Rachel's diary: The magic of Monaco
The inside story of 2016 Monaco GP week featuring yachts, parties and thrilling track action... to odd socks, toilet runs and boat wars
Last Updated: 31/05/16 5:10pm
I missed Monaco last season and watched events unfold from the office, so I was really looking forward to it this year.
Packing for it is probably easier than other races - dresses, shoes and sunglasses. Done. Although of the four pairs of sunglasses I took this year - yes, I know I have a sunglasses addiction - only two came home. That's Monaco for you!
One pair I left on a restaurant table never to be seen again and the others I bought at the airport on the way out. They were quite unusual and the when I asked the boys' opinion the jury was definitely out.
One thing we did all agree on was that they could only be worn in Monaco! It's unlike any other week of the year. Everyone wants to be there, and it's the one every driver wants to win above all other races. 
Wednesday is media day in Monaco and I walked to the track with a colleague, from our apartment hotel up on the hill. I had never walked to the track before as previously we had a hire car, and my colleague had never been to the race before. That didn't worry us, you just head down to the sea right?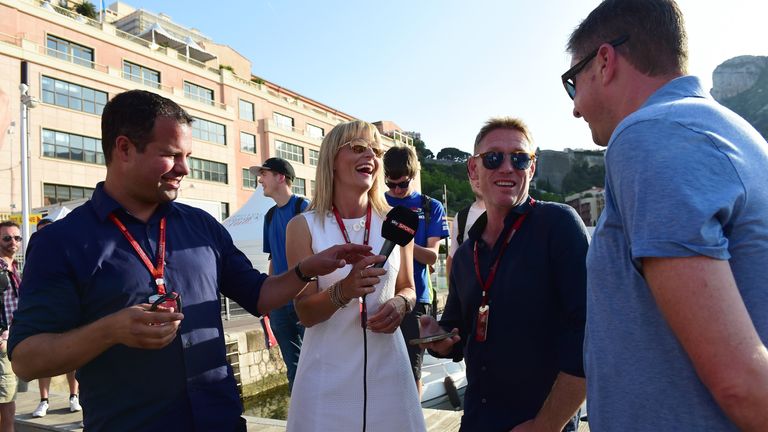 Half an hour later we were walking through a tunnel with very little, if any, pavement, avoiding trucks and not making much progress. There are lots of stairs down the hillside in Monaco, but you have to find them first.
Eventually after retracing most of our steps, we made our way to the paddock and the day could begin. I was filming some interviews for future features as well as doing a couple of driver interviews for my own pieces over the weekend. On Wednesday night we actually went for a quiet dinner in Fontvieille, which is just around the coast from Monaco, so we could save our energy for what was to come.
Thursday is a big day in Monaco. Yes, there is first and second practice but it is also the first day that the harbour really comes alive. We did The F1 Show on a huge yacht with the beautiful Monaco hillside as a backdrop.
One thing you need to make sure of before Monaco week is to paint your toenails! You will never be in bare feet as much as you are that week as no one is allowed to wear shoes on board. It was then that we discovered Simon Lazenby doesn't wear matching socks. Ever.
He says he just grabs two socks and puts them on. Unfortunately for him we also noticed he hadn't even done that right, one of them was inside out too!
After the show we headed to the Red Bull energy station. Every year on the Thursday they host all the media, TV and radio crews to a party onboard. It is one of the best nights of the year as many of the behind-the-scenes staff get to enjoy a night off and actually socialise with people they barely get time to say a passing "hello" to.
It's amazing how one night can bring the whole paddock together so well, but it really does and creates a great atmosphere for the days that follow too. After the energy station closes everyone walks to Rascasse.
A famous Formula 1 Grand Prix corner by day, a party venue by night. Bars are set up on the actual road itself and dancers appear on podiums. It must be the world's most glamorous pop-up nightclub! It's also the night all the F1 teams can socialise too and is quite possibly the only time all year you get to speak to some of the guys and girls who work in the garages.
Friday was originally designed to be a day off on race weekend but now it is the day the fans get to meet the drivers, get autographs and selfies.
We had a few shoots to do and an F1 Show to prepare for. We arrived at a yacht we visited a couple of days before to recce it as a location, and it was rocking. We knew there might be a few guests on board but this was reminiscent of Rascasse 12 hours earlier…
Our amazing floor manager Kate soon had it all in hand though. We commandeered the front of the boat for the start of the show and all guests were moved upstairs to watch from above. One of our highlights of the year is always meeting the boys and girls from the Starlight children's foundation, who are treated to an incredible weekend in Monaco arranged by Bernie Ecclestone.
The teams all play their part by making sure they get to meet the drivers and the weekend is full of money-can't-buy experiences. We asked them to be part of our F1 Show on Friday and they were all brilliant. Hearing their stories of meeting their favourite drivers always reminds you just how lucky we are.
Rebecca told us how she asked Jenson to sign her specially designed Jenson Button trainers, I think she could be on to the next big thing! Friday evening was a meal not far from our hotel for us while for those in Monaco it was pleasure-filled Rascasse once more with the boat parties continuing long into the night.
Qualifying in Monaco is always tense. There have been so many memorable incidents over the years. Michael Schumacher stopping at Rascasse, Nico Rosberg going too deep at Mirabeau, what would today bring?
I for one definitely didn't expect Daniel Ricciardo to end up on pole. He had shown he was quick on Thursday but we all expected Mercedes to turn the engine up on Saturday and fill up the front row. I also wasn't expecting more reliability issues for Mercedes either, I just wonder how that story will develop over the rest of the season.
Monaco Grand Prix driver ratings
Once I had finished the driver interviews I spotted a familiar face waiting outside the driver pen for Lewis. It was Ville Vihola, his trainer. Ville has been by Lewis's side for the last three years but this year wanted to travel less and so for the last three races has been absent. Lewis has had his new physio, Angela, at races with him instead but for this one Ville was back. 
On Saturday night we were invited to a launch of a new lifestyle brand for Force India onboard a boat located near the exit of the tunnel. As the evening wore on, boat wars began!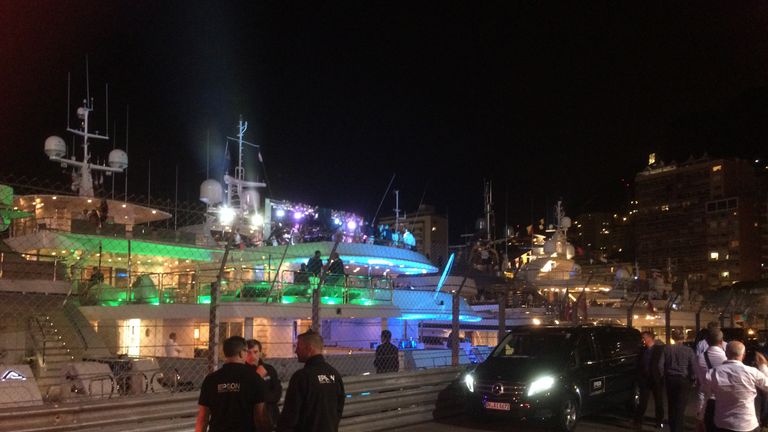 The yachts are all next to each other on the harbour and as one turns its music up, so does the one next door. One has flashing colourful lights, the one next door will have lasers. It's not uncommon for people partying on one yacht to see the party next door and jump ship, literally.
They walk off their yacht and onto the one next door because it looks more fun. Mentioning no names but that's exactly what happened on Saturday night in Monaco when one the principality's most famous residents decided there was more fun to be had at the next mooring along…
Race day was wet. Very, very wet. The 'toilet run' interviews involve a lot more toilet and a lot less running than any other race. I actually stand right outside the men's toilets by the grid.
It's not pleasant, but everyone understands, and if you are lucky you get one quick answer from a driver in the few short steps it takes them to pass between locations.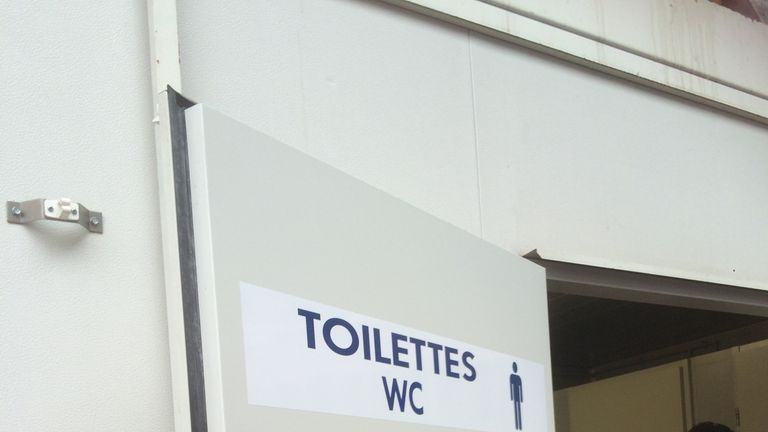 On this occasion after the anthem I moved to outside Max Verstappen's garage to update that his car was fixed and ready to go. Then he left the garage. They hadn't crossed to me yet on air so I had to sprint down the pit lane after him, cameraman in tow, to catch up to his car for the live cross. We made it, just! However, my 'Monaco sunglasses' didn't. Having been tucked down my jacket they had made their escape and vanished during my run.
Back at the interview pen, we all waited for the drivers to arrive. As there were retirements from early on we didn't leave the pen at all during the race.
The majority of drivers were pretty grumpy after the race. They all want to do well here. Even if they can't win, they are desperate to have a good Monaco Grand Prix. Very few achieved that on Sunday so aside from Sergio, Carlos, Fernando and of course Lewis, it was a difficult interview session.
Daniel Ricciardo seemed very low, understandably. For the second race in a row he felt a race win had been taken away from him through no fault of his own. He is the one driver who usually manages a smile no matter what, but for consecutive races he struggled to hold back his emotions at what had happened. 
As I left the pen I spotted Ville, grinning from ear to ear. "You know you have to come to every race again now don't you?" I said. "You are about the 10th person to tell me that!" he replied.
I am pretty sure I won't have been the last either, Lewis hadn't spoken to him since the win yet…
RB