Formula 1 Reporter & Columnist
Rachel's Diary: Interviewing Sebastian Vettel and Lewis Hamilton after Baku mayhem
The Sky F1 reporter on speaking to the two title rivals after their collisions, and the other stories from the Azerbaijan GP.
Last Updated: 28/06/17 12:20pm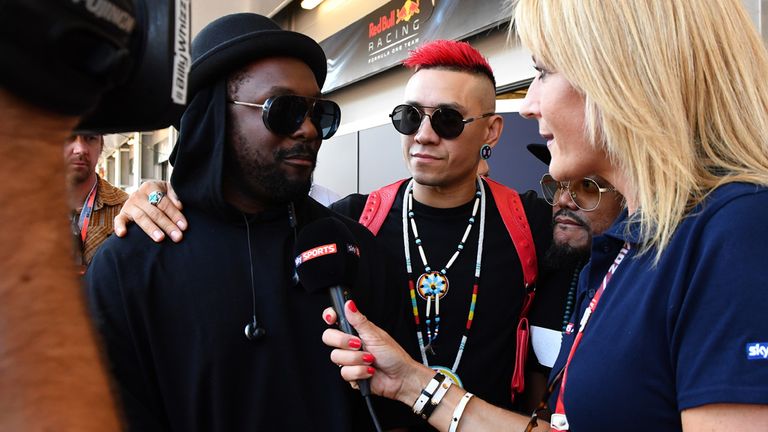 Hot temperatures, hot heads, braking....and breaking....just about sums up the Azerbaijan GP.
We all enjoyed a great week in Baku and the venue is certainly growing on the F1 paddock. But there is only one place to start and finish this diary and that is with Sunday's race.
It is always interesting after a race like that to see just how varied the opinions can be.
As you read this you will have your view of what happened, your own thoughts on the penalty and will have no doubt made up your mind about what you think of the protagonists.
Believe me when I say there will be someone out there who disagrees with you very strongly on every point. The opinions, and the force with which they are felt and voiced, are at completely opposite ends of the spectrum, and everywhere in between.
Social media is a fairly unpleasant place after a race like that. You cannot win. I was too nice to Seb, I was too harsh on Seb, I was too nice to Lewis, I was too harsh on Lewis. I got messages along all those lines on Sunday.
So here I will tell you what happened and you can make up your own mind.
I try to watch the start of a race in a hospitality unit so I can watch it on a screen with our commentary in my ears and without the view being hampered by sunlight as so often happens outside in the pen.
Unfortunately, due to the driver pen being outside of the paddock in Baku, I had to watch it on one of the big screens at the side of the track on the start-finish straight, from where I could get to the pen quickly if someone went out.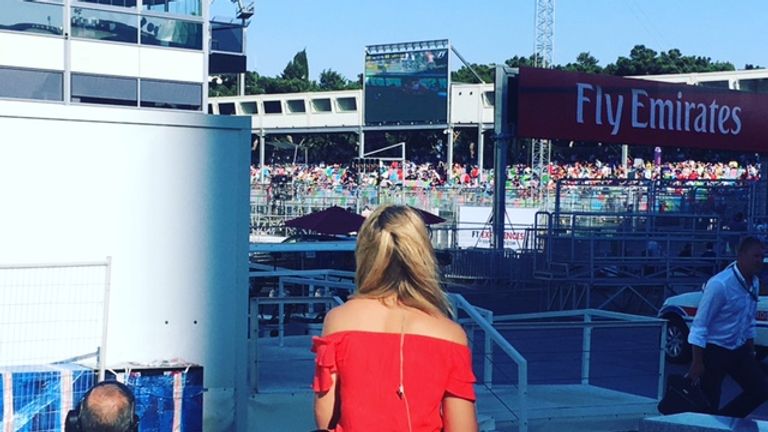 Due to the early retirements I was there for the entire duration of the race including the red flag.
For those who haven't read previous diaries or aren't aware of what happens in the driver interview pen I will recap.
Once a driver retires from a race, he is expected to go to the interview pen to speak to television crews. The same applies at the end of the race except for the top three who go to the podium and then to the press conference before coming to the pen.
Not all TV crews in the pen ask questions. That is a privilege for TV and radio rights holders and the local TV crews, and occasionally some others who are a bit cheeky but get away with it.
When the story of the race involves the top three it is a fairly straightforward affair - interview the rest of the grid as they come in, wait for the top three, and speak to them in turn.
As recently as two weeks ago, all interviewers were reminded to keep questions to preferably two only, but an absolute maximum of three. That is so that everyone gets the interviews they need.
I tend to judge it by the drivers answers. For example, on Saturday Lewis answered my first two questions so well I didn't ask a third. He had given long informative answers to the first two so I ended the interview there. It's basically a case of letting common sense prevail.
However, there are some drivers who you will very rarely, if ever, get three questions to.
Ferrari are a prime example. I could count on one hand the times in the last five-and-a-half years when I have got interviews with both Seb and Kimi on both Saturday and Sunday in the pen.
I have never asked both three questions on the same day as far as I can recall. They both like to do as few interviews as they can and then leave the pen.
I imagine that feeling is the same for most if not all the other drivers, but the others are more giving of their time.
Seb had left the pen on Saturday while I was interviewing another driver. It happens, and that is why on occasion you have to prioritise one driver over another.
So when the drivers all came in after the race on Sunday I knew I had to be free to interview him with my microphone out in front of me or he wouldn't stop.
The Sky F1 pundits debate Hamilton-Vettel clashes
Several other drivers came into the pen first and so in order to try and get as many done as possible before the two title rivals arrived, I carried out a few interviews. I remember Esteban Ocon being one of them.
Then they arrived and with Seb and Lewis in the pen at the same time it was almost a game of cat and mouse.
I had spoken to our producer to see if we could show Seb the footage and as I had no monitor with me the only way was to get one of guys to send me the video file to my phone.
I paused it ready to play when he came over and suddenly Lewis was stood in front of me.
Over his shoulder I was watching Seb carry out his other interviews. The pen was busy and there were not many reporters free to talk to Seb if he finished the interview he was on.
I asked Lewis about the incident but as he had already done a few interviews by this point his answers were tamer and more toned down and he wasn't as vocal as he had been when he first walked in.
As I am on my third question, his press officer tells me that is the last one and I have no chance to ask anything more.
While he is speaking, Seb walks past behind, taking a drink and making his way to the exit.
I had already warned my cameraman that if Seb tried to leave we were going to have to try and talk to him as he walked.
As Lewis finished his answer you may have even heard me say "go, go, go" to my cameraman Bob.
You didn't see this on Sunday because, as you will see now, the cameraman was running to get in front to get a shot so the beginning is my voice as I approach Seb and his press officer Britte and there isn't a stable shot until we are at the bottom of the stairs.
We caught up with Seb at the top of the steps by the pen and I asked if we could walk and talk, and he said yes.
I held up my phone and said, "Can I just show you Seb why they gave you the penalty?"
"You don't need to show me, the penalty is done so," he replied.
"You said you didn't consider it dangerous driving, we've just spoken to Lewis..."
"Well nothing happened did it" Seb interrupted. I replied: "You did make contact with Lewis's car though?" To which Seb responded: "Well yeah, he brake-checked me so what do you expect?"
"That's what I wanted to ask you, you consider he brake-checked you after the restart?"
"I am sure he didn't do it on purpose but for sure it wasn't the right move. If I am struggling then you know people in the back are struggling even more so... Yeah I don't think it was necessary. I had a little damage, he risked damage so. You know he's done something similar a couple of years ago in China at the restart so, yeah, it's just not the way to do it I think."
"But did you think your move was OK in the end on him?" I asked, and again Seb avoided the question.
Lewis slams 'disgusting' Vettel
"Er well, I passed him because he pitted so after I think the incident is right there. We were side by side and I raised my hand and told him - well tell, I didn't say anything because he can't hear me, but showed him - that I wasn't happy with him."
"There was contact on the car though between the two cars," I tried again.
"Yeah, I ran into the back of him."
There was no way Seb was going to admit turning in on Lewis, whether deliberately or because he only had one hand on the wheel at the time.
Vettel's red mist: The rap sheet
It is probably worth remembering though that when his mirror became detached once, he managed to drive safely a lot faster with only one hand on the wheel.
To set the scene with that 'walk and talk', what you can't see is that in front of Seb and I is not only my cameraman and others walking backwards, but they are walking, essentially blind, into a paddock full of people and with pack up in full swing.
There were cars reversing and people walking about oblivious to what was going on behind them as well as other TV crews trying to push in. We were not the only crew he hadn't given an interview to in the pen.
I was looking around to try and make sure my cameraman wasn't going to get hurt and that people around and ahead were being warned of the pack that was approaching.
It is a very different environment to a calm pen with everyone waiting their turn to ask questions and drivers standing still in front of you.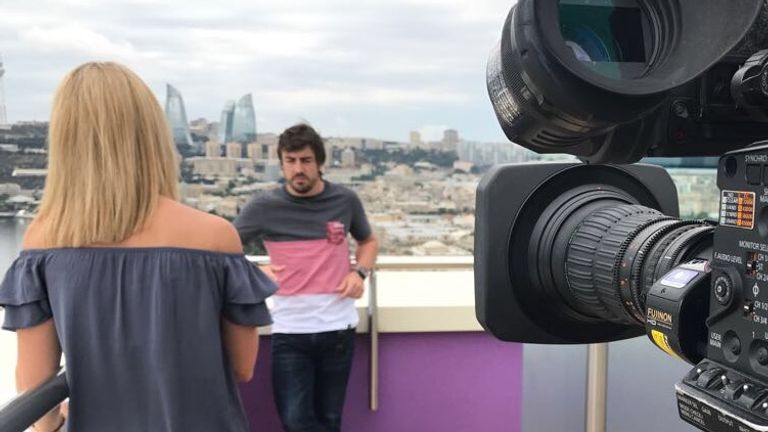 Meanwhile, Max Verstappen was nowhere to be seen, despite calls from the FIA for him to attend the pen.
His fourth DNF in six races meant he was in no mood to answer any questions about his current plight.
That plight is one of being signed to team that has been warned they won't get a significant upgrade on their engine until next year.
While Max seethed, Daniel Ricciardo won the race by not only taking advantage of others' misfortunes, but some bold brilliant driving to put himself in the position to capitalise.
But he is also only too well aware of how difficult the rest of the year could be.
On the podium, he made the youngest-ever rookie to finish in the top three do a 'Shoey' with him.
Lance Stroll drove those last laps with a maturity beyond his years, he kept calm and kept it out of the walls on one of the trickiest circuits of the year.
For some it was a day of what ifs, for others it was a sign of the fighting spirit within to pick up whatever they can when others falter.
Valtteri Bottas showed Mercedes the fight he has, despite being last and a lap down at times, to finish second and pick up valuable points for the team.
Who knows where this title fight will go next but another thing to remember is that Lewis' pole was over a second quicker than Ferrari.
The FIA have now clamped down even harder on the process of burning oil for fuel and it seems to have hit Ferrari the hardest to the point where Red Bull are now on their pace. Max was just three one-hundredths of a second behind Seb in qualifying.
Has this realisation brought out the dark side of Seb who, although 14 points clear in the Drivers' Championship, knows the next two races have been very strong tracks for Mercedes in recent years? Ferrari's best finish in Austria since its return to the calendar is third, and Mercedes have won the last four races at Silverstone.
Crazy race, crazy post-race and crazy comments! Let's do it all again soon!
RB
Don't miss the F1 Report: Azerbaijan GP Review on Sky Sports F1 at 8.30pm on Wednesday for the final word on the weekend's action.
Comment below to get involved in the debate, but please adhere to our House Rules. If you wish to report any comment, simply click on the down arrow next to the offending comment and click 'Report'.