Formula 1 Reporter & Columnist
Rachel's US GP Diary: Back on the road in Austin
Sky F1's Rachel Brookes gives us some behind-the-scenes stories from the United States GP race weekend
Last Updated: 25/10/17 7:00pm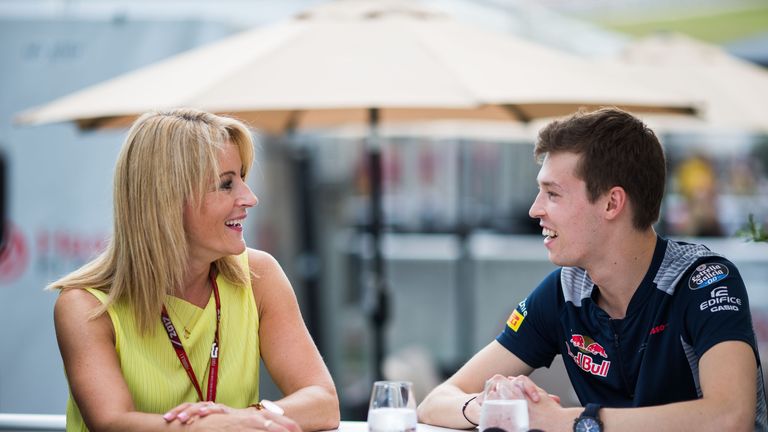 After so much time at home I couldn't wait to get back on the road and travel to Austin, one of my favourite venues of the year.
Having hauled my suitcase out of the cupboard and overpacked it as usual, it wasn't until I wheeled it out to the taxi in the very early hours of Wednesday morning that I realised it was broken.
I managed to get it to the airport in one piece but then had to find one of those wrapping services to tightly bind it all together and then hope it survived the two flights to Austin and I wasn't standing at the luggage carousel retrieving my underwear in front of the whole of the paddock.
Luckily the cling film wrap did its job and we arrived, intact, in Austin on Wednesday evening local time. Much as I love the city, it was an early night for me as back home it was now into the early hours of the morning.
Breakfasts are always a highlight of this trip and our hotel had a waffle maker which makes them in the shape of Texas. Some of us recognised the shape early on but one of the boys, I'll spare his blushes, only realised a couple of days into this trip that the waffle he had been eating for the last five years was in the shape of the US state.
On Thursday I was tasked with interviewing the two Toro Rosso drivers and for this weekend that meant speaking to Dani Kvyat and Brendon Hartley.
Dani is one of my favourite people in the paddock. I have spent time with him and his girlfriend away from the paddock and he is great fun but I realise his interviews don't always convey this side of him.
I wanted to try and get some of that personality out of him in the interview but the situation being what it was, it was always going to be a big ask.
I likened the situation he had with Toro Rosso and the Red Bull family as being like a relationship with a girlfriend who keeps breaking your heart but you keep going back just in case, this time, she realises you are the one she should be with.
He replied "Once a relationship is broken, its over" so I asked if his relationship with Toro Rosso was broken and he didn't say yes, but he didn't say no either.
As we now know at the time of writing this, Dani won't be racing in Mexico and I don't expect him to be in the Toro Rosso again.
Kvyat won't return in Toro Rosso
Gasly & Hartley for Toro Rosso in Mexico
From a call shortly before the Malaysia GP saying he wouldn't be driving in it, to a short conversation on Sunday night ending his time with the Red Bull family, it's certainly been a testing few weeks for Dani. I am pleased he had such a solid weekend to end with.
Brendon Hartley arrived for his interview with the kind of excitement you would expect from someone making their F1 debut. He was buzzing and understandably so.
You'll know his story by now I am sure but his debut weekend had been a very long time coming. He explained in the interview that he hadn't raced a single seater since 2012 and until he got into the F1 car there wasn't much he could answer as he really didn't have any experience of it.
He was easy to chat to and confident he was ready and able to do something in F1 after a decade of trying.
He missed out on Q2 by the tiniest of margins and an engine penalty restricted what he could do in the race but the team were happy with the long-run pace he had shown in Friday practice and performed well in the race for his debut.
He is in again in Mexico and has Gasly back alongside him. I can't wait to see how they measure up as they could well be the team's line-up for next season and both will be keen to impress.
Friday practice was weather affected in the morning session but we saw Sean Gelael and Charles Leclerc feature.
Leclerc is widely rumoured to be heading into a Sauber seat next season so is definitely one to watch out for.
He became the youngest Formula 2 champion this year, winning it in his rookie season - something only Nico Hulkenberg, Nico Rosberg and Lewis Hamilton have done previously. Both Gelael and Leclerc will be back in FP1 in Mexico.
'Hamilton like Schumacher and Senna'
How Hamilton can win title in Mexico
Hamilton credits kitchen talk
Post second practice I was at Ferrari to speak to Kimi and Seb. These interviews are always very brief. You are lucky if you get to ask two questions. Press officers also try to bunch you together thinking you can take an answer the driver gives someone else but that's not the case.
You need your own answer to your reporter not just for eyeline but because you may want to ask something different, you may have noticed something someone else didn't, or you may have information others don't. Friday post practice at Ferrari are the trickiest interviews of the weekend.
After that was the F1 Show. Liberty Media are trying all sorts of new things at the track and this weekend there was a rodeo bull in the paddock where the TV pen usually is. They also put out some traditional games, shuffleboard I think one was called and I have no idea what the other one was called.
You throw bean bags into a hole on a tilted board about 10 feet away from you and someone at the other end does the same to the board at your feet. I managed to squeeze in a game of shuffleboard against George Russell at one point. I won't say who won except, I am sure he'll get better with practice!
As well as the thought that goes into these things it also makes the paddock a friendlier place. People do seem to stop and chat and socialise more. We are all still working but it's slightly less clinical.
On Friday night I had arranged to meet some of my friends in the paddock and we headed to another Austin tradition, Pete's piano bar.
It's a bar on of the main streets in Austin where two pianos are set up on a stage and the piano players duel to get the most cheers from the audience. They also play all the most famous sing-along songs and it is always packed.
It's also where Mercedes held their post-race celebrations having won the constructors' title on Sunday night. They have taken over an area in the bar for the last few years and it's not only standing room only everywhere else, there is usually an hour or so wait in the queue outside just to get in.
Saturday morning I was back presenting P3 with Pat and Damon and was interested to learn that Seb had changed his chassis from the one he had run the day before.
He had described the car feeling like "jelly" in P2 and whatever the issue was they hadn't got to the bottom of it so the new "tub" was brought in.
Rain had been forecast for the session but it didn't materialise, in fact the whole weekend we had temperatures which were 20 degrees above the normal temperature for this time of year. We had 79 Fahrenheit instead of 59 which was a welcome surprise for me even if it did mean I had packed really badly and had nothing to wear in the hotter conditions!
We then had a four-hour wait for Qualifying. Usually it is two and everyone knows their routine and what to do.
But Liberty wanted to make sure people stayed for the Justin Timberlake concert after the session so put in an extra two hours. It felt very strange. No one quite knew what to do. We had all this spare time where we would normally be rushing around.
Once we did get to the session some of the drivers seemed fraught on the radio and more stressed than usual. One press officer told me they noticed their drivers were more anxious before the session as they had had too long to wind themselves up for it.
In the end two sensational laps dictated the front row and we had the championship contenders sitting alongside each other again.
Afterwards in the pen there was a really lovely exchange which you won't have seen. Lewis brought in a little boy with him called Zachary, who was with the Make a Wish charity.
He lives in Arizona and told the charity his dream was to go to a Formula One race. He had been in the post-Qualifying press conference and Lewis had brought him into the TV pen with him.
When Lewis came over for my interview I asked him if he minded if I talked to Zachary first and Lewis stood by while I asked Zachary about his favourite team and driver.
He said Sebastian Vettel and Ferrari.
There were some jokes between him and Lewis and then off they went to the next interview. Then Seb came over and I told him Zachary's wish was for him to win the race tomorrow.
Once on the other side of the pen Lewis and Seb laughed and joked with Zachary and the little boy couldn't quite believe what was going on around him.
I spoke to his dad who said it would take while for it all to sink in, such was the enormity of the whole day.
Then when Seb left the pen he gave Zachary a signed cap with a message on it and spoke to him before giving him a fist pump and saying goodbye.
We had been told about the plans for race day but until it happened it was always going to be a bit of a guessing game as to how it would play out on air.
I wasn't sure I would be able to get any toilet run interviews as the drivers would be rushing to get to their positions for their names to be called out and Martin Brundle wasn't sure exactly who would be on the grid to talk to, if anyone.
'F1 must define its own limits'
Verstappen escalates steward row
As it was I managed to speak to more drivers than usual as I positioned myself by the tunnel they had to walk out of, so as they approached, I approached them for one question and all obliged.
Then my cameraman and I stood and watched the razzmatazz of the ceremony and it was actually quite special.
It really made it feel like a big event. The drivers were treated like superstars in a way they hadn't experienced at a track before and it felt like more than just a race. That's how it felt, but I haven't watched it back on TV yet.
Then my cameraman and I spotted President Bill Clinton. As he walked past us he put his hand out for my cameraman to shake it and he did.
He was shaking everyone's hand and smiling. Then he came through off the grid and into the pit lane and I saw someone approach him for an interview.
He started talking so I joined the gaggle of people around him, mostly armed security men, and asked one of them if it would be ok for me to talk to him.
"You have to ask him" came the reply as he pointed to the sternest looking security guy of them all. I couldn't get anywhere near him so in the end I chanced it and said "Bill would you mind a quick word for British TV?"
He turned and smiled so off I went with my question. I did know that even after leaving office Presidents still have the title of 'President' but for some reason in that split second I saw him as 'Bill' so that's what I called him.
All the same, thank you for the interview Mr President.
On to Mexico…
RB
See if Lewis Hamilton can clinch his fourth world championship at the Mexican GP exclusively live on Sky Sports F1. Sunday's race begins at 7pm. Want to watch but not got Sky F1? Buy a NOW TV pass from £6.99!