Formula 1 Reporter & Columnist
Rachel's Brazilian GP Diary
Sky F1's Rachel Brookes with an eye-opening behind-the-scenes account from the Brazilian GP, on robberies, a lack of security and how, on-track, Sebastian Vettel showed what might have been.
Last Updated: 15/11/17 12:31pm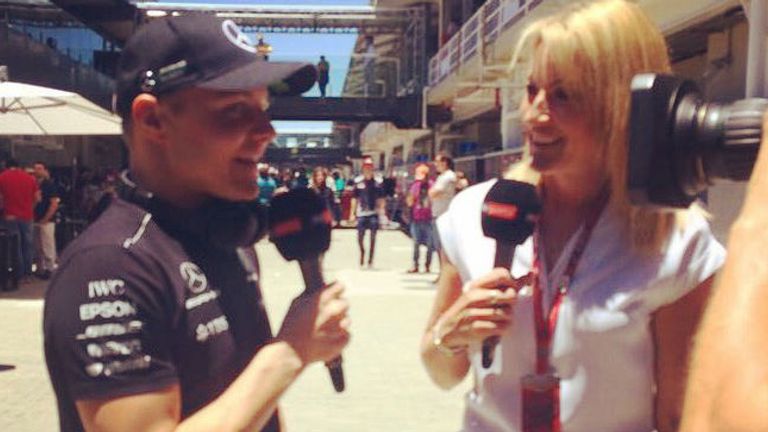 I first visited Brazil in 1998 when I stayed for a few days in Rio de Janeiro. We were in a hotel on Copacabana beach and were advised about safety but we had no problems and enjoyed our stay.
If it wasn't for the area around the F1 track, I would feel the same now about Sao Paulo.
Our hotel is in an area that feels relatively safe and several times I walked out alone to nearby shops and to a bar to meet others. I don't wear jewellery when out and on occasion didn't take a bag, just had my room key and credit card in my pocket.
Some things are just sensible in any big city but especially when you know one has the crime rate of somewhere like Sao Paulo.
McLaren's Brazil tyre test cancelled
Brazilian GP driver ratings
F1's strange battles in Brazil
In 2010, I covered the football World Cup and spent five weeks in South Africa and my time in a small suburb just outside of Johannesburg is by far the most dangerous place I have lived and worked to date.
There was a robbery at the house next door and a TV crew got carjacked outside our accommodation and all belongings and equipment taken. I couldn't leave the house on my own, even to walk the 200 yards to the corner shop, and we had double security gates, alarms and barbed wire on the top of external walls.
So Sao Paulo has always felt relatively safe to me. However, this year, there was a big difference.
Having arrived early on Wednesday morning, I spent the day writing up my notes and planning a piece for the weekend. I walked across to the mall opposite our hotel to a supermarket and later joined some of the others at a bar at the end of the road. It's only a two-hour time difference but it affects you way more than it really should. You have a strange kind of foggy feeling for the first twenty-four hours.
On Thursday, we headed to the track for the first time and I immediately noticed there were less police around. As you head to the Interlagos circuit, there is a bridge you cross that seems to signal the line between rich and poor in a more dramatic fashion than any statistic could ever do.
Immediately on your left, you see the favelas. Home after home piled on top of each other. Open sides with lines of washing hanging out. You can't help but look. Occasionally you see an alleyway separating one mass of homes from the next but it's tiny and crowded with general life debris.
On the right, there are individual homes and the odd petrol station or garage along the route and after a while, we lose sight of the favela and continue on our journey past the circuit before doubling back and into the gates of the track and another world.
I spent Thursday putting together my piece on Lewis as a four-time world champion, getting contributions from fellow drivers, ex-drivers and some who had covered every one of his 206 races to that point.
I was back in the office when the heavens opened. Unfortunately for Martin Brundle, he wasn't. In fact, he had just got out on track with Max Verstappen for a feature you will have seen in Sunday's race show.
Drivers can be temperamental souls, and everyone wondered how Max was going to react to the river running under his feet and the rain that was coming at them from every angle, even sideways. Luckily, he was very good about it and both he and Martin persisted with the chat out on track while the water soaked through their clothes.
They had umbrellas, but some of the crew didn't and you can only imagine the state they returned to the office in. It was worth it though, it was one of my favourite interviews of the season.
On Thursday evening we all went out for a team dinner near our hotel. It was a really good evening. We often have team barbeques but everyone usually sits at smaller tables at those, so to have everyone sitting together at one very large table was great and a nice way to, almost, round off the season.
On Friday morning, we woke to clearer skies and a full day's running as the weather forecast proved to be completely wrong. After the F1 Show, we drove back to our hotel, leaving the track at about 6pm when there were still some police about on the roads outside.
Some hours later the Mercedes boys left the circuit and were the victims of a terrifying robbery. A car pulled up and several men jumped out. The passenger in the Mercedes van was pulled out and held by one of the men while the others boarded the minibus and began taking possessions from those inside. Another car stopped to try to help the Mercedes boys but got shot at for its troubles.
That same evening, armed robbers tried to break into the car belonging to one of the FIA officials as it was stopped at traffic lights. Unable to break the reinforced glass with their gun handles, the robbers failed in their attempt and the car managed to get away, as did the Williams staff following behind. Three attempts in one evening.
On Saturday, word spread rapidly of the robberies and attempted robberies. No one wants to start their day texting friends in the paddock asking if they are OK. It shouldn't happen.
That evening there was statement saying that "heavy police reinforcements will be on duty for the remainder of the event".
In previous years, since I have been covering F1, I have noticed the police that line the route from the bridge I mentioned above, all the way to the circuit. Grouped in twos or threes at 100-200 yard intervals all the way along the route. (See my Mexico diary for the police measures there, I didn't realise then how prescient that remark would be.)
Not this year. A few years ago, we had a security guy travelling with us who told me of the measures the country were putting in place to make it as safe as possible for the upcoming World Cup and the Olympics. Police numbers had been increased and a huge effort had been made to reduce both crime rates and the numbers of criminals on the streets.
This year, with those big sporting occasions a distant memory, there was a noticeable reduction in the numbers of police on that route to the circuit. You actually had to look for them rather than seeing them at short regular intervals.
We are very lucky in that Sky have a security policy that means we have security travelling with us in Mexico and Brazil. It's very expensive as without going into detail, they know what to look for in terms of trouble, roads and areas to avoid and sit with our driver at the front. I am not saying it's perfect but I feel safer for the fact we have them.
But we are two vehicles. How do teams with so many more staff, all travelling at different times, give the same sort of security, and why should they have to when they are going to work?
On track, it looked like normal service had resumed with the Mercedes looking strong in final practice until an unusual mistake from Lewis Hamilton surprised everyone. Into the barriers on his first flying lap in Q1.
He was very subdued in the pen afterwards. I know it's hard to get anything out of Lewis in this mood. Some see it as rude, but he is his own worst enemy when he makes a mistake and beats himself up more than any other driver.
I did eventually get a smile out of him at the end but those are the interviews where you earn your money, not the wins and the poles.
I was really pleased for Valtteri when he took pole. He is such a nice guy, so it's been hard to see him struggle so much with this car this year. The last two races the car seems to have come to him a bit more and his pole lap was an example of how well he has done to change what he needed to to get the most out of its single lap pace. I just hope that continues.
Seb was obviously disappointed at not getting pole but he always has a glint in his eye when he is on the front row, he is never beaten until the chequered flag falls. He admitted making a mistake in his lap but you could tell being P2 made very little difference to him in terms of his chances of the win.
On Saturday night, some Sauber staff were travelling home from the track and were hit by a car trying to force them to stop. Luckily they escaped unharmed and the robbers failed again.
On Sunday, pretty much everyone in the paddock was glad it was race day and almost time to go home. The sun was out and any hopes of a rain-soaked, action-packed Brazilian GP like last year were dashed.
I had requested to interview Valtteri on his walk to the track parade so waited outside Mercedes hospitality for him. In our chat, I mentioned the tricky start here and we talked about how important it was to get through those first three turns cleanly and ahead.
Sadly for him, he didn't get a good start and as he admitted to me afterwards, he lost the race by Turn One.
The toilet run interviews in Brazil are always difficult. The grid is so far away from the pits that the drivers have to walk up, climb steps and cross the pit lane to find a bathroom. As a result, most are running and don't have time to answer any questions.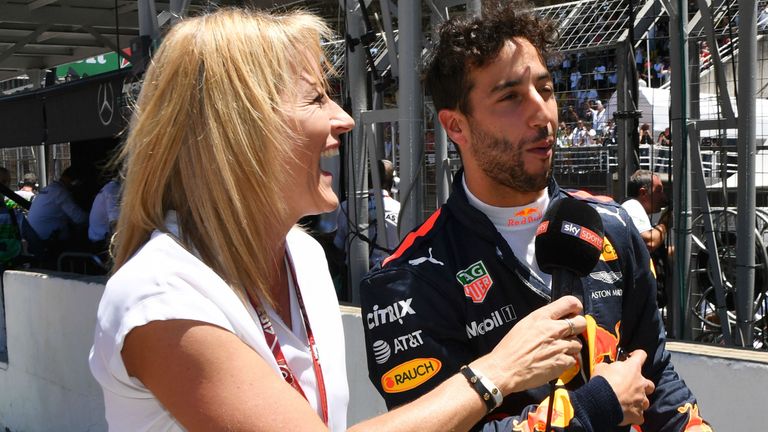 I got a very quick one into Daniel Ricciardo as he ran across, the same for Fernando Alonso, but most didn't have time this week and it happens that way sometimes. The teams work hard too, wheeling their kit down to the grid then hauling it all back up the pit lane entry when they clear the grid.
As there were retirements at the start of the race I spent the whole race in the drivers' pen waiting to do the interviews.
In the pen, I always stand next to a Hungarian TV channel whose cameraman Szilard saves us a space as we are still working up until lights out.
When drivers crash out at the start you hope they will come to the pen quickly so you can interview them and then go and sit somewhere to watch the rest of the race and make notes. Sometimes, however, they take their time.
I had just seen Esteban Ocon on TV walking across to the pit wall so figured it would be a while longer before he appeared. But moments later he arrived in the pen in the middle of the race. That's why you can't afford to leave the pen, you just never know.
Luckily in Brazil the screen for us to watch the race on was in shade and we could see it, but at quite a few races it is in direct sunlight and you see very little.
It was also a fairly small pen in a Brazil, so as a result all the crews are packed closely together and one driver takes up the space of three or four crews when he arrives. That means that if they all arrive at the same time, there is not enough room for them to all be interviewed so they might walk in, see no reporter free to interview them and just leave. As a result, we get far fewer post-race interviews.
I did get to speak to Daniel Ricciardo, though, who did another great job of reminding everyone why he should never have to be a number two to Max and needs to be in the minds of Mercedes and Ferrari.
At the same time, Lewis showed what might have been had he not buried the car in the barriers in qualifying by coming through the field from pitlane to fourth.
Sebastian drove a flawless race, helped by a very quick pit stop, to take only his fifth win of 2018 and his first since Hungary. Perhaps another reminder of what could have been.
Race show over, it's a quick change and onto the bus to the airport. The airport is packed when we arrive and the lounges are full of F1 paddock. Everywhere you look is a team or a driver or a TV crew.
While there, we hear of the attempted robbery on the Pirelli crew as they left the track after the race. They escaped unharmed thankfully.
Brazil is an amazing country with so much to love about it but I really hope they adopt the type of police and security measures we saw in Mexico, for next year's race.
RB
Don't miss the F1 Report on Wednesday at 8.30pm on Sky F1 as Williams co-founder Sir Patrick Head joins Marc Priestley and Natalie Pinkham to review the Brazilian GP.