Formula 1 Reporter & Columnist
Rachel's Diary: F1's fresh start
Sky F1's Rachel Brookes reflects on F1 2018's start in Australia - and adapting to some new formats for the new season...
Last Updated: 13/12/18 2:34pm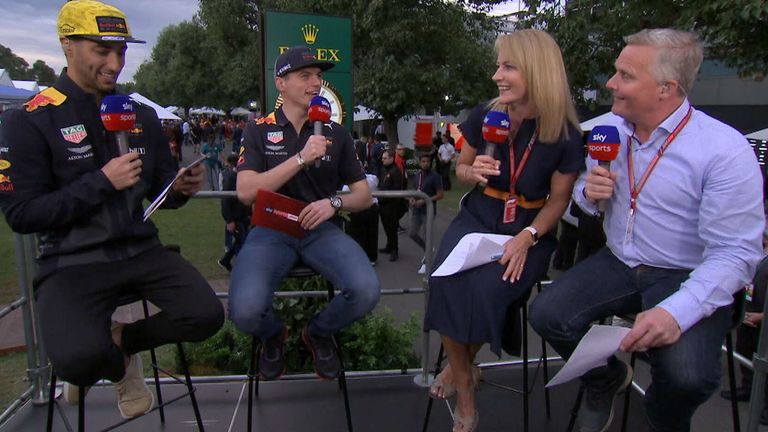 After a winter of rehab and rest, Australia could not come quick enough.
For the first time since I started covering Formula 1 I had to sit out winter testing and instead work in the office and watch the feeds come in and read our live blog on the website from the guys that were there.
All of which meant l couldn't wait to get going.
I stopped in Dubai for a few days on the way to Australia. I wanted to break up the journey but also after the winter we have had I needed some sun before starting the season. I hadn't been there long before one of the 2018 drivers settled down on the sun lounger next but one from me. It turned out he lived in the apartments at the top of the hotel I was staying in and I saw him at breakfast each day after that before we both headed down to Australia.
On Wednesday evening, McLaren had a beach barbecue to launch their season. The area around St Kilda is a very popular one and you can usually guarantee that you will see plenty of F1 folk down there over the course of the week. After that we had a team dinner at a restaurant not far from our hotel. It was Simon's birthday so we had a large turnout but jet lag meant most of us headed off for an early night.
On Thursday Johnny, Paul, Crofty and I headed out to film on what many websites call the 'best restaurant in Melbourne', the restaurant tram car. Chef Joe has been working on it for almost 20 years and put on a fantastic spread while we chatted about F1, cricket and dating apps among other things! Shoot finished, we headed to the track and it was really good to see everyone after what had seemed to me a very long winter.
And at last it was finally to get going - and to tackle some new formats...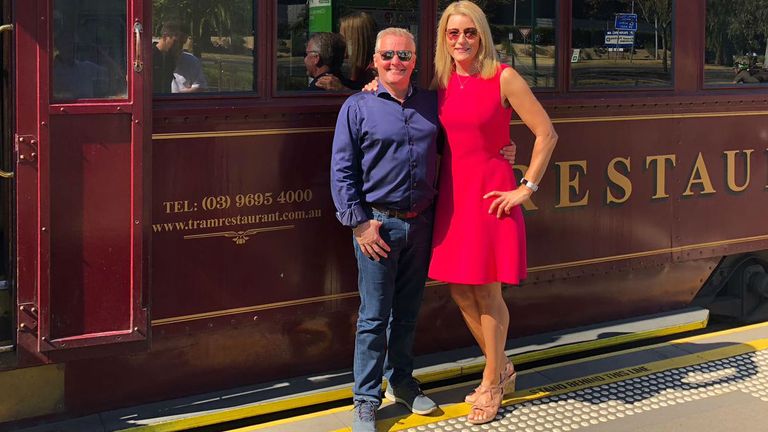 Back in the paddock
I spent Friday in the paddock during the two practice sessions ready to do any interviews needed if someone's car had broken down.
One of the new proposals from Liberty is they send one of their crews to interview drivers post second practice and that interview is then distributed to all TV broadcasters later.
For those of us who are broadcasting live, that doesn't always work, but almost all of the teams are still doing their own media scrums so we can ask our own questions and gather content for our shows. The only team that didn't this weekend was Mercedes, which is why you won't have heard from their drivers after Friday practice.
Another new-for-2018 change is that Martin Brundle now has a camera with him out on track during P2. I have always loved hearing Martin's thoughts as he watches the cars go by at selected corners, but to now be able to see what he sees at the same time is fantastic and one of my favourite parts of the weekend.
Also new for 2018 is permission to take a television camera into grandstands. So on Saturday Johnny and I went into the main grandstand opposite the start-finish straight. As always with these things we have a very limited amount of time to film. It was lovely to see everyone but I apologise now if anyone who wanted one didn't get a photograph with Johnny, our cameraman and audio technician had to get back to the paddock and they had the golf buggy keys!
Usually during qualifying I am in the drivers' pen but as The F1 Show has been rescheduled for 2018 to immediately follow qualifying, James Galloway, from our digital team, took on pen-reporting duties.
It felt very odd not being there and I definitely missed it. Unfortunately, I can't be in two places at once and the great news for 2018 is that we have a platform to present the F1 Show from and a new format so I needed to get ready for that.
So I hope you enjoyed The F1 Show - we certainly did!
As you'll hopefully know by now, the idea for The F1 Show is to show a bit more of the personalities in F1, to enable you to get to know them better and to have fun.
First up, it was the Red Bull boys Daniel Ricciardo and Max Verstappen.
Neither were happy about their qualifying and I am sure were dreading having to talk about it again. But that is the beauty of the new F1 show, they don't have to. As soon as I told them this, they both visibly relaxed and I started by asking Daniel about his new shorts range.
After that we started our awkward questions section. The boys had four cards each and have to ask each other the questions. As they enjoy putting each other on the spot they really bought into it and we discovered Max has used dating apps in the past but hasn't had much success as no one believes it is actually him - so now you know if you come across him at any time!
We had planned for Daniel and Max to then go and battle each other in the darts competition but they had to dash off to an engineers' meeting so Nico Rosberg stepped in to take on Crofty.
It was great to have Nico with us for the weekend. Being able to ask questions that only a driver can answer, and a world champion at that, can only be a good thing. He has been in a position that very few have experienced and his insight is invaluable. It's also interesting for him to be on the other side of things and appreciate what the TV crews are trying to do when he was faced with them as a driver.
Race day reflections
On Sunday I again went out to the fan areas with Johnny, which were bathed in sunshine and packed out. We filmed a couple of pieces before heading back to the paddock.
During the race I was in the drivers' pen interviewing those that retired but with a few laps to go I had to relocate to the press conference room and hand the pen over to James.
This, too, is new for 2018 - and something I am still adjusting to!
The FIA have told us they want the live TV broadcasters to send a journalist to the press conference to ask the first few questions of the top three and then not interview them in the pen.
During the race I was in the drivers' pen interviewing those that retired but with a few laps to go l had to leave the pen to take my place for the press conference.
As a big part of my job is to ask questions, you won't be surprised to learn that I'm always asking questions of myself after race weekends too. 'Was that the right angle?', 'was that the right question at that time?'.
Sometimes it's a delicate balancing act between asking the question you want to ask and asking the question you think will elicit the best answer.
Immediately after Sunday, the change of location was another complicating factor. I couldn't very easily ask Sebastian Vettel about wiping the smile off Lewis' face while Lewis was sitting next to him. If I had, then when I asked Lewis a question I expect l would have got short shrift from him and understandably so. Likewise if the situation was reversed, I would have expected Seb to be short had I said to Lewis that Sebastian had got lucky with the VSC.
Had I been faced with those two individually in the pen I would have asked different questions.
Let's see what Bahrain brings...
Rachel