Paul McGinley: PGA Tour cards via Race to Dubai for DP World Tour players is a great opportunity
Ten players secured their PGA Tour playing cards for 2024 via their finishes in the DP World Tour's Race to Dubai standings; Adrian Meronk, Ryan Fox and Victor Perez were among those to benefit as part of the strategic alliance between the two circuits
Last Updated: 20/11/23 3:47pm
Former Ryder Cup captain Paul McGinley explains why DP World Tour players having the ability to secure PGA Tour cards via the Race to Dubai rankings is a good thing for the game, despite mixed views on dual tour membership, plus pays tribute to Nicolai Hojgaard after his win in Dubai...
There are people out there with agendas who are always going to be critical of the DP World Tour no matter what happens, but I really don't think dual tour membership - which is the right way to call it - is an issue.
The game is in turmoil at the moment in a lot of different ways. I think the DP World Tour are in a very strong position, bearing in mind how little leverage they have against ultimately two huge financial titans on either side in Saudi and the PGA Tour.
It's great to have an option to play both tours. It's an option to go and play in America - you don't have to play there all the time.
When the tournaments are relatively small on the DP World Tour early in the season you can go over to America, have two or three months there, base yourself in Florida and play four or five events on the PGA Tour.
Then, if you don't ignite, you come back and you haven't missed a whole lot on the DP World Tour and you play from June onwards and play its biggest events. Dual tour membership is a great opportunity for these players, and all it's doing is formalising what players would do anyway.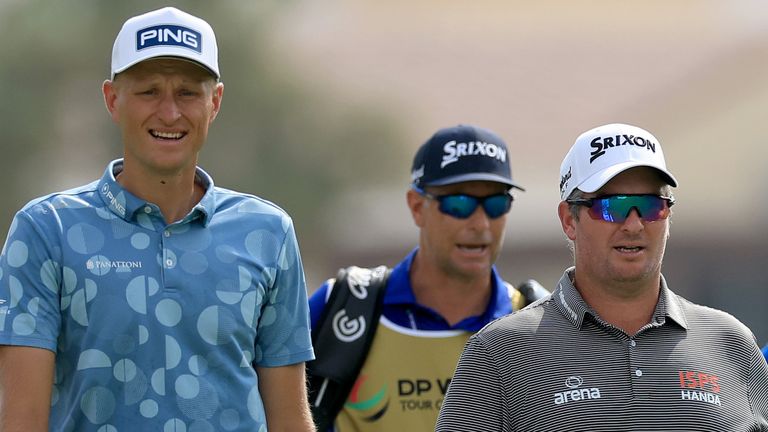 When I played, once you got into the world's top 50, you headed Stateside and you tried to get starts on the PGA Tour, you try to eat up more experience over there, become a better player and see if you could ignite out there.
This deal has given a fantastic opportunity for players that are further down the Order of Merit and are not necessarily in the world's top 50 to have the chance to go over to America to learn and play on the PGA Tour, but then still have the option to come back whenever they want and play on the DP World Tour.
I don't understand why people see it in such a negative view. The top players will still come back and play the same number of events on the DP World Tour that they have done to keep their membership because if they don't do that, they won't be Ryder Cup players, which they all want to be.
We still don't know what's going to happen with this 'framework agreement' involving the PGA Tour, DP World Tour and LIV Golf. Will the LIV players come back into the ecosystem again of golf or do they remain outside? Who knows where it's all going to end up?
So the chances are we're going to see more and more American players coming over and playing in places like Dubai as it all goes on.
I think we're very secure here in Europe, bearing in mind the turmoil all around us. The strategic alliance Europe has done with the PGA Tour is a phenomenal one for the members of the DP World Tour.
You have to consider that when decisions are made by the European Tour chief executive Keith Pelley and the board they are making decisions with 500 members in mind. It's not just the elite players, there's also a Challenge Tour and a Legends Tour that has to be taken care of as well.
It's a very tricky place to be in and, bearing in mind how little leverage the DP World Tour has had in terms of the two huge financial titans on either side, I think they've done a phenomenal deal.
They're in very good hands with a very strong board. There's no doubt things are difficult at the moment, but the DP World Tour is well-positioned to take advantage of whatever may happen in the world of golf over the next few months.
'Hojgaard's the real deal'
Nicolai Hojgaard was a player who already had his PGA Tour card secured before his sensational victory at the season-ending DP World Tour Championship, and for me he's the real deal.
The win moves him into the world's top 50 so it's a big step for him and a great elevation of his career. What makes him special is the way he plays the game, the way he hits it and his power game.
This win in Dubai amid a stellar field is going to infuse him with a lot of confidence going forward and for the rest of his career. Playing PGA Tour events will allow him to take on the best players in the world on a more regular basis, and he showed in the heat of competition that he can cope.
He was brilliant and won the tournament. The chasing pack of Tommy Fleetwood, Viktor Hovland and Matt Wallace didn't lose it - this 22-year-old, who made his Ryder Cup debut as a brave captain's pick, has now moved on to a new place in his career.
He plays the kind of game that we will see a lot more success come from.
Watch the start of the new DP World Tour season this week live on Sky Sports. The Fortinet Australian PGA Championship is live on Thursday from 2.30am on Sky Sports Golf, with the Joburg Open then on from 10am. Stream the PGA Tour, DP World Tour, LPGA Tour and more with NOW.