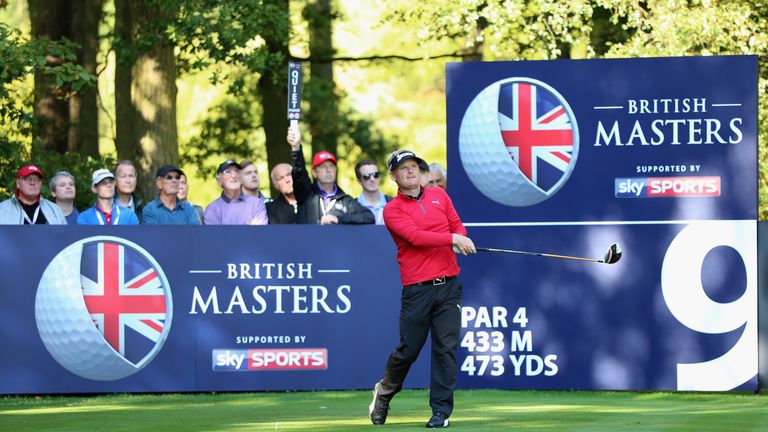 Soren Kjeldsen continued his fine form at the British Masters with a second-round 68 giving him a tie of the lead, but said he is still not playing at his best.
Kjeldsen made five birdies and two bogeys as one of the early starters on day two at Woburn, and was joined at the top of the leaderboard by Matthew Fitzpatrick on nine-under-par.
"It was a little bit of a slow start. Made a good birdie on 17 to get back. Make a nice birdie on one, and then poor bogey on two, really. Hit a bad second shot on three into the bunker there," said Kjeldsen.
"And then I holed that nice bunker shot and that sort of set me up for the back nine. I played well after that."
"It's been really good the last six months. But still, I've been to 31 in the world and right now I'm 59. So to be able to say that I'm better than ever, I need to play on that level a little bit."
The 40-year-old has enjoyed a successful season so far, winning the Irish Open and securing runner-up places in Sweden and Denmark, where he played his 500th European Tour event.
Asked if his new-found winning mentality would help him, Kjeldsen said: "Well, it should. It can't hurt. To be honest with you, I'm not really into all that - I haven't looked at any results.
"I didn't even realise I was leading until I saw you. So I just want to keep doing what I'm doing. I enjoy myself, going through the process and hitting some nice shots."
Two shots adrift is Robert Karlsson, who carded a one-under-par 70 on Friday, and said he was pleased with how he handled the differing conditions on day two.
"It's not an easy golf course. If you don't hit it properly, get just a little bit off, all of a sudden it's hard to get close to the hole," said Karlsson.
"I played pretty similar all day and a little bit of a struggle compared to yesterday. Pretty good round in all… it's great to be here playing a tournament in England."