PGA golf coach Alison Perkins talks about being transgender
"A feeling of being better": Alison Perkins tells Sportswomen about her journey and the support she has had from the PGA; racing driver Charlie Martin, who is also transgender, says her return to sport has also been positive
Last Updated: 18/07/18 9:08am
In her work as a golf coach, Alison Perkins helps others find the answers to problems in their game.
However, for most of her career and her life, she was unable to solve the difficulties she faced herself - a "constant struggle" with her gender identity that resulted in dysphoria and affected her mental health.
Now she is not only back out on the course with the support of the Professional Golfers' Association, but this week she is also working at the event that represents the pinnacle of her sport - The Open.
In an interview with Sky Sports News' Sportswomen show, Alison shares the story of her journey as a transgender woman and the "positive" outcome of her transition.
Reflecting on her difficult teenage years, she says: "I'd come home from school having had a dreadful day where I'd been bullied and was upset. The house was empty - I was in such a mess. I would think, 'the person that's having these troubles needs some space'.
"I was a different person maybe three or four times a day.
"The moment I made the transition from one person to another… There was a complete calming, a feeling of being better, more relaxed and more positive."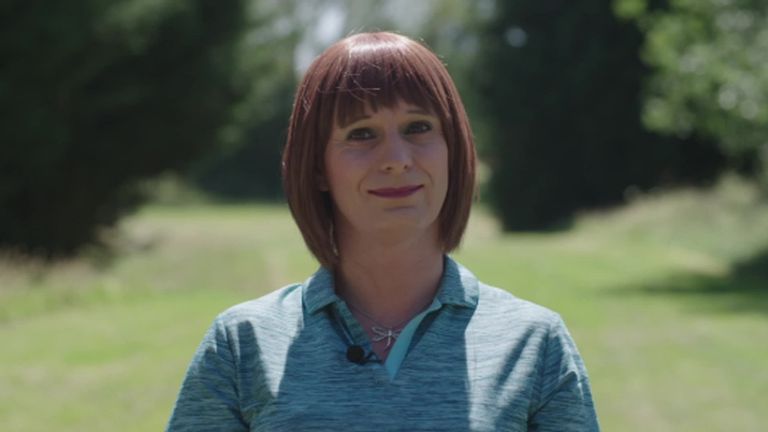 The PGA's support is new for them, as it is for me. But they've been stable, like a rock.
Alison Perkins
Eight years ago, Alison stepped away from her work as a golf coach in order to focus on her transition. "The word 'transition' is difficult. It means so many things in this 'transgender world'.
"There is transitioning mentally, transitioning physically… we're all going to be different, and find our place in a different way."
Alison's passion for golf and the confidence she has gained now shines through in her coaching. At Carnoustie this week, she will be assisting amateurs in the PGA's Swing Zone.
"Improving someone's golf game gives me a buzz," Alison explains. She is also grateful for the guidance and care shown by golf coaching's governing body for helping her return to the sport she loves. "The PGA's support is new for them, as it is for me. But they've been stable, like a rock.
"I want people to see me as a fun coach who knows their stuff."
Watch Alison's interview with Sportswomen in full in the video at the top of this article. You can watch this week's show in full on Tuesday at 7pm on Sky Sports Mix, at 9pm and 10.30pm on SS Action, and it's also available On Demand.