Ryder Cup 2014: Ian Poulter not a certainty to make European team
Ian Poulter is not guaranteed a place in the European Ryder Cup team next autumn, according to captain Paul McGinley.
Last Updated: 10/03/14 11:47am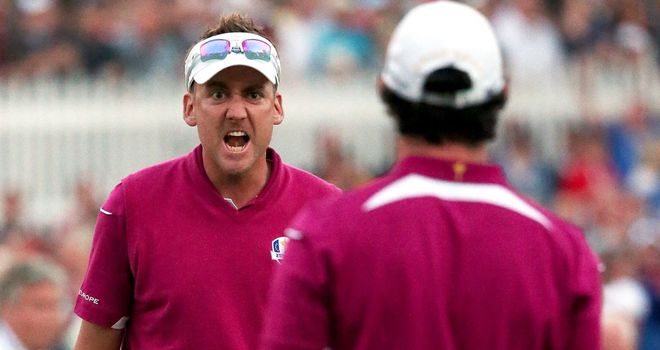 Poulter has proved a European spearhead over the last three contests, and famously ignited the spectacular comeback at Medinah last year when he made five straight birdies to earn him and Rory McIlroy the last point of the second day.
The Englishman made it four points from four matches with victory over US Open champion Webb Simpson in Sunday's singles as Jose Maria Olazabal performed their "Miracle at Medinah" to retain the trophy.
Poulter has now won 11 of his last 13 matches in the contest, but he has twice made the team as a wild card selection and McGinley insists he will not be an automatic choice at Gleneagles.
"Ian Poulter is a special guy and what he did last year was incredible," McGinley said. "It wasn't a case of making five birdies when everything is with you and you are hearing the roars around the golf course and things are flying.
"Making five birdies on the Sunday when the momentum is with you is one thing, but what Ian Poulter did in making five birdies in a row on the back of Rory making one on 13 is incredible.
"It really was one of the most incredible achievements I have seen on a golf course. That was a monumental achievement and there is no doubt he personally pulled the team into a position to be just within touching distance.
Pulse
"Then when he got into the locker room he said 'For the first time all week we have a pulse'. That was so poignant and right as we were on life support before that.
"Everyone has got this impression of Ian Poulter being a William Wallace, walking around the team room and banging on the heart, shouting and roaring.
"I can assure you behind the scenes he is a very polished, observant member of the team. He doesn't make the rip-roaring speeches but you know looking around the team, you can tell the players who are up for it as well as those who are suffering and nervous.
"But I am not saying anybody is in the team. I am talking in the past and I am talking about what he has achieved until now. I can assure you that if Ian Poulter has a very poor year next year he is not going to be in the team.
"But the chances of Ian Poulter having a very poor year are slim and I am hoping that doesn't happen.
"I would love to have him in the team but he has to earn his stripes. He has to prove to me he is on his game and mentally and physically ready."