Paul McGinley: No scar tissue for Scottie Scheffler on way back to No 1 | 'Course management is key'
Scottie Scheffler is back at world No 1 after his five-shot victory at The Players; Dominant win at TPC Sawgrass is his sixth success in 13 months on the PGA Tour; Title defences at the WGC-Dell Technologies Match Play and The Masters to come in the weeks ahead, live on Sky Sports
Last Updated: 14/03/23 10:40pm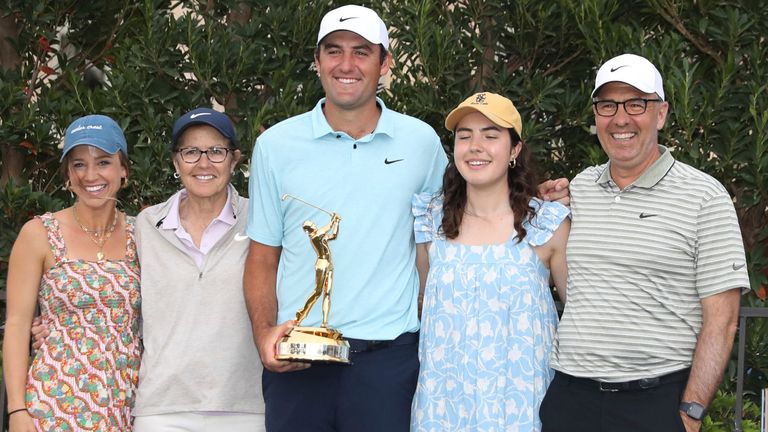 Paul McGinley discusses another impressive victory for Scottie Scheffler at The Players and explains how the six-time PGA Tour winner has made the transition back to world No 1...
At risk of using that often-used term, it was Tiger-esque in how he clinically put this tournament away. He cruised and he wasn't making mistakes, which ended up being the key.
All week long we talked about him being a horse in the gallops, as he was under control and you just knew he had another gear. He had the lowest bogey count of anyone up there by a significant number of shots, then just picked off the par fives and controlled the tournament.
It was just a classic finishing-off-a-tournament performance from Scheffler. He made a mistake early on the final day, but slowly picked it apart. No one gave him the tournament - he controlled it and won it.
I look at what players don't have and it is hard to see a weakness in Scottie. When you get to this rarefied atmosphere, so many guys hit the ball so well, chip and putt so well and have great teams around them, so you have to look between the ears to find the difference.
I think he separates himself between the ears. It wasn't easy going out with the lead in a big tournament, dealing with the pressure and putting it away, but he did that some style.
Golf is game of mistakes and the ability to bounce back is huge - it's a vital ingredient in the psyche of all great players. Scheffler showed us exactly the quality of player that he is.
'Course management key for Scheffler'
You don't come out the blocks on a golf course and attack from the first hole, as there's always parts of a golf course where you can crash and burn and have to back off a little bit.
Scheffler talked about knowing that once he got through those first seven holes he knew he was coming up to the scoring part of the golf course, which brought a different mindset and different strategy.
He killed the par-fives this week and was five shots better than anyone else in the field. Then you throw in the fact he had five less bogeys than the rest, so that's 10 shots straight away there, which shows how important his strategy was.
'No scar tissue for Scheffler'
There is a lot of stability in his life, from his coach Randy Smith to his family around him, while his Christian faith is obviously a huge part of his demeanour and confidence under pressure.
Remember, this was a guy who blew a quite significant lead at East Lake last year at the Tour Championship. We talk about scar tissue and that had to be in his mind going into the final round, but he went about things in a way that made it clear he wasn't carrying any baggage from that loss.
Let's not forget about the importance of Ted Scott either, as Scheffler has ignited as a player since he has come on the bag and they seem to get on very well in so many ways and not just in the player/ caddie relationship. This is not by chance and Ted has been a big contributor to his success, on top of the wonderful game that we know he has.
When you put the whole package together then it's pretty formidable for Scheffler, who now has won over $33m in prize money over the past 13 months. We talk a lot about money in the game at the moment and I know it shouldn't all be about money, but boy that's some sum of money available through the PGAT should you play really well and puts to bed any argument that the players are somewhat underpaid.
It's a good time to be a great player in the game particularly if you have a game and mindset like Scottie Scheffler.
Can Scheffler enjoy more success in the coming weeks? Watch his title defences at the WGC-Dell Technologies Match Play from March 22-26 and The Masters from April 6-9 exclusively live on Sky Sports.