Tyron Woodley defended his welterweight title with a second-round submission win over Darren Till at UFC 228 on Saturday night.
It was the fourth title defence for Woodley (19-3-1) and first in more than a year.
Woodley came out aggressively before settling in to a more conservative approach for most of the first round.
A right hand early in the second round dropped Liverpool native Till (17-1-1), and the 36-year-old Woodley repeatedly punched him on the ground.
The submission win, at 4:19 of the second, came after about three minutes with Till pinned on the canvas trying to stay in the fight before it was finally called.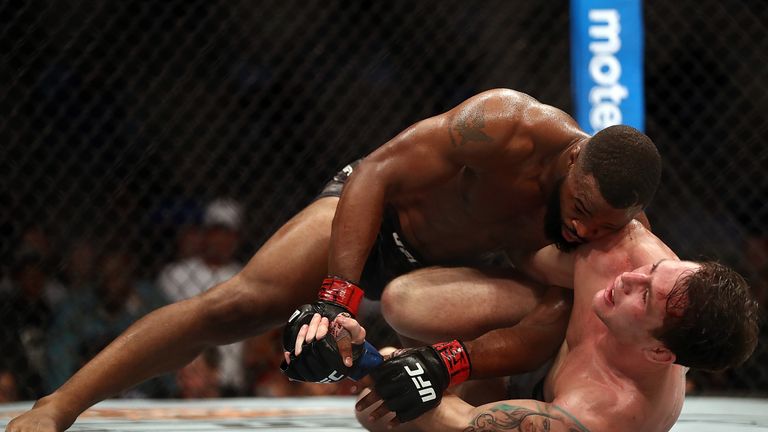 "He had all the pressure," Woodley said. "When you're undefeated, you don't know. I've been in that position, 10-0, rising star. Everybody thought I was the hottest thing on the block. Got knocked out. It broke my heart. I never thought I was going to lose."
Till, who was hoping to become only the United Kingdom's second UFC champion, admitted the defeat "really, really hurts" but insisted he can still become the "best ever".
"I'm just gutted, but you know I've had losses before MMA and it just makes you stronger," he told ufc.com. "There's no excuses, Tyron was the better man tonight and, make no mistake, I will come back stronger."
In the co-main event, Jessica Andrade (19-6) knocked out Karolina Kowalkiewicz (13-3) at 1:58 of the first round in a women's 115-pound non-title fight.
Andrade's straw-weight win replaced a women's flyweight championship fight that was cancelled when title holder Nicco Montano was hospitalised for an undisclosed health issue. Montano was supposed to face top-ranked contender Valentina Shevchenko.