Usain Bolt's manager Nugent Walker Jr jokes the multiple champion could have won more
By Rob Dorsett, Sky Sports News HQ in Kingston, Jamaica
Last Updated: 16/11/16 11:08am
Multiple World and Olympic champion Usain Bolt is an "underachiever" according to his oldest friend.
Nugent Walker Jr has known Bolt since he was four years old and is now his manager. He says, even though Bolt is the most successful sprinter of all time, with nine Olympic and 11 World Championship gold medals, people around him always mock him, saying he's not fully utilised his talent.
"Usain is blessed with immense talent. We always tease him that he's underachieving, because we believe he is the most talented athlete we ever met upon," he told Sky Sports News HQ.
"Every year, there's some injury he's had to overcome. But he's still awesome. You saw at the Olympics even though he didn't win in world record pace, you saw the gap he beat the rest of the field by. That shows how great he is."
NJ says he knew from a very young age that Bolt would become a superstar - at whatever sport he chose. And at first, his friends thought he'd take up cricket or football.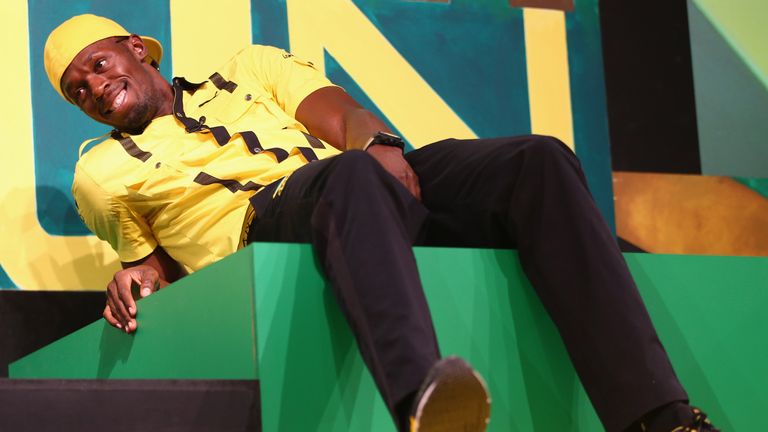 "When we were in Grade 3, he made the senior cricket team, with boys in Grade 6. He was eight, and he made the team with 11 and 12-year-olds. That's when we knew he was special. We always said if it wasn't track and field, it would've been some other sport because he was that dominant in any form of sports," he added.
Not that his mates always made the best use of his speed. Especially on the football pitch.
"He's very good on the flanks," continues NJ. "Obviously because we could utilise his speed. But funnily enough we thought he'd be a good goalkeeper.
"We put him as goalkeeper in primary school, because of course he was the tallest, so we thought it was the smartest thing to do - put him in the goal, and we thought no one would get past him!"
Bolt is now one of the richest sportsmen in the world, earning an estimated £24m a year - more than 2,000 times the Jamaican average wage. But NJ says he's had to work very hard for that success, and he has seen Bolt cope with some real hardships too.
He said: "Even before I managed him, we were best friends. He shared his troubles with me. Imagine winning at 15. And that transition period between 17-21 was plagued by lots of injuries; there was lots of pressure on him from the Jamaican crowd who were booing him - it was hard for him."
NJ says there is only one Usain Bolt - and what you see is what you get.
'I Am Bolt' is in cinemas and on digital download from November 28.
Upgrade to Sky Sports now to watch Man Utd v Arsenal this Saturday and get the first six months half price!