Tanni Grey-Thompson tells My Icon about her life and the ongoing battle with disability discrimination
Watch Tanni Grey-Thompson in the new series of My Icon, showing from 6pm on Monday on Sky Sports Mix (Sky channel 121). All episodes of My Icon are available On Demand
By Gemma Louise Stevenson
Last Updated: 24/09/18 6:06pm
Tanni Grey-Thompson is still trying to change perceptions on disabled athletes after a lifetime in sport and politics.
During her athletics career, she brought home 16 Paralympic medals, including 11 golds, won the London Marathon six times, and broke 30 world records on the track. Baroness Grey-Thompson has certainly earned her place as one of Britain's greatest athletes.
Coming from a "really sporty family", she was encouraged from a young age - trying swimming, horse-riding and tennis along with "about 20 other sports" before eventually finding her love and path towards a successful career in wheelchair racing.
"When I first looked at wheelchair racing, I thought 'I don't want to do that'," she tells the new series of My Icon, which is returning to Sky Sports Mix (Sky channel 121) to mark National Inclusion Week.
"That's really dull, you just go round in circles. It's only when I did it and experienced it that I realised 'actually this is amazing', so you've got to try things to realise what you might want to do."
Growing up in Wales, there was no shortage of sporting role models for the young Grey-Thompson to look up to, including two who have had a big influence on her throughout her career - scrum-half Gareth Edwards, and the man who put wheelchair racing on the map in the UK, the late Chris Hallam.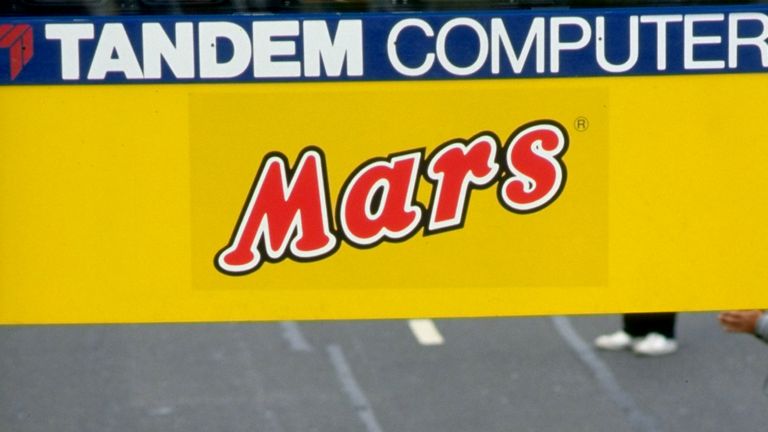 He was loud and forthright and had an opinion and said what he thought, and he fought tirelessly for wheelchair racing to be treated as a mainstream sport.
He also had appalling taste in leopard print lycra suits, which I loved him for.
Tanni Grey-Thompson on Chris Hallam
Stepping Stones
While Grey-Thompson has reached some major milestones in her career, glory and gold medals did not come overnight.
"I didn't win a race for the first few years I competed because there were lots of other girls who were better than me, but what it taught me to do is to find different ways to train, to think about my chair design, to put all these things in place," she explains.
"When I won my only junior title at 16, it gave me a really positive mental boost to make that transition into being a senior athlete."
Aged 17, she was selected to be part of the senior British wheelchair racing squad which then led to representing GB at a total of five Paralympic Games over her career, starting with Seoul in 1988 - the first Paralympics in 24 years to take place in the same city as the Olympics - where she left with a 400m bronze.
"The first day of competition, the stadium was packed," she said.
"They'd brought in local groups, volunteers, the local office blocks had come in to support, and what you'd have is the same people sitting in the seats every day but each day, they'd support a different country so for every country that competed, there was support in the stadium."
Barcelona, four years later, saw her make the medal podium once more but this time she came home with four individual gold medals. But the 1996 Games in Atlanta brought with it a tougher challenge for Grey-Thompson.
"You got the impression in Atlanta that they didn't really understand the Paralympics, which is incredible because the Americans with Disabilities Act is an incredibly strong bit of legislation.
"We had virtually no one come and watch us compete. There were days when you could name the crowd."
America is still a market that she believes even now, more than 20 years later, still needs to be cornered.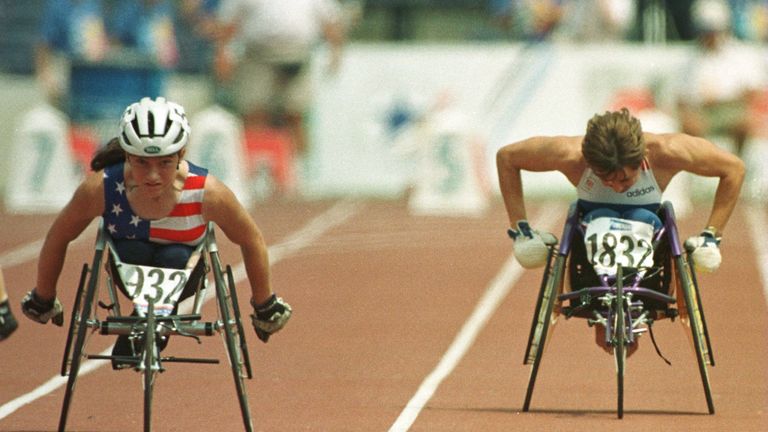 If you look at it in the USA, they have very little coverage of the Paralympic Games. I think once we crack the US market, that will change the coverage, the publicity and the sponsorship that comes in.
Tanni Grey-Thompson
She came away from Atlanta with one gold and three silver medals but, despite that impressive personal medal tally, she had some people saying she should retire.
But Grey-Thompson felt she was still progressing, stayed in the sport, and brought home another four individual golds in Sydney.
Her daughter, Carys - and a hotdog - then provided the motivation she needed in her final Games in 2004. She experienced a disappointing 800m final in Athens, where she made some split-second decisions that cost her and saw her finish seventh.
"Carys was the only one not crying, and I remember saying to her 'did you watch mummy's race?' and she went 'nah, I was eating a hotdog'.
"Apparently, she hadn't paid the slightest bit of interest. In some ways, that was amazing because it helped me refocus and that was a really big part of helping me come back and then win another two golds."
The Next Chapter
Since retiring from life as a competitive athlete, Grey-Thompson has not stopped.
As well as championing the importance of sport and physical activity for all in order to broaden participation at grass-roots level, she has also become a powerful advocate for disability rights.
"As I grew up as an athlete, disability rights became incredibly important to me because they do sit hand in hand with sport.
"If disabled people experience massive discrimination, then it doesn't encourage people to come into sport and to progress through that route, so although I didn't have a public view on disability rights when I was competing, that was something that became more and more important."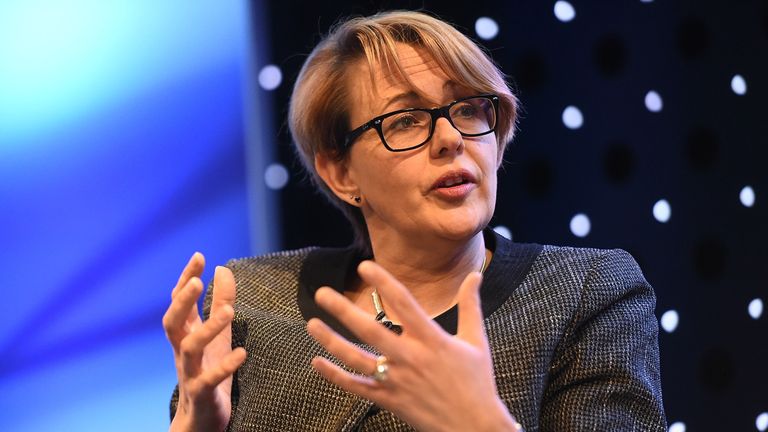 Baroness Grey-Thompson, who has always had an interest in politics, now sits as an independent crossbencher in the House of Lords and is very active on social media, listening to concerns from the disabled community about everyday discrimination and accessibility.
"What hasn't gone is discrimination in daily life, and the reality is pretty tough for disabled people.
"I'm quite resilient about people thinking about me differently. I don't go to a dark place when people discriminate against me - what happens is I kind of want to fight back, I want to change it, and I want to make it better for other people."
Don't miss Tanni-Grey Thompson on the latest series of My Icon - All My Icon episodes are also available on Demand.