Dina Asher-Smith wins 200m gold at World Athletics Championships
Brit sets new national record to win gold in time of 21.88 seconds
Last Updated: 03/10/19 11:01am
Dina Asher-Smith has become the first British female to win a world sprint title after taking gold in the 200m final at the World Athletics Championships in Doha.
Asher-Smith, 23, set a new national record with a time of 21.88 seconds. American Brittany Brown won silver, with Switzerland's Mujinga Kambundji taking bronze.
After winning silver in the 100m final on Sunday night, Asher-Smith's favourite-tag for the 200m was boosted when a host of rivals pulled out.
Olympic champion Elaine Thompson joined 100m champion Shelly-Ann Fraser-Pryce, 100m bronze medallist Marie-Josee Ta Lou and Dutch defending champion Dafne Schippers among the absentees.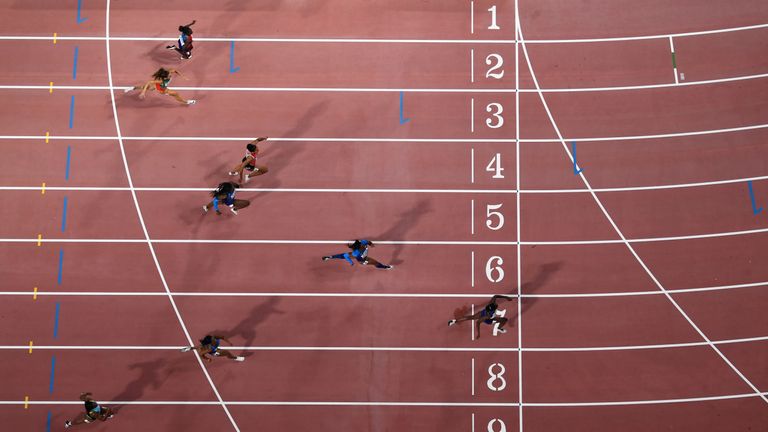 Asher-Smith is just the seventh British woman to claim world gold.
"I know I was tired and woke up today knowing this was the last individual chance and this was the moment I did all my work for," she said.
"This is what we knew we could achieve if the season went well, and the tiredness just disappeared when I needed it to.
"It means so much. There's so many British fans here. I know lots of Brits live in Doha but lots have travelled and for my mum to be here, my dad, John and his wife and my physios... it means so much.
"Normally I'm quite chatty and full of energy but it's a different thing with everyone saying 'you're the favourite'. It's a different thing going and doing it.
"You're only the favourite if you go out and perform how people expect you to, and I was really focused on putting together a good race. I dreamt of this but now it's real."
What does this mean ahead of the Olympics?
Asher-Smith has become one of the world's best sprinters over the last 18 months.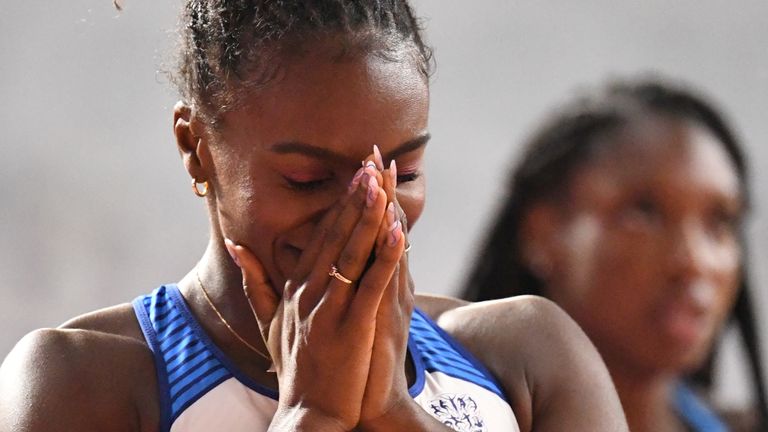 A 200m victory after Sunday's impressive 100m silver sent out a huge warning to her rivals ahead of next year's Olympics in Tokyo.
It is unfortunate she has encountered the returning Fraser-Pryce in imperious form, as her 100m final time of 10.83 seconds would have been enough to win gold at the London World Championships two years ago.
Can she go faster?
The British record holder broke her own 100m mark on Sunday for the second major championships running.
Last August, she set 10.85s to win gold at the Europeans in Berlin but went better in Doha.
On Wednesday, she turned on the afterburners to take the title but will have to go faster if she wants an Olympic title.
KJT holds overnight lead in heptathlon
Great Britain's Katarina Johnson-Thompson held the overnight lead in the heptathlon after an impressive first day at the World Championships.
The 26-year-old has 4,138 points after the opening four events of the competition at the Khalifa International Stadium.
She holds a 96-point advantage over Olympic and defending champion Nafi Thiam in Doha.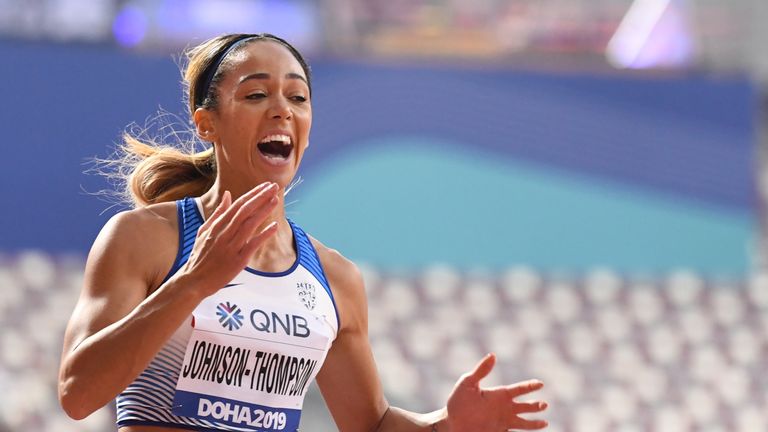 The pair remain a class above the rest of the field, with the United States' Kendell Williams trailing in third, 187 points behind Thiam.
Johnson-Thompson, who came second to Thiam at last year's European Championships, excelled ahead of Thursday's long jump, javelin and 800m.
She posted two personal bests in the 100m hurdles and shot put.
The World Indoor pentathlon champion made the perfect start to kick-start her bid for gold with a huge lifetime best of 13.09 seconds in the 100m hurdles.
Johnson-Thompson appeared shocked by the time after winning her heat.
Her and Belgium's Thiam then went blow for blow in the high jump, both finishing with clearances of 1.95m.
In the shot put, one of Johnson-Thompson's weaker events, she shone again to throw a personal best of 13.86m, to come second behind Thiam, who threw 15.22m.
In the 200m, she clocked 23.08secs, a season's best, to win heat three.
Muir into 1500m semis
Earlier on Wednesday, Laura Muir safely qualified for Thursday's 1500m semi-final after her return from injury.
The 26-year-old was running her first competitive race since tearing a calf muscle at the Anniversary Games in London in July.
The Netherlands' Sifan Hassan qualified fastest, with Hassan coached by Alberto Salazar.
The American was given a four-year ban on Tuesday by the United States Anti-Doping Agency after being found guilty of doping violations.
Salazar runs the Nike Oregon Project and was stripped of his accreditation so could not have any contact with his athletes, but Muir chose to ignore the controversy.
"All I can do is focus on myself, that's all I'm in control of. I love the sport for what it is, I love to run and compete," Muir said.
"No matter what the circumstances, I'm going to race. Whoever is there is up to other people.
"At this point, all I can do is focus on myself, that's all I'm in control of. I'm the only person I can speak for and vouch for."
On her fitness, Muir added: "It was a pretty good feeling, I was quite nervous before the race.
"I'm usually not for the heats but it's just been so long and it's so good to be out there, feel like myself and be like 'oh, I can still run'."
Sky Sports News reporter Geraint Hughes in Doha...
Dina delivered. She dominated the field - the fastest reaction followed by a powerful sub 22-second run that saw her break her own British record. Was it ever in doubt?
Barring a false start or illness, I just couldn't see her being beaten. Her rivals departed one by one, but she grew stronger and faster, and her mental approach was almost as impressive as the physical execution.
Steely-eyed, focused, determined, never getting excited, just relentless - and it's ended up with a 200m gold to go with her 100m silver. Don't bet against a third Championship medal coming her way at the weekend, when she forms part of the British 4x100m squad.
When one gold medal comes, could another follow? KJT has by her admission "got it all right after trying for years". She leads the heptathlon after day one of two, with four events complete out of seven.
She's back on Thursday morning, so now it's all about an ice bath, massage, and sleep. Lots of sleep. She's happy that all of day two's events are in the evening. It means she gets a lie-in!