Hundreds of thousands of fans took to the streets of Houston to welcome home the World Series-winning Astros team on Friday.
The Astros claimed the World Series crown for the first time by beating the LA Dodgers in seven games in one of the most exciting and unpredictable series in recent memory.
The champions spent an hour traveling in fire trucks and double-decker buses during a victory parade in the downtown area of the city.
The World Series trophy was carried by MVP George Springer. He planted the trophy at the front of one of the trucks before they started down a route lined with cheering fans.
The parade ended in front of City Hall, where Astros team owner Jim Crane joined Manager A.J. Hinch and coaches on a stage.
Each player was introduced to cheers and the crowd chanted "MVP" as American League MVP candidate Jose Altuve was introduced.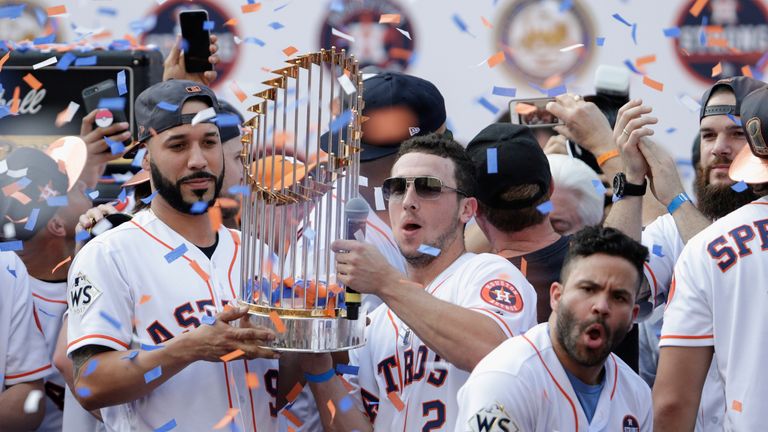 Many fans carried Houston Strong placards and banners in tribute to those affected by Hurricane Harvey which hit the city in August.
The team have not made the decision yet on whether to visit the White House if President Donald Trump extends an invitation.
Such visits are common for title-winning teams. Superbowl winners The New England Patriots and Stanley Cup holders The Pittsburgh Penguins visited this year, but the NBA Champions The Golden State Warriors did not make the trip after being uninvited by Trump.
World Series MVP George Springer says he's visited the White House before and will go if the team goes.