Carmelo Anthony trade to Oklahoma City Thunder confirmed as New York Knicks add two
Last Updated: 25/09/17 5:07pm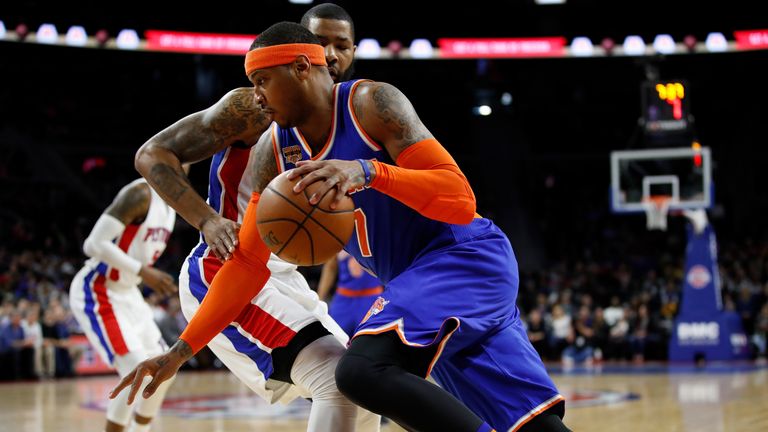 Carmelo Anthony is a member of the Oklahoma City Thunder after their trade with the New York Knicks was confirmed on Monday.
Anthony joins Russell Westbrook and Paul George on a star-studded Thunder squad in a deal that had first been mooted over the weekend.
The forward has cost Oklahoma City centre Enes Kanter, small forward Doug McDermott and a 2018 second round draft pick previously acquired from the Chicago Bulls.
They are scheduled to take on their old team-mates in their opening game of the NBA's regular season on October 19 at Madison Square Garden.
Anthony has spent the last six-and-a-half seasons in New York, but the franchise has failed to make the play-offs since 2013.
The 10-time All-Star, who has won three Olympic gold medals, averaged 22.4 points per game last season, some way down on the 28.7 he averaged in 2012-13 to win the scoring title.
"We are thrilled to welcome Carmelo to Oklahoma City and the Thunder organisation," said Thunder general manager Sam Presti.
"In addition to his skill level, experience, and unique talents, Carmelo is another high character, professional player for our roster."
McDermott was a first-round pick of the Bulls in 2014 and had limited success in three seasons with the franchise before being traded to Oklahoma City in February.
Turkish centre Kanter spent the first four seasons of his NBA career with the Utah Jazz and averaged 14.3 points per game last season with the Thunder after being traded to the team in 2015.