Dirk Nowitzki passes 50,000 minutes in NBA, all of them played with the Dallas Mavericks
Last Updated: 06/02/18 9:52am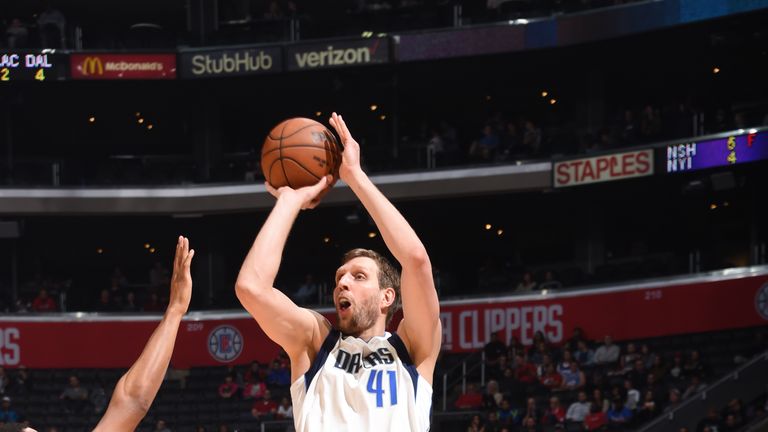 Dirk Nowitzki became only the sixth player to have played more than 50,000 minutes in the NBA in the Dallas Mavericks' defeat by the Los Angeles Clippers.
The German great scored 12 points and secured six rebounds in the 104-101 defeat at the Staples Center on a night when his name made headlines for more than one reason.
Kareem Abdul-Jabbar, Karl Malone, Kevin Garnett, Jason Kidd and Elvin Hayes are the only other players to have passed the landmark, with Hayes and Kidd both retiring soon after.
Nowitzki is already fifth in all-time minutes, having passed Hayes, and he will pass Kidd for fourth before the end of his 20th season if he avoids serious injury.
The 39-year-old has played every single minute of his career for the Mavericks. He was initially drafted with the ninth pick of the 1998 NBA draft by the Milwaukee Bucks and immediately traded to Dallas in a deal which also brought the franchise 2018 Hall of Fame nominee Steve Nash.
But Nowitzki's night made more headlines - especially on social media - for a spelling mistake, with his jersey for what turned out to be a landmark night having his name spelled incorrectly - Nowitkzi.
Nowitzki said: "I actually just saw it. I had no idea. I guess it happens. I usually look at my jersey, so I never even saw it myself. It happens. I guess it kind of sums up our season."