Sir Dave Brailsford has described Chris Froome's second Tour de France victory as the proudest moment of his time with Team Sky.
Brailsford helped set up the British squad in 2010 and they have gone on to win the Tour three times in six attempts, through Sir Bradley Wiggins in 2012 and Froome in 2013 and 2015.
However, speaking in "Chris Froome: Back In Yellow", a one-hour documentary to be screened on Sky Sports 1 at 10pm on Sunday, Brailsford said last Sunday's triumph gave him added satisfaction given that it came a year after an unsuccessful 2014 Tour for Team Sky.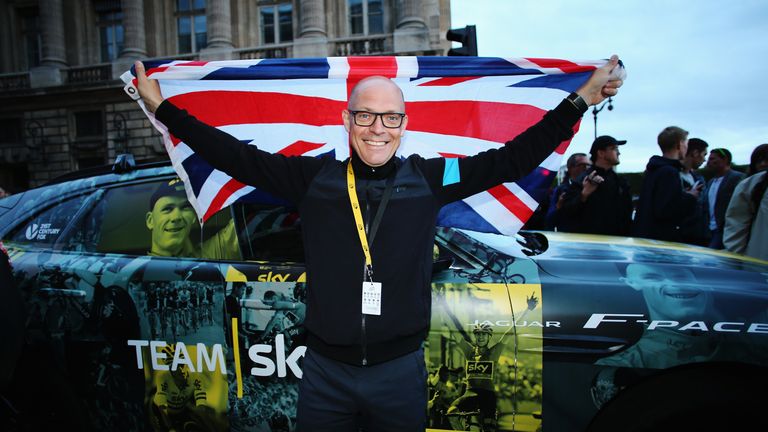 He said: "I guess this win, on a personal level, what I have been really proud about, [is] we had a tough year last year. 
"In the six years that we have existed, the first year was very much a learning year. We didn't do that great, but we learnt an awful lot. In the five Tours de France after that, our leaders either crashed out in the first week or we have won.
"From our point of view, if you look at last year, Chris crashed out, but I just think we weren't quite on it; we were nearly there but not quite.
"But I think it's that bottom of the curve; we turned it around. That is what, on a personal note, I quite like and what I'm proud of."
Despite winning the Tour in three of the past four editions, Brailsford is keen for Team Sky to evolve and keep improving.
There is speculation the team will sign new, high-profile riders over the winter, but Brailsford is also looking for progression off the bike.
He added: "It's like a treadmill, if you like. It's continuously moving and unless you run hard, you are not going to keep pace, and if you slow down a little bit, you start moving backwards and everybody else will come past you, so you have either got to accept that you run as hard as you can or you have got to get off  - one or the other.  
"There is a continuous quest for improvement, which is the whole marginal gains philosophy, and you need a group of people who are willing to work very, very hard, so when they think they have got everything, there nothing else to do – you have got to find something else and move on again."
Watch "Chris Froome: Back In Yellow" on Sky Sports 1 at 10pm on Sunday.