Conor McGregor beaten by Khabib Nurmagomedov as melee breaks out after fight
Three members of Nurmagomedov's team detained in Las Vegas
Last Updated: 07/10/18 1:00pm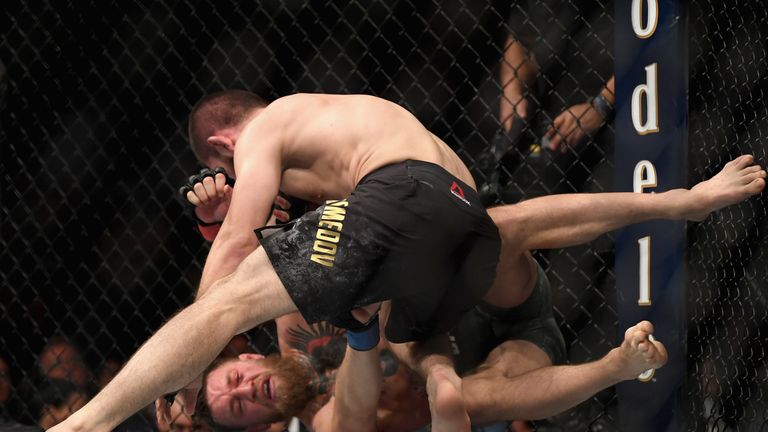 Conor McGregor was beaten on his UFC return by Khabib Nurmagomedov, but the Russian was involved in a huge post-fight melee that overshadowed the victory.
McGregor was making his comeback to mixed martial arts after a near two-year hiatus but the former two-weight champion submitted to his rival's rear-naked choke midway through the fourth round in Las Vegas.
Nurmagomedov retains his lightweight title but then threw his gumshield, mounted the cage and looked to attack someone from McGregor's team.
A prone McGregor, still sitting on the floor after his defeat, was apparently attacked by someone from Nurmagomedov's camp as the bad blood that has been building up ahead of this fight came to a head.
UFC boss Dana White later confirmed that three members of Nurmagomedov's support team were briefly detained by police but were released soon afterwards when McGregor said he would not press charges, according to White.
Nurmagomedov took one question at his press conference, and he apologised to the Nevada State Athletic Commission and Las Vegas.
However, he spoke of his disdain for McGregor's behaviour leading up to the fight - including his notorious 'bus attack' in April.
Nurmagomedov said: "I don't understand how people can talk about how I jump on the cage. He talked about my religion, he talked about my country, he talked about my father.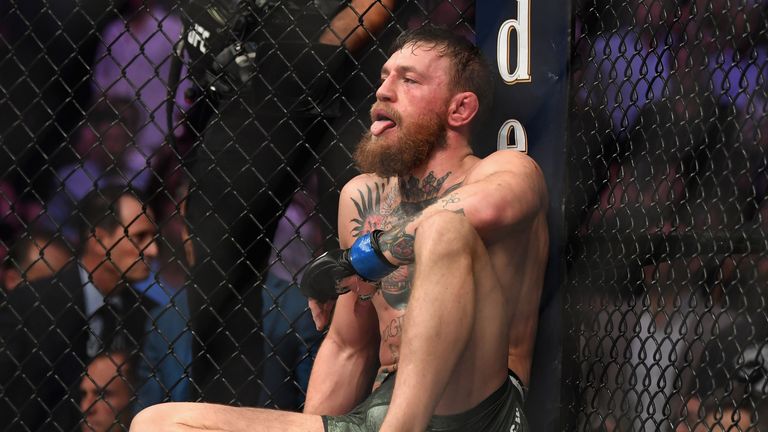 "He came to Brooklyn and he broke a bus, he almost killed a couple of people. What about this s***?"
Nurmagomedov also told reporters that Russian President Vladimir Putin had called to congratulate him on the win.
The UFC lightweight champion had McGregor on the ground less than a minute into the opening round and kept the Irish fighter on his back for much of the fight.
McGregor managed to stay on his feet for most of the third round, but could not hurt Nurmagomedov, before tapping out in the next.
After the melee, McGregor eventually departed in a huddle of security personnel, while Nurmagomedov was also hustled out as the crowd jeered and threw drinks at him.
White refused to hand Nurmagomedov his belt, saying he feared it would further inflame the crowd. "If I put this belt on you, everyone's going to start throwing s*** into the Octagon," he told Nurmagomedov.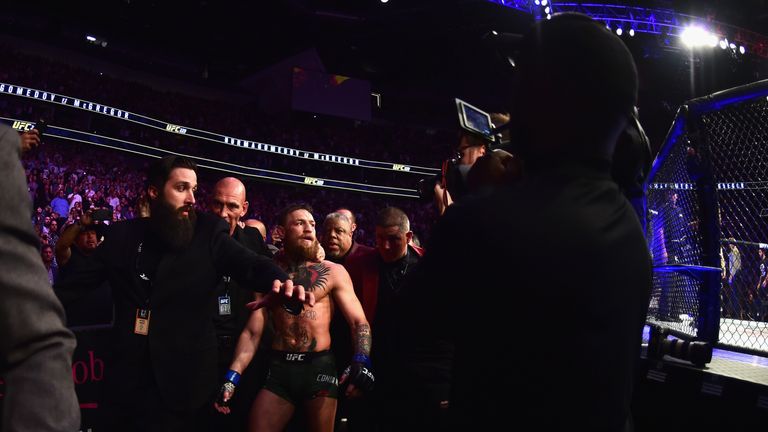 The ring announcer declared Nurmagomedov the winner after both fighters had departed, but the UFC president later confirmed that the Nevada State Athletic Commission had withheld Nurmagomedov's payment pending an investigation into the brawl. However, McGregor's payment was released.
Speaking after the fight, White added: "[I have] been doing this for 18 years, and [on] the biggest night ever, I couldn't be more disappointed. I'm not even mad. I'm just really disappointed."