Rainbow Laces' annual activation to raise awareness of LGBT inclusion in sport
Premier League, England Rugby and the ECB among national governing bodies and organisations supporting the campaign this month; Sky Sports activating to ensure "everyone feels part of the action"
Last Updated: 15/11/18 8:34am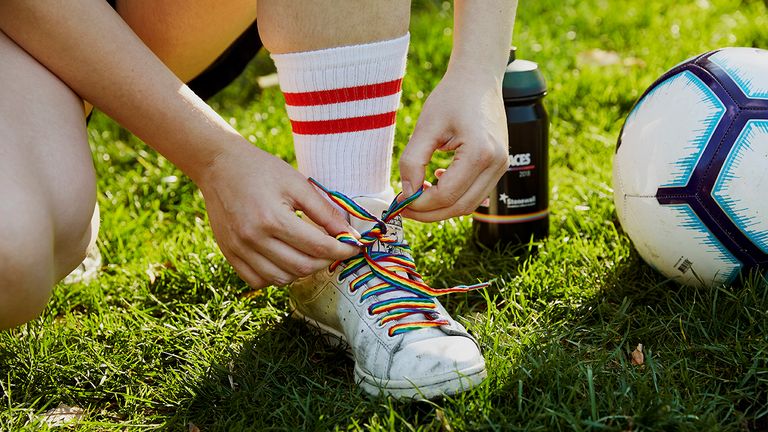 "Being a good team-mate and taking responsibility for making LGBT people feel welcome" - that's the message behind this year's Rainbow Laces campaign activation.
The inclusion in sport initiative run by the LGBT equality charity Stonewall, and backed by Sky Sports as a member of the TeamPride coalition of businesses, begins its annual awareness period this weekend.
With over 20 national governing bodies and organisations publicly backing Rainbow Laces, the activation will this year run into the first week of December, during which every Premier League club will have a home game designated to the campaign.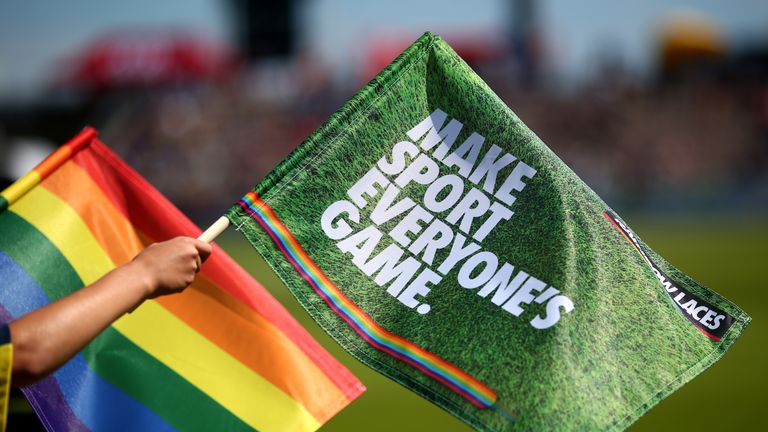 Like the Premier League, the EFL and SPFL are also activating Rainbow Laces in professional football, while NGBs such as the England and Wales Cricket Board, the PDC in darts, England Rugby and Premiership Rugby, and the British Olympic Association will also help to bring visibility in November and December.
"It's great to see UK sport banding together in the biggest ever show of support for LGBT people in sport," said Stonewall's director of sport, Kirsty Clarke.
"Whether you're into cricket, darts, rugby, football or athletics, your sport is taking part and lacing up."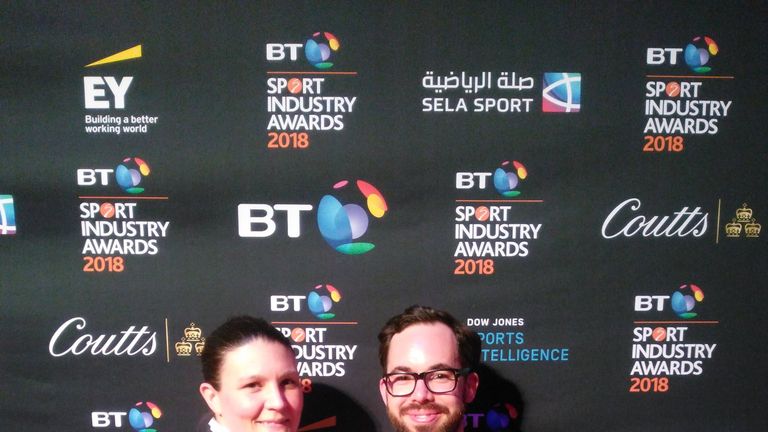 Clarke is urging all sports fans to pick up a pair of Rainbow Laces and, by wearing them in their shoes, boots or trainers, take the campaign message to as many people as possible.
"It can't just be the national bodies making this statement," she added. "We need every sports fan to do the same and commit to stand up as an ally to LGBT people in their sport and beyond.
"What that action looks like is simply being a good team-mate and taking responsibility for making LGBT people feel welcome. Not only can you show your support, you can challenge chants or insults about LGBT people, or report abuse, whether that's online, watching live sport or taking part.
"So many sports wanted to take part this year, we had to extend the campaign from a week to three weeks and that just shows what an appetite there is for positive change across the sporting world."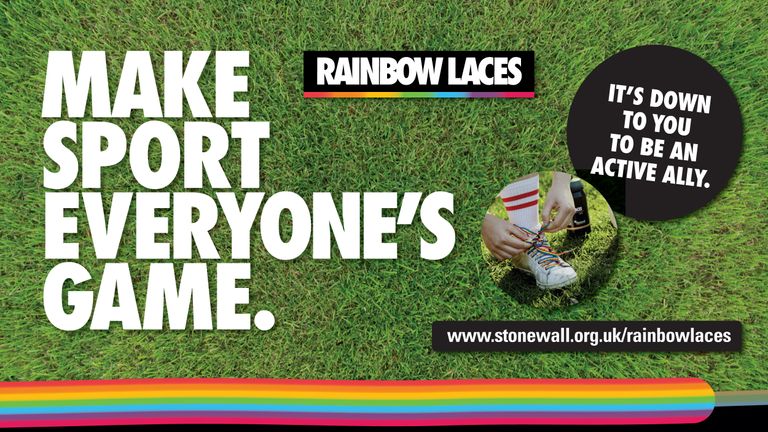 Sky Sports will again be supporting the campaign with interviews, features and content, while also introducing rainbow motifs to our broadcast, social and digital platforms.
Steve Smith, Director of Content and Production, said: "Every day, Sky Sports brings the excitement, energy and enthusiasm of sport to millions of viewers and customers. We want to ensure everyone feels part of the action. That's why Sky is such a big supporter of Rainbow Laces - a fantastic campaign that brings visibility to the message of LGBT inclusion."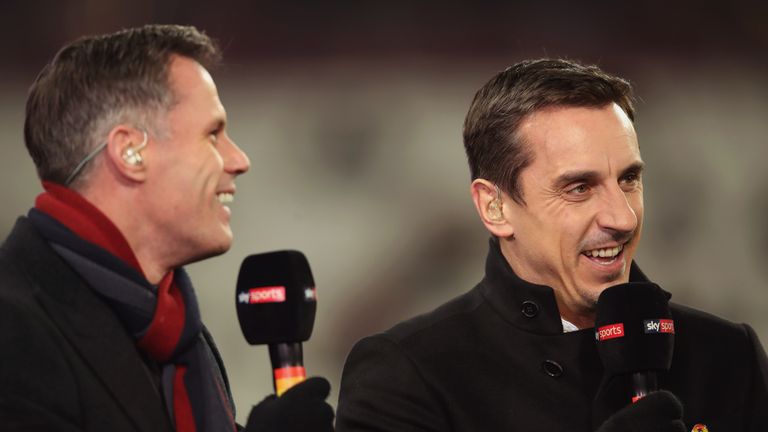 On Wednesday November 28, people from all levels of sport will be encouraged to take part in a mass lace-up in a nationwide show of support.
Thousands of pairs of laces have been sent to businesses and schools in preparation for 'Wear Your Rainbow Laces Day'. More than 75,000 Rainbow Laces have already been sold, with an aim to sell over 100,000 this year.
Highlights of the 2018 campaign activation period will include:
* The Premier League will kick off their Rainbow Laces support on November 30 with Cardiff vs Wolves, live on Sky Sports, with visibility at matches continuing into the weekend and through to December 5 with the Tottenham vs Southampton match at Wembley Stadium
* All 20 Premier League clubs will host a home fixture throughout the campaign period this year, with the support extended to two dedicated match rounds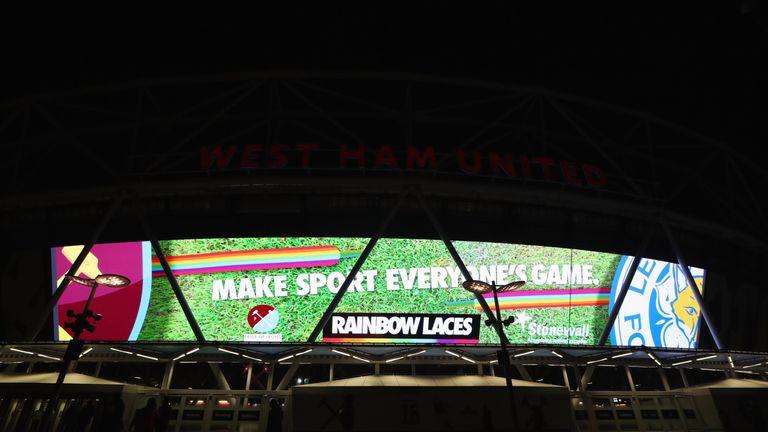 * Also on November 30, The FA will host an historic match between Britain's most successful LGBT football club, Stonewall FC, and Wilberforce Wanderers AFC at Wembley. The event celebrates a new partnership between the FA and Stonewall to improve LGBT inclusivity in football
* From November 24 to December 1, the EFL will be supporting Rainbow Laces with activity taking place at all 72 clubs, including turning every EFL corner flag rainbow alongside other matchday activations. The EFL are also producing a series of short films focusing on the stories of LGBT fans of EFL clubs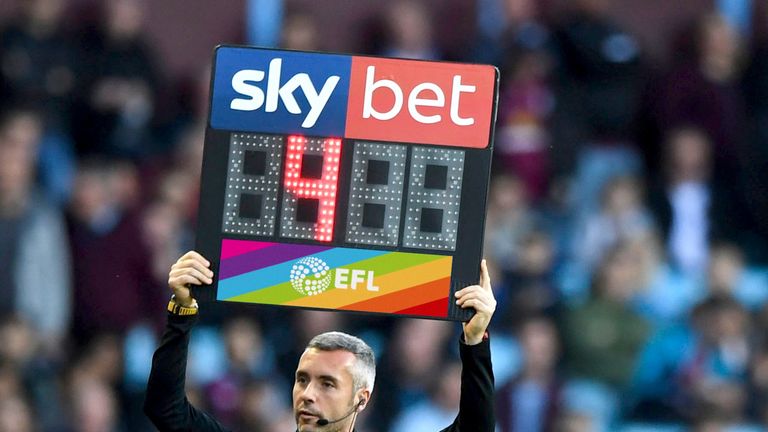 * All 42 of the Scottish Professional Football League clubs will get involved from November 30 to December 5, with captains wearing armbands as well as other signs of support across stadiums
* Women's football will turn rainbow at a host of games in both the FA Women's League and the FA Women's Championship, including the Crystal Palace vs Manchester United fixture this Sunday afternoon. This year, The FA is keen to inspire greater involvement from grassroots, with 20,000 laces sent to leagues across the country
* In rugby union, the England vs Australia game at Twickenham on 24 November will feature a Rainbow Laces activation, with players and officials supporting the campaign, along with pitch boards hosting rainbow colours. The England Red Roses vs Ireland Women match that follows will also be in support of the campaign
* From November 23 to 25, Premiership Rugby will show its support at all six matches over the weekend. A number of initiatives are planned, including players lacing up, new rainbow referee shirts and touch judge flags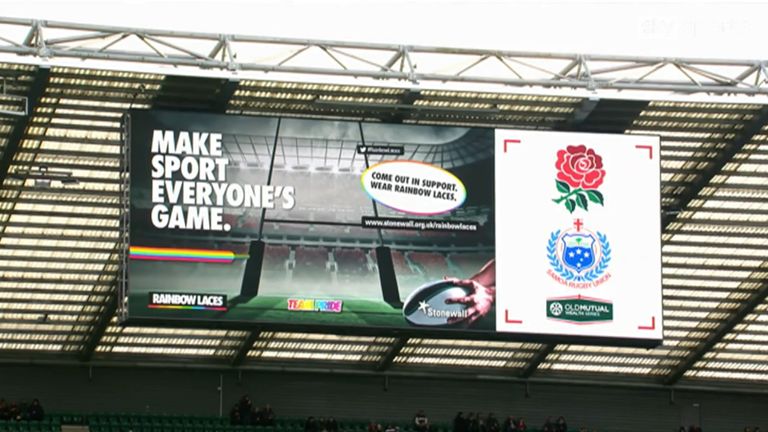 * The Professional Darts Corporation (PDC) is also joining the campaign; they have created special rainbow flights to be used in practice in the warm-up to the concluding matches of the Grand Slam of Darts this weekend. PDC referee Huw Ware has been named as their LGBT Darts Ambassador
* British Judo is showing is support across its social channels as well as sharing first-person pieces from within the sport
* Great Britain Wheelchair Rugby is activating at its Division One tournament in Leicester from November 24 to 25, when players will lace up and wear rainbow headbands
Keep across all the campaign activity year-round with our special Rainbow Laces section at skysports.com/rainbowlaces.
Contact us at Sky Sports if you'd like to share a story to help raise awareness around LGBT inclusion.