WWE Hell in a Cell: Triple H says Undertaker clash at WrestleMania 28 was one of his best
'Rusev has tough task up against Big Show on Sunday night'
Last Updated: 23/10/14 2:49pm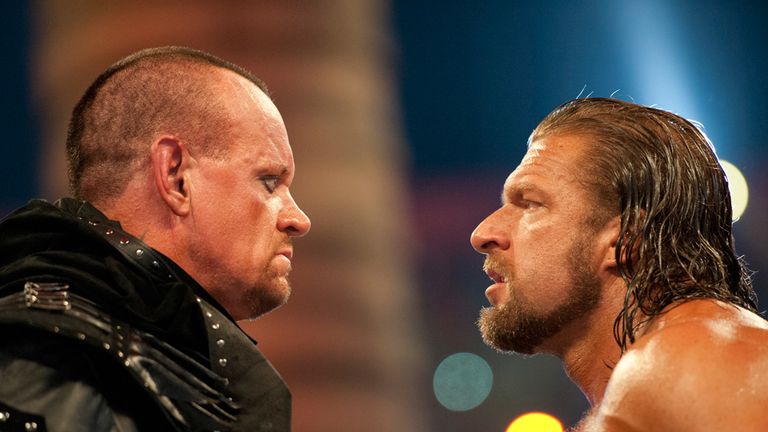 Triple H will not be involved in any Hell in a Cell Matches this weekend – but he has had many battles in the barbaric metal compound over the years.
The Cerebral Assassin has stepped into the Cell nine times, combatting the likes of Shawn Michaels, Chris Jericho, Batista, his father-in-law Vince McMahon and Cactus Jack, a man he describes as "one of the most sadistic characters in the history of the wrestling business".
CLICK HERE TO ORDER WWE HELL IN A CELL 2014
However, Triple H says his clash with The Undertaker inside The Devil's Playground at WrestleMania 28 tops those aforementioned tussles – and even ranks as one of the highlights of his career.
DID YOU KNOW?
Triple H and The Undertaker have won more Hell in a Cell Matches (6) than any other WWE Superstar
The Game was beaten by The Phenom on that glittering night in Miami in April 2012, in a match officiated by his great friend Shawn Michaels, who was retired by The Undertaker two years previously.
But he told WWE.com: "To stand in there with The Undertaker, a man I possibly have more respect for than any other in this business, was possibly one of my favourite matches.
"With Shawn in there as referee, it was the end of an era and none of us walked out the same, but it was a really memorable experience."
Boil
Seth Rollins will face former Shield stablemate Dean Ambrose inside Hell in a Cell on Sunday, while Randy Orton and John Cena will also step amid steel as they fight to become WWE World Heavyweight Champion Brock Lesnar's next challenger.
CLICK HERE TO ORDER WWE HELL IN A CELL 2014
The most highly-charged contest, though, could be one that WON'T be housed in the Cell, namely the powerhouse showdown between Rusev and Big Show.
Rusev, yet to be pinned or submitted since he joined WWE's main roster earlier this year, drew Big Show's ire on Monday Night Raw by kicking a United States soldier in the head.
Triple H feels that course of action could come back to bite The Bulgarian Brute, but warned devout American Big Show to not let emotions get the better of him.
"As impressive as Rusev has been, I would not want to step in the ring with an angry 7ft, 450-pound giant with a knockout punch," said The Game. "It's not a good place to be.
"One thing I know about Big Show is that he is passionate about US troops and has belief in the men and women who defend the freedom of the United States of America.
"All that passion is going to boil over at Hell in Cell, so the one question is going to be whether Big Show can control that passion.
"Rusev will be waiting for Big Show to make a mistake and if he does it won't be pretty."
WWE Hell in a Cell booking details
WWE Hell in a Cell will be shown at midnight on Sunday, October 26 (Mon) on Sky Sports Box Office (channel 743) and on Sky Sports HD Box Office (channel 752).
WWE Hell in a Cell will be repeated on Sky Sports Box Office (channel 743) BUT NOT Sky Sports HD Box Office (channel 752) until 9pm on Saturday, November 1.
Repeat showings will last three hours, with the final showing BEGINNING at 9pm on Saturday, November 1. The event is priced at £14.95 for UK customers, €21.95 for customers in the Republic of Ireland.
Viewers can call 08442 410 888 from Tuesday, October 14 to book WWE Hell in a Cell. (There may be an additional charge for telephone bookings).
You will be able book WWE Hell in a Cell online from Tuesday, October 14 by visiting this link: https://my.sky.com/orderboxoffice/
You can also order WWE Hell in a Cell at a later date by pressing the Box Office button on your remote. Select 'sports & events' and follow the on-screen instructions.
Cable customers should contact their local cable operator.