British surfer Andrew Cotton vows to ride again after wave breaks back
"I felt like I hit concrete" says daredevil surfer
By James McCarthy
Last Updated: 10/11/17 5:32pm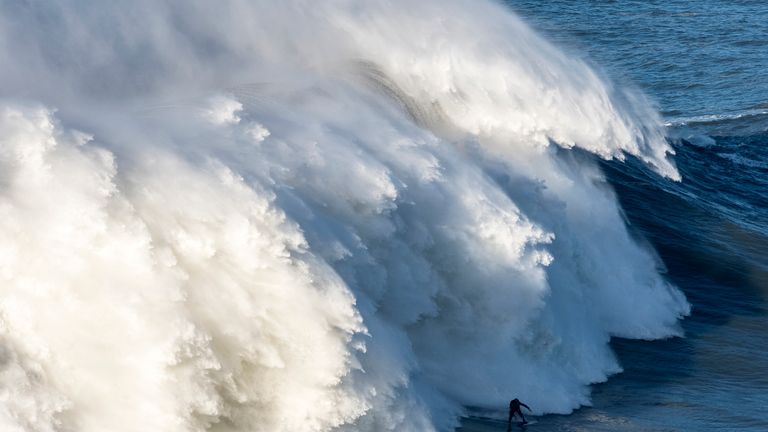 A British surfer who remains hospitalised after a horrifying fall has described his ordeal to Sky Sports News, but has vowed to ride again when he is able.
Andrew Cotton shocked onlookers yesterday as he was wiped out by an enormous wave that left him with a broken back.
The Brit, who was attempting to ride waves at Nazare in Portugal, was thrown through the air by the wall of water before his surf partner, Hugo Vau, attempted to rescue him on a jetski.
However Cotton, who was struck by yet another wave as the jetski attempted to rescue him, is remaining positive:
"I'm alright, I'm in good spirits and I'm feeling positive, I've actually just done my first couple of steps," he told Sky Sports News via satellite link.
"I've fractured my back but it's a stable fracture which is really good news and I'm focusing on getting back in the water."
Cotton was eventually pulled to shore where he was immobilised, before being taken to hospital. The Devon professional described his encounter: "It was a fine line between probably one of the best waves of my life and you know, pushing the envelope a little too far.
"As I took the line I thought the wave would do something different, I thought it was going to be a bit hollower and I was going to pull up into the barrel of the wave.
"As I pulled up I realised the wave had changed shape and by then it was too late - the rest is history."
"The impact at first was actually quite light, which is surprising. I actually had a few moments of weightlessness, I'd never felt like that before.
"Then there was probably the worst impact I've ever had, I was going so fast that it felt like I hit concrete. As I hit the water I felt the shock go up my back, then the wave caught me up and ran me over.
"Hugo tried to rescue me but he couldn't get me to shore so another wave kind of hit me on the head, then he managed to get me and take me to the beach."
However, Cotton, who thanked the lifeguards and crew who cared for him on Instagram, has not been put off the sport by the accident:
"Definitely not, there's no such thing as a bad wipe-out, if you haven't had a bad wipe-out then you don't want to surf. It was an experience but it wasn't enough to put me off."
"Hopefully I'm going to fly home on Sunday, I'm really keen to get home"