Bubba Ray Dudley discusses the magic of WWE WrestleMania
'D-Von, get the tables!'
By James Dielhenn
Last Updated: 29/03/16 5:03pm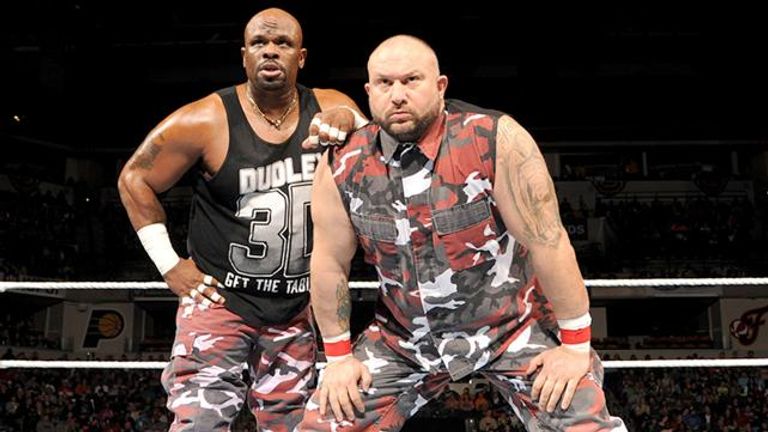 Is D-Von Dudley ever sick of getting the tables? Sky Sports spoke to Bubba Ray Dudley to ask the big questions before WWE WrestleMania.
As one half of the Dudley Boyz, a legendary WWE tag-team combo, Bubba Ray recently led his brother D-Von back into the ring and they are ready for another 'Mania moment.
So who is he planning on chucking through a table this time?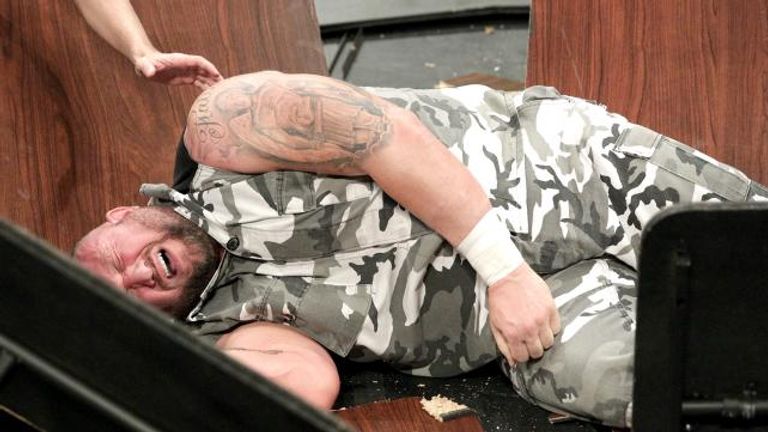 D-Von doesn't have a choice, I came up with the line. If he came up with the line then I'd get the table every week. Maybe history would be different.
Bubba Ray Dudley
What are your plans for WrestleMania 32 in April? Perhaps a match against D-Von?
Bubba Ray: I don't think me and D-Von have any interest in fighting each other. We've had our differences and fought each other in the past but everything is good in Dudleyville right now.
What you should expect from us over the next few weeks is to do everything and anything we can do to make an impact in the WWE to give ourselves the best opportunity to be at WrestleMania.
WrestleMania is the Super Bowl and the World Series of the WWE so we're all excited at this time of year, especially since we're heading to Dallas, Texas, for the biggest WrestleMania of all time.
For me, as a kid who grew up watching all the WrestleManias, I remember WrestleMania III in front of 93,000 people. Now this year will break that record.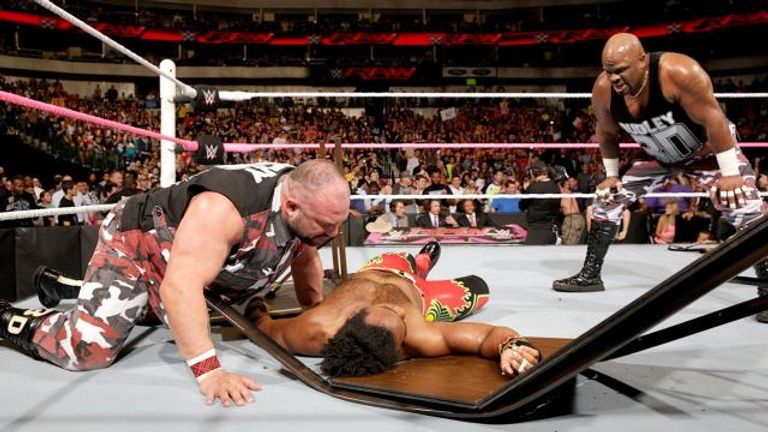 So D-Von is happy to continue taking orders to 'get the tables'?
Bubba Ray: He doesn't have a choice, I came up with the line. If he came up with the line then I'd get the table every week. Maybe history would be different.
What is your greatest WrestleMania moment so far?
Bubba Ray: I've been part of two matches that have stolen the show at two WrestleManias.
WrestleMania in 2000 in Anaheim, California, was the first ever Triangle Ladder match between the Dudleyz, the Hardy Boyz and Edge & Christian. Many say it was the greatest match of the night.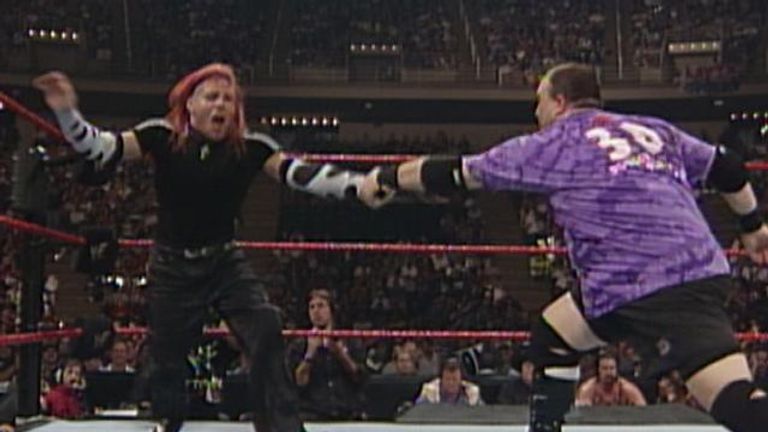 The other was TLC II in Houston, Texas, at WrestleMania 17 which is known to be the best one ever. I've been told many times that TLC II stole the show.
The Dudleyz, Hardyz, and Edge & Christian dealt with the pressure really well. Not only did we get along really well on the outside, but we had incredible chemistry in the ring. We channelled all the pressure into positive energy and put on some matches that people will be talking about for a very long time. So we have some pretty nice accolades to rest on.
Who would you have chosen to wrestle The Undertaker?
Bubba Ray: If it were up to me, I'd love to see Undertaker against Sting. That's an incredible spectacle. But I don't know if that can happen anymore.
Right now? I think the best match for the Undertaker would have been a handicap match against the Dudley Boyz. I fancy our chances pretty well. Whatever kind of match 'The Deadman' wants to have, we'd be happy to beat him in it.
Are the Dudley Boyz the best tag-team in wrestling history?
Bubba Ray: When you talk about the best, it's all subjective. Are we the greatest ever? Well, if you go by the amount of championships we've won, the answer is yes.
I'm just glad people talk about D-Von and I in the same breath as they talk about the Road Warriors, the Steiners, the Rock 'n' Roll Express, the Midnight Express, the Wild Samoans and the Freebirds. The list goes on. They're all great tag-teams so when people mention the Dudleyz, we're flattered to be there.         
The Hardyz and Edge & Christian, during their era, were two of the greatest. But they haven't had the longevity that the Dudleyz have had. They weren't together for nearly 20 years like D-Von and I.
But the one thing is undeniable - it's a fact - the Dudleyz are the most successful and the most decorated tag-team of all time. Period.
But if D-Von took the night off, who's your dream tag-team partner?
Bubba Ray: Road Warrior Animal. The Road Warriors are one of the greatest tag-teams ever and since Animal is still around, I would love to team with him one night.
And finally... why, after all these years, do people still love the tables?
Bubba Ray: It's like a train wreck. If I tell you it's going to happen, you can't help but watch. People love to watch other human beings get thrown through a table!
WrestleMania 32
Live on Sky Sports Box OfficeMidnight, Sun, April 3
WrestleMania 32 booking details
WrestleMania 32 will be shown on Sky Sports Box Office (channel 491) and Sky Sports HD Box Office (channel 492) at midnight on Sunday, April 3 (Monday morning)
WrestleMania 32 will be repeated on Sky Sports Box Office (channel 491) but NOT Sky Sports HD Box Office (channel 492) between 10am, Monday, April 4 and 10pm, Tuesday, April 5.
Repeat showings will last for four hours, with the final showing STARTING at 10pm on Tuesday, April 5.
The event is priced at £19.95 for UK customers, €24.95 for viewers in the Republic of Ireland.
Viewers can call 03442 410 888 to book WrestleMania 32 from Tuesday, March 22. (There may be an additional charge for telephone bookings).
You can also book WrestleMania 32 online from Tuesday, March 22 by visiting this link: https://my.sky.com/orderboxoffice/
Viewers will be able to book using their Sky TV remote nearer the event. (Only bookings via Sky TV remote are recordable using Sky Plus).
Sky TV residential customers only. Commercial customers contact Sky for price and to order. Sky Box Office terms apply. 
Cable customers should contact their local cable operator.
You will also be able to follow a live blog of WrestleMania 32 on Sky Sports' digital platforms.