WrestleMania 31: Seth Rollins and Triple H starred in 2015
Watch 2016 event on Sunday night on Sky Sports Box Office
Last Updated: 03/04/16 8:09am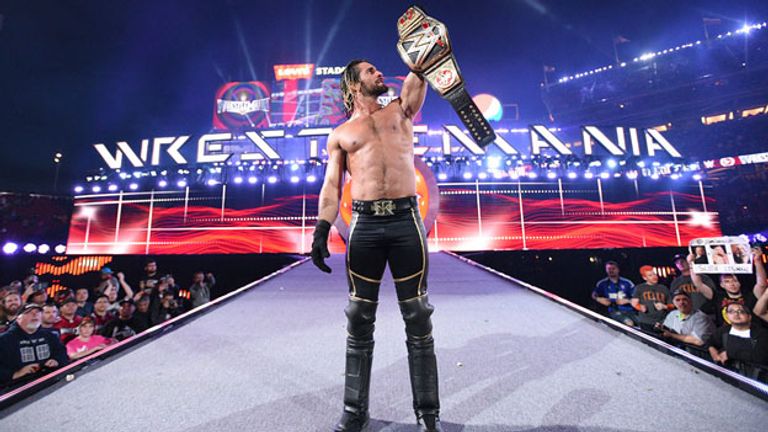 With WrestleMania 32 taking place on Sunday night - and featuring matches including Roman Reigns versus Triple H and Shane McMahon against The Undertaker - we take a look back at last year's event, where Seth Rollins seized the limelight…
WRESTLEMANIA 32
Live on Sky Sports Box Office
Midnight, Sunday
Rollins steals WWE Title
Roman Reigns fought back from an epic beating in his main-event match with Brock Lesnar - but was unable to clinch the world title after his former Shield stablemate, Rollins, cashed in his Money in the Bank contract to become champion.
Having been subjected to multiple German suplexes and F5s, not to mention forearms and knees, Reigns clawed his way back into the bout by hurling Lesnar into the ring post and administering a plethora of Superman punches and spears.
Yet, when both men were down outside the ring, Rollins - defeated in a singles bout by Randy Orton earlier in the night - utilised the contract which guaranteed him a world-title bout at any time of his choosing, tuned Lesnar versus Reigns into a Triple Threat, and pinned Reigns following a Curb Stomp.
Undertaker bounces back
The WWE Universe was stunned into silence at WrestleMania 30 when Lesnar handed The Undertaker his first defeat at the Show of Shows, shattering The Phenom's 21-match winning streak at WWE's biggest event.
However, the legendary Superstar regained momentum a year later in Santa Clara, overcoming a game Bray Wyatt in front of a packed-out crowd at Levi's Stadium. One Tombstone Piledriver was not enough but the second time proved the charm as the Demon of Death Valley shrugged off the effects Wyatt's Sister Abigail move en route to a pin-fall victory.
Taker will need to show as much resolve if not more against Shane McMahon on Sunday night, though, with the veteran knowing he will be banned from competing at future WrestleManias if he is conquered.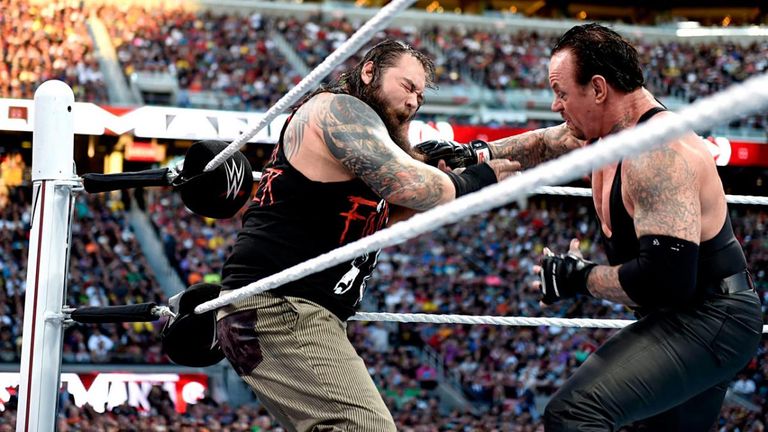 Sting edged out by Triple H
It always seemed as if The Undertaker would be Sting's WrestleMania opponent if the face-painted Superstar ever decided to set foot in a WWE ring - but he was involved in a different 'Game' in his first, and perhaps last, Show of Shows scrap.
Sting served as a vigilante figure in late 2014 and early 2015, crushing Triple H and The Authority's hopes of exercising absolute power, leading to a bout between The Icon and The Cerebral Assassin.
Triple H certainly came prepared, not only bringing his trusty sledgehammer into proceedings but also enlisting the help of D-Generation X pals Shawn Michaels, Billy Gunn, Road Dogg and X-Pac. nWo stars Hulk Hogan, Kevin Nash and Scott Hall tried to aid Sting but the former WCW champion was finally felled from a literal hammer blow.
CLICK HERE TO ORDER WRESTLEMANIA 32
Rusev's streak comes to an end
The Undertaker's winning streak was crushed at WrestleMania 30, then, but it was the Bulgarian Brute's run of victories that came to an abrupt halt in California at WrestleMania 31.
The former rower and powerlifter had not been pinned or made to submit since debuting on WWE's main roster in April 2014, but ran into an inspired Cena to not only lose his 'O' but also his United States Title.
Lana had often been a real help to Rusev in his rivalries with other WWE Superstars, though her interference contributed to his defeat against Cena, the bearded competitor accidently crashing into the Ravishing Russian, allowing Cena to smash his opponent with an Attitude Adjustment and claim the United States Championship for a fourth time. Rusev was, as you can imagine, apoplectic.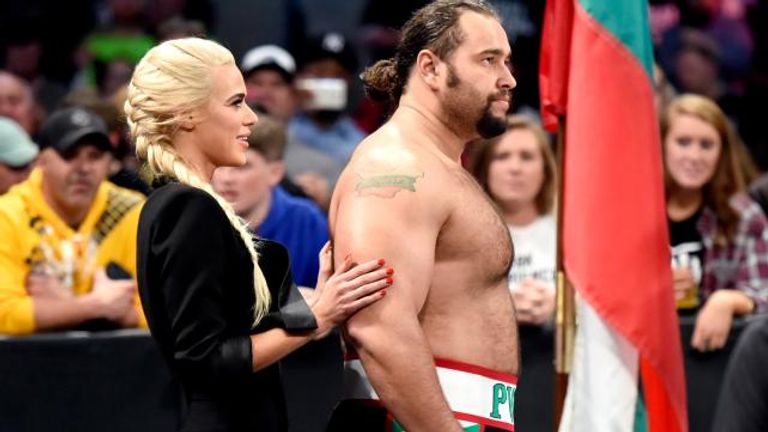 Bryan's final WrestleMania
WrestleMania 30 was the defining moment of Daniel Bryan's career, The Submission Specialist overcoming Triple H in a singles encounter to advance to that evening's WWE World Heavyweight Title bout and then defeating Randy Orton and Batista in a Triple Threat to land the belt.
A year later, Bryan struck gold again, besting Dolph Ziggler, Stardust, R-Truth, Dean Ambrose, Luke Harper and Bad News Barrett in a high-octane Ladder Match to procure the Intercontinental Championship.
Bryan's growing injury struggles forced him to vacate the garland a few weeks later and, having failed to sufficiently to recover a series of concussions, the fan favourite announced his retirement in early 2015. Disappointing - but he'll always have those 'Mania memories.
Ronda gets "Rowdy" in California
UFC star Ronda Rousey has always been a huge WWE fan, even taking her nickname from the late, great "Rowdy" Roddy Piper, and left Stephanie McMahon in no doubt that she would thrive inside the WWE squared circle 12 months ago.
Rousey was watching WrestleMania 31 in the front row but became involved in the action when an argument between The Rock and Triple, who had been bragging about his victory over Sting earlier in the night, led to The Game's wife, Stephanie, slapping The People's Champion.
The Rock insisted he would never strike a woman but that Rousey would have no trouble doing so, with the then UFC Bantamweight Champion throwing not only McMahon from the ring but also Triple H!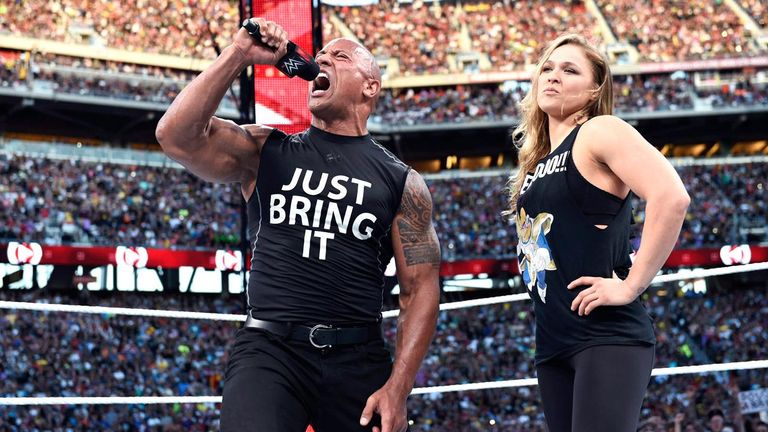 WrestleMania 32 booking details
WrestleMania 32 will be shown on Sky Sports Box Office (channel 491) and Sky Sports HD Box Office (channel 492) at midnight on Sunday, April 3 (Monday morning)
WrestleMania 32 will be repeated on Sky Sports Box Office (channel 491) but NOT Sky Sports HD Box Office (channel 492) between 10am, Monday, April 4 and 10pm, Tuesday, April 5.
Repeat showings will last for four hours, with the final showing STARTING at 10pm on Tuesday, April 5.
The event is priced at £19.95 for UK customers, €24.95 for viewers in the Republic of Ireland.
Viewers can call 03442 410 888 to book WrestleMania 32. (There may be an additional charge for telephone bookings).
You can also book WrestleMania 32 online by visiting this link: https://my.sky.com/orderboxoffice/
Viewers can also book using their Sky TV remote. (Only bookings via Sky TV remote are recordable using Sky Plus).
Sky TV residential customers only. Commercial customers contact Sky for price and to order. Sky Box Office terms apply. 
Cable customers should contact their local cable operator.
You will also be able to follow a live blog of WrestleMania 32 on Sky Sports' digital platforms.