WWE: Bella Twins talk UK, Halloween, John Cena and high tea
Brie Bella wants to return to the ring after having first child
By David Ruse
Last Updated: 07/11/16 1:59pm
WWE's Bella Twins, Nikki and Brie, are on British shores for the company's latest tour of the UK.
Nikki is set to wrestle on Smackdown, which takes place in Glasgow on Tuesday, with Brie, who is expecting her first child, accompanying her husband and blue-brand General Manager, Daniel Bryan.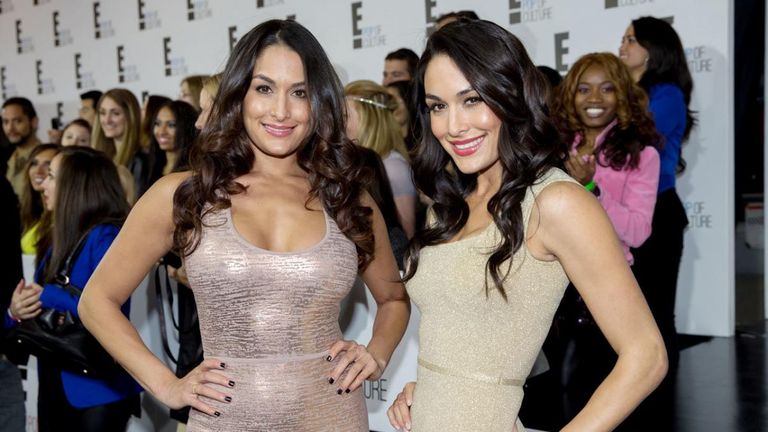 Sky Sports managed to grab a few words with the women, who first signed for WWE in 2007 and who have gone on to land a combined three Divas Titles, two for Nikki and one for Brie.
The California-born siblings discussed their favourite things about the UK, Halloween, their documentary Total Bellas, Nikki's boyfriend John Cena, and whether Brie will ever return to the ring…
What is it like being back in the UK?
BRIE BELLA: We love it here. Every time we come I feel like it's the first time we've been here - the history is beautiful, there is a real ambience and everyone dresses great, too.
NIKKI BELLA: I always buy new outfits when I come here as everyone always looks so sharp!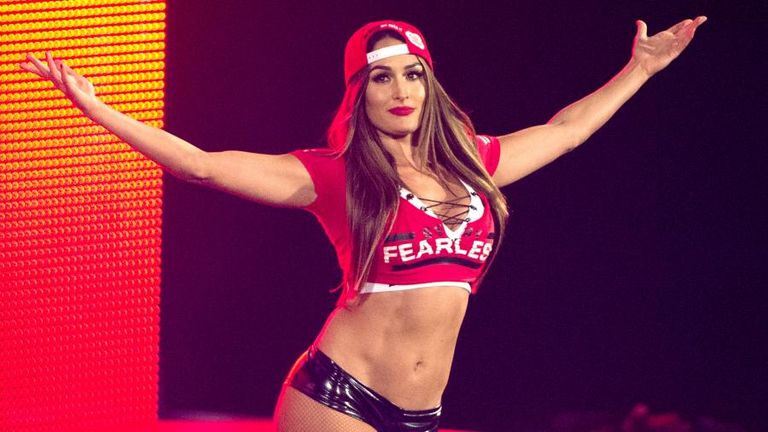 Do you get time to explore?
BRIE: Nikki and I make sure we get time to explore. A lot of people go to the gym but we are such tourists and love to go and see stuff. We have been able to see the world and there is no way we could have done that without WWE.
NIKKI: I'll be in Spain for the first time next week so I am really excited - but my favourite place to go is probably Paris.
BRIE: I'd also say Paris but Italy, too - when we wrestled in Verona I fell in love with the place.
How did you spend Halloween, Brie?
BRIE: I actually had a boring Halloween - I flew in from Los Angeles and by the time I landed all the Trick or Treaters were done so I just hung out with the dogs and watched Monday Night Football.
Monday Night Football - surely not Stokes versus Swansea?
BRIE: Sorry, American football. I always forget you call soccer football over here!
We saw how you spent Halloween, Nikki - you dressed up as your boyfriend, John Cena, and he dressed up as you!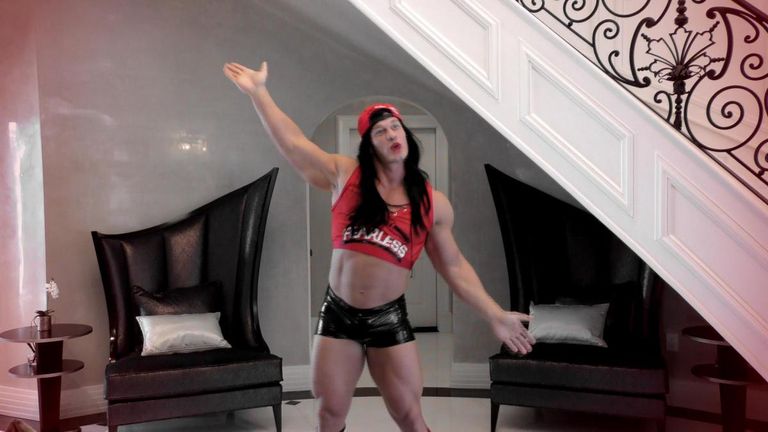 NIKKI: It was actually John's idea! We did collaborate but he brilliantly came up with it. We were going to do full entrances in a ring and stuff but I had just had dental surgery so I said' I can't go in the ring'. He then came up with the amazing idea to do it at the house.
Watch the full video at WWE's YouTube page
BRIE: He got you spot on!

NIKKI: He said he was definitely the ugliest girl in the world but I said that's a good thing - I've got a manly man!
We can see you, John and Brie's husband, Daniel Bryan on Total Bellas. How much fun is that show to film?
NIKKI: To film with our family is awesome - you have to hang out with each other and I love that because I hate being alone. There were tough moments but I had a blast.
BRIE: The conversations were just different - as we were with our family our chemistry, connection and history were apparent. It was a different feeling - for example, if you're tired you can tell your family to bog off and they don't get offended. If I say that on Total Divas, someone goes 'Oh, she doesn't like me' and it turns into a big, dramatic situation!
NIKKI: I think both shows have given an intimate look into our lives and relationships and shown that we are normal people - for example, you have seen how depressed Daniel Bryan became [as he dealt with injuries and retirement]. People also get to see Brie and I's passion for wrestling. People have realised we are here for wrestling, not anything else.
BRIE: When we came in, you were very much your characters on TV, but with social media and Total Divas you have understood who we really are. We are now ourselves - Vince McMahon let us wear our own clothes and have our own gimmicks and that took our careers to the next level.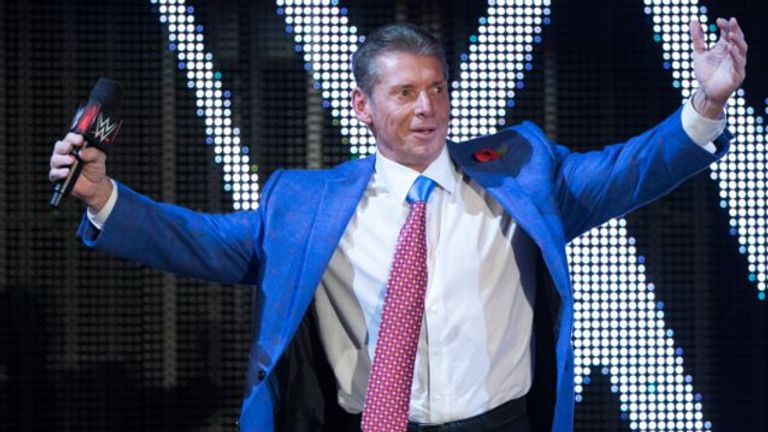 We saw how emotional Daniel was when he had to retire - does being General Manager of Smackdown fill the void?
BRIE: I think so - he is still surrounded by wrestling and still gets to be creative. It's obviously hard that he can't get in the ring but to be around his friends and part of the business in some way helps him, even though he will tell you: 'Yeah - but I want to be in the ring!'
NIKKI: He is a good General Manager - but I have to tell him: 'Look at the opportunities the women on Raw are getting [such as Hell in a Cell]! Seriously, he is doing an amazing job - his presence and the way the crowd reacts to him takes our show to a whole new level.
What sort of show is Smackdown to wrestle on, Nikki?
NIKKI: I love being on Smackdown. I feel like there is so much more opportunity and we get to tell such fun, interesting stories. Everyone wants to work together to create gold - it's the best locker room I have ever been in throughout my whole career.
BRIE: Now, being a fan, I love the difference between Raw and Smackdown - I know that each show will be completely different and that makes it so fun to watch!
And does it make you even more determined to step back into the ring?
BRIE: Heck yes!
NIKKI: She is already counting down the days.
BRIE: I miss wrestling so much and cannot wait to make a comeback. Would I like to wrestle my sister? I do enjoy that, but I'd like to come back as a Bella Twin and take on Lita and Trish Stratus. You need to make that happen!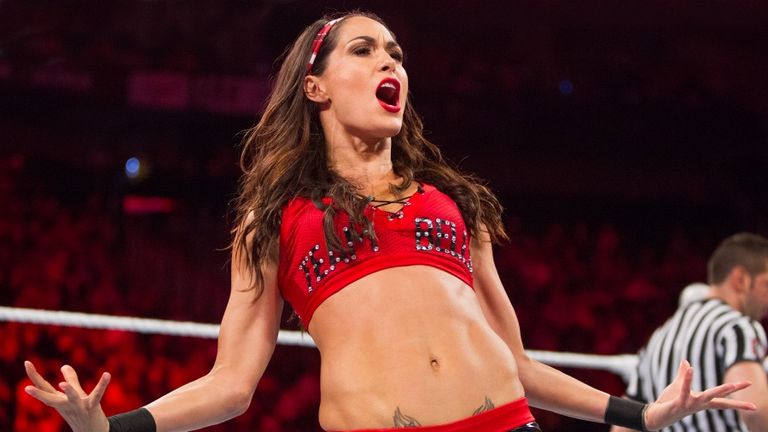 How proud were you of Charlotte and Sasha Banks, the first women to compete inside Hell in a Cell?
BRIE: We were together watching it and on our feet the whole time. It was an incredible moment for the women's division but also Charlotte and Sasha themselves, to main event a pay-per-view that has traditionally been so dominated by men. We had goosebumps.
NIKKI: I now feel no match is beyond the women's division. Hopefully now though it's not about 'women this, women that' and that people accept that men's and women's wrestling are equal.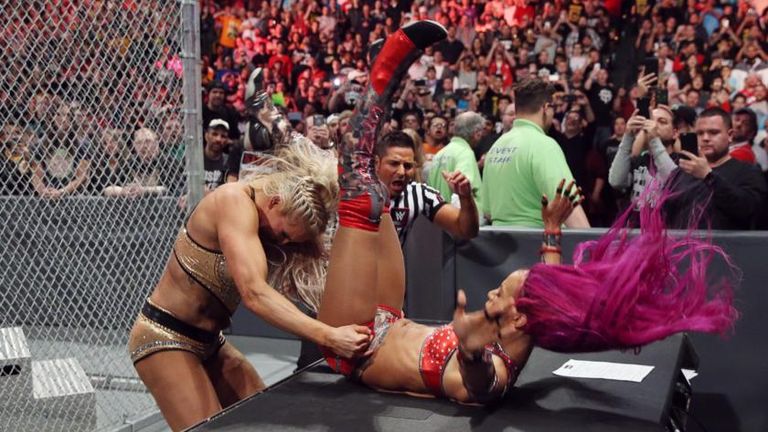 You've been wrestlers for a long time now - did you think you'd have this longevity?

NIKKI: Everyone used to tell me: 'Just so you know, Divas only last five years around here'. I said: 'What, I want to be here forever!' I have now been here for 10 years and been on an incredible journey - I've seen women's wrestling and the WWE change dramatically. The place has become my home and I'm looking forward to 10 more years.
Which women from other sports have inspired you over the years?
BRIE: Even though they have retired now [former American women's soccer players] Mia Hamm and Carla Overbeck were great influences on us. We played soccer growing up and it wasn't that big in the United States, but Mia and Carla made it something.
NIKKI: Ronda Rousey is definitely one - I find everything she has done in UFC so inspirational. Serena Williams is another - she reminds me of John Cena in a way, in that they have stayed on top of their game for so long and so many people still connect with them. She still blows my mind.
Do you think Ronda Rousey to WWE is a natural progression? Stephanie McMahon wants it to happen.
BRIE: 100 per cent! She is a fan, first off, and the movements in the ring between UFC and WWE are the same.
How does football - or soccer, as you keep calling it - help you in the ring?
NIKKI: It certainly helps me with my footing. When we started training with WWE, coaches were impressed and asked if we had had boxing training. I said no, it was all soccer. As a defender, I had to learn to stay on my feet, track backwards and I feel all the movement I do in the ring was helped by my soccer background.
BRIE: Our coach was actually from England and he was very strict with us - teaching us discipline and drive. We have taken those into wrestling and that's what helped us excel so quickly. We knew hard work paid off. When we've worked hard, we want to work even harder.
Is football getting bigger and bigger in the States all the time?
NIKKI: It's so big and people don't want to feel left out. They think: 'Right, I need to buy a Manchester United jersey and go to a bar to watch the game'. I live at the beach in California and am blown away by how many people I see walking around in soccer shirts on a Saturday.
BRIE: Our brother is a die-hard fan of Arsenal. There is tension in our house when he is up early in the morning, watching their games and drinking beer.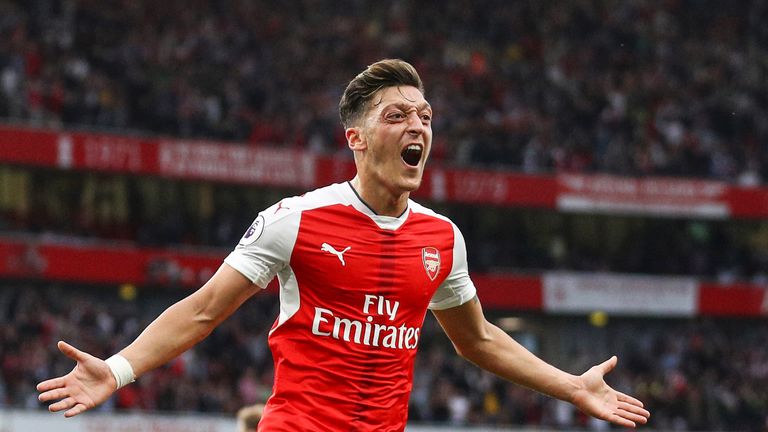 Our brother is a diehard fan of Arsenal. There is tension in our house when he is up early in the morning, watching their games and drinking beer.
Nikki Bella
Finally, what is your favourite English food and favourite English TV show?

NIKKI: I love doing high tea. Paige, who is from Norwich, makes fun of me and says Brits don't really do that but I always go and do it. I love the little sandwiches, especially the salmon ones!
BRIE: It's cucumber sandwiches for me, but I also love the way you guys do French fries. You nail it!
NIKKI: As for TV, it has to be The Office - the British original, not the American version. There is definitely a different sense of humour between Brits and Americans, but Brie and I don't really laugh at the American comedies and movies. Some of the jokes are so bad!
BRIE: We're like quirky Brits!