WWE's Jerry Lawler on his UK show and commentary highlights
'My advice to commentators? Just be yourself'
By David Ruse
Last Updated: 09/02/17 10:25am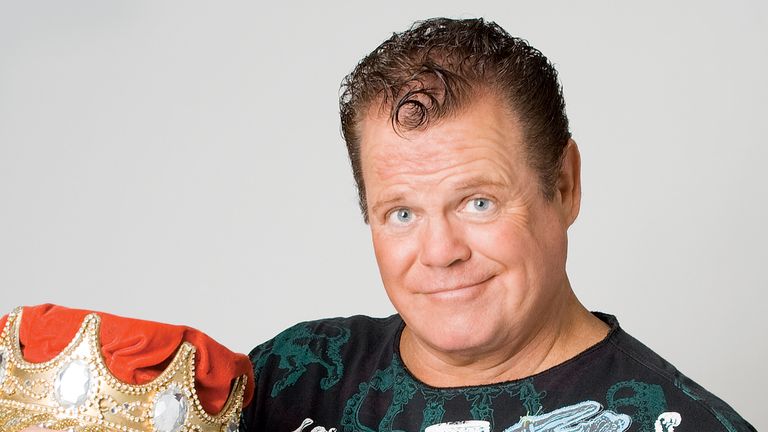 Jerry Lawler's dulcet tones have emanated from the WWE announce desk since the early 1990s – and now they are coming to a host of UK arenas.
Lawler, 67, will head to Birmingham, London, Manchester, Glasgow and Belfast in mid-March to perform his first spoken-word show where he will regale fans with stories of his long and distinguished career in the wrestling business, as an in-ring star, promoter and, of course, commentator.
Sky Sports caught up with The King, who was inducted into the WWE Hall of Fame in 2007, to find out what his audience can expect from the five shows, as well as to talk about his favourite opponents and commentary partners and Sunday's spectacular Super Bowl LI in Houston.
Lawler also answers a few of your Twitter questions - and reveals if he still owns a Batmobile…
Hi Jerry, good to speak to you. What can fans look forward to at your spoken-word tour?
Almost 46 years of experiences and stories from my wrestling career, dating back to the territory days, long before cable and satellite TV and long before WWE became the big dog it is today. My last 24 years with the WWE will play a big part but there are tons of things to talk about - winning titles, my matches with [American entertainer] Andy Kaufman and that whole experience.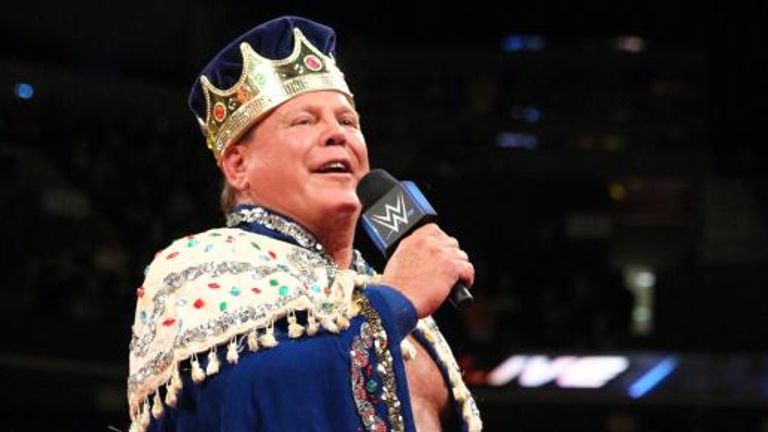 What I am most looking forward to is talking about what the fans want to ask me about. Nothing is off the table.
Jerry Lawler
I hope people aren't expecting a short show because it's going to take a while to relay all of these stories! What I am most looking forward to, though, is opening things up to the audience and talking about what the fans want to ask me about. Nothing is off the table. It should be a lot of fun.
Would a teenage Jerry Lawler have believed the career you have had?
No! The teenage Jerry Lawler was getting ready to become a commercial artist and do drawings or paintings. I was either going to work for DC Comics and draw Superman and Batman or work for Hallmark doing greeting cards. I was a wrestling fan but never dreamed in a million years I would end up being a wrestler.
Plus, when I signed with WWE, I never dreamed I would become a commentator - that just came about because during the Monday Night Wars, Randy Savage jumped ship [to WCW] and a spot opened up. Vince just came up to me and said: 'King, can you help me on commentary tonight before I get someone else to do it on a regular basis?' I said sure, thinking it was going to be a one week thing, but it has lasted 24 years.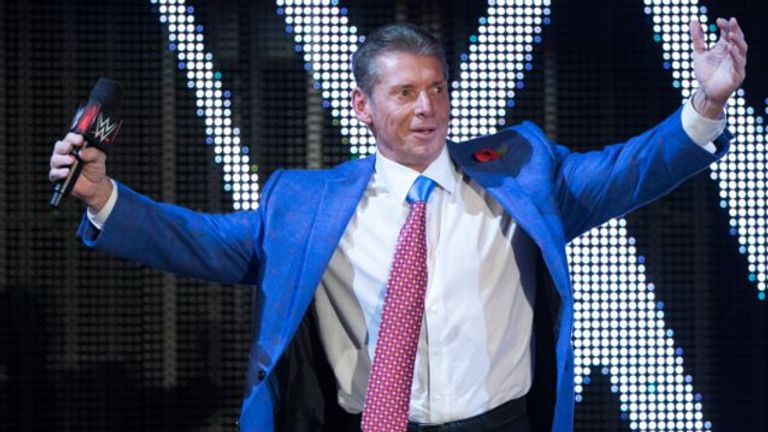 What one nugget of advice would you give a budding commentator?
I would just tell them to be themselves. That's the most important thing - don't go out there and put on some persona. That's what worked for me. Everyone thinks all the stuff I did was Jerry Lawler just trying to be The King but it really wasn't, it was me being me.
I have always looked at commentary as if I were at home talking with my next-door neighbour, that's how I operated with all my partners, just chatting about what I saw while trying to be a bit humorous. It's not brain surgery, it's not life or death, it's entertainment, so make it fun to watch.
Is there one great moment you have commentated on that you will never forget?
I'm sure I'll get tough questions like that on my tour! I can't tell you how many thousands of matches I have called over the years. I did, though, really enjoy The Attitude Era and all of the things with Steve Austin and Mr McMahon - there were so many magic and crazy moments with Austin driving trucks, monster trucks, and Zambonis into the arena and spraying Mr McMahon down with beer.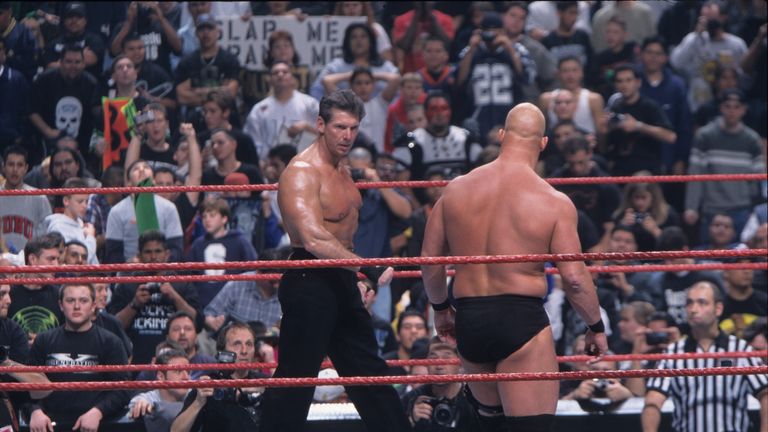 My favourite match to call was probably The Rock versus Hulk Hogan at WrestleMania 18 in Toronto, but I also called the hair versus hair Battle of the Billionaires match Mr McMahon had with the new President of the United States. That was something I will never forget!
Is it equally hard to say who your greatest commentary partner was?
A lot of people don't realise that when I first started I worked with Mr McMahon and that I also commentated with Bobby "The Brain" Heenan, "Macho Man" Randy Savage and Jesse Ventura - I also did shows with Gorilla Monsoon.
I have literally worked with all of the greats but I obviously had a long and storied career with Good 'ol JR, Jim Ross - we had such longevity. It was so easy working with him and I still get a hundred tweets a day saying: "JR and The King were the greatest commentating team ever". It's hard to say who was the best but I would probably say JR.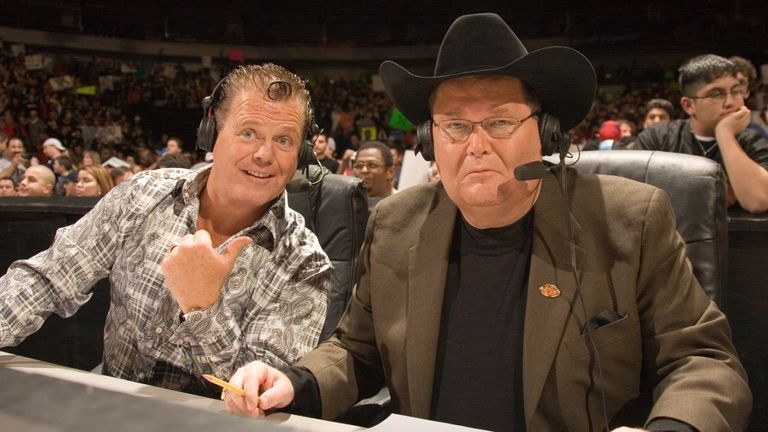 Which of your in-ring opponents did you enjoy working with the most?
Probably Terry Funk - he was such a character, such an entertaining guy and such a good friend. Every time we worked together, it was a dream.
Some matches aren't fun - I remember when I once had a match with Bruiser Brody and Stan Hansen and contemplated quitting the business once it was over - but I always looked forward to matches with Terry.
Nick Bockwinkel, though, was also such a breeze to work with, while a guy I had a million matches with down in Memphis, Bill Dundee, was great, too.
As a sports fan, did you watch the Super Bowl - and, if so, have you ever seen a better game?
I can't say that I have ever seen a better Super Bowl! It made history on so many levels - the biggest comeback, Brady throwing for the most yards, the first overtime Super Bowl - so it was just amazing.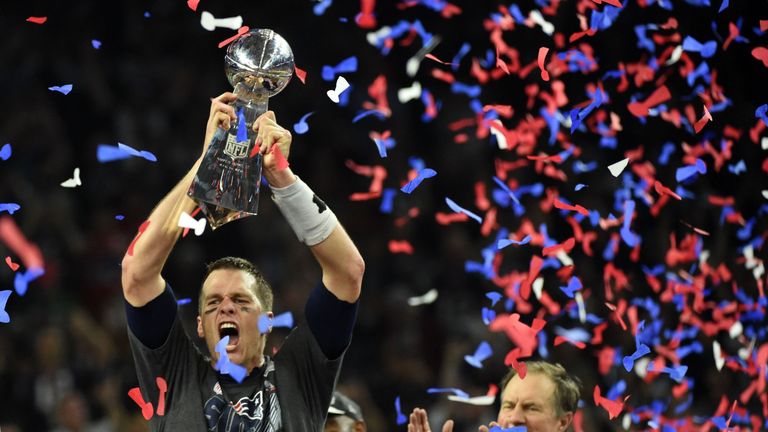 I have seen a little meme on Twitter where Tom Brady is sitting on the bench and someone says you need two touchdowns, a field goal and two extra-point conversions to send this thing into overtime and Brady says: 'Here, hold my beer!'. That was the way it seemed as the Patriots were in an impossible situation but somehow pulled it out
So I guess you will be dreaming of your Cleveland Browns getting there next year?
I would love to see that but I don't think it's going to happen! I did, though, have a very good friend, Barkevious Mingo, who got traded from the Cleveland Browns to the New England Patriots. He is a line backer and a great wrestling fan - he goes to a lot of the WWE shows - so I was pulling for the Patriots and extremely happy for him.
You mentioned Batman earlier - do you still have your Batmobile?
Yep - I'm looking at it right now as a matter of fact! It's in my garage now but I drive it around quite regularly. It's a convertible, though, so only in the good weather and not when it's wet or cold. It's mostly a spring and summer vehicle but I have a lot of fun with it.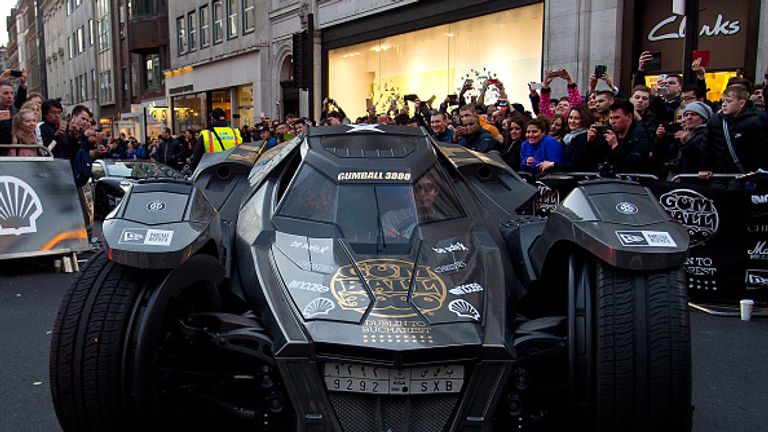 Just before I let you go, we have a few Twitter questions for you - @aksh_lcfc wants to know what new type match you would like to invent?
I spent 20 years booking matches in my Memphis territory with Jerry Jarrett - we had to come up with some different kind of match every week. I remember us inventing the first Scaffold Match - there was a 15-foot structure above the ring and wrestlers went up there and fought until they got thrown off. Jim Cornette once broke his ankle falling off it!
We created a battle royal, where there were two rings side by side. All the participants started in one ring and you had to be thrown over the top rope into the second ring and then over the top rope to the floor to be eliminated.
I also think we were the first to put a pole in the corner of the ring, it was like a forbearer to the Ladder Match where you had to climb a 15-foot pole to get your prize. I'm sure everything hasn't been done but it would be hard to come up with something that hasn't at least been thought of.
@TheMikeKehoe asks who you would build a wrestling company around if you were to start a new one?
It would probably have to be Randy Orton and John Cena. Even with all the up-and-coming stars, those guys would have to be top of the list. I'm kind of old school - I like all the new talent but longevity in the business and who has the staying power means a lot to me.
It's going be hard for someone to stay around as long as Orton and Cena and still have the appeal and pulling power that those two guys have.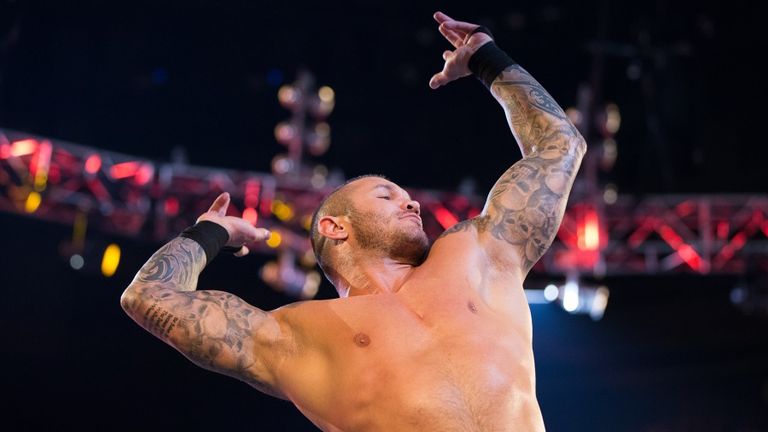 Finally, @petegaden has been cheeky enough to ask what is the most embarrassing moment you have had on live TV?
I would say dying was pretty embarrassing! I didn't even realise the heart attack I head on Raw in Montreal in 2012 had happened until I woke up a few days later in hospital and found out that my heart had stopped beating for 22 minutes. So, yeah, pretty embarrassing.
For more information on Jerry Lawler's spoken-word tour in the UK, head to @ErosComedy