WWE Champion John Cena says he has no plans to retire from the ring
'I want to showcase to everyone watching that I am still at my best'
Last Updated: 11/02/17 6:30pm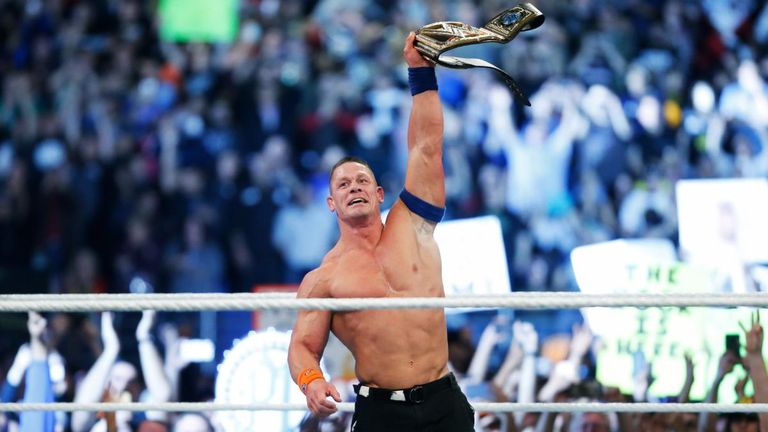 WWE Champion John Cena says he is "far from retiring" having recently matched Ric Flair's record of 16 world titles.
The 39-year-old defeated AJ Styles at January's Royal Rumble event to equal Flair's championship haul, 12 years after beating JBL at WrestleMania 21 to earn his maiden world title.
Cena wrestled less frequently in 2016 due to other TV commitments but told ESPN that he has no plans to quit the ring permanently.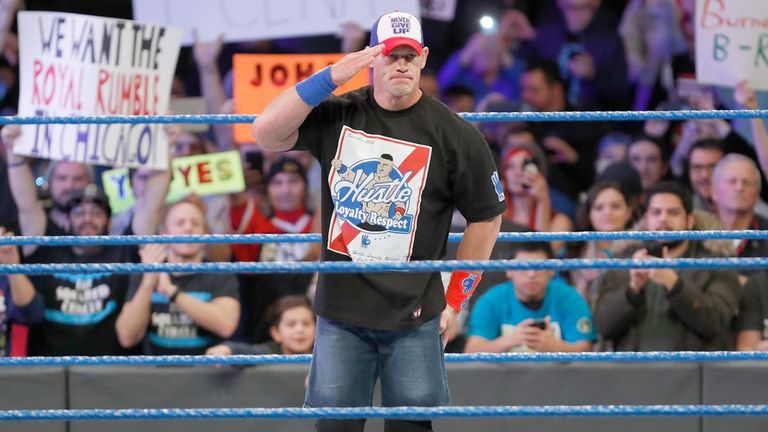 I don't think it's any secret to anybody that this is what I love to do the most and I am far from over.
John Cena
"I am far from retiring, I feel like I am at my physical best," Cena said to former WWE personality Jonathan Coachman on ESPN's SportsCenter.
"I don't think it's any secret to anybody that this is what I love to do the most and I am far from over.
"[I am so proud that] I am still able to do this after 16 championships and I always say that my greatest match is my next one.
"A lot of folks in the WWE say that maybe I am past my prime and have lost a step and that creates a giant chip on [my] shoulder. I want to showcase to everyone watching that I am still at my best."
Cena was embraced by Flair backstage at the Royal Rumble after tying The Nature Boy's title tally, a moment he described as "very humbling."
The Massachusetts-born star also hailed Styles - who signed for WWE in early 2016 - after he and his rival put on a Match of the Year contender.
"I got to share a heartfelt moment with Ric immediately after the match [with Styles]," said Cena. "He was very congratulatory and it was very humbling. It was fantastic, a way to let everything truly sink in.
"[AJ] has pushed the envelope, spoken his mind and really challenged me. Testament to AJ, I think he is one of, it not the best, Superstars to step in a WWE ring on a nightly basis."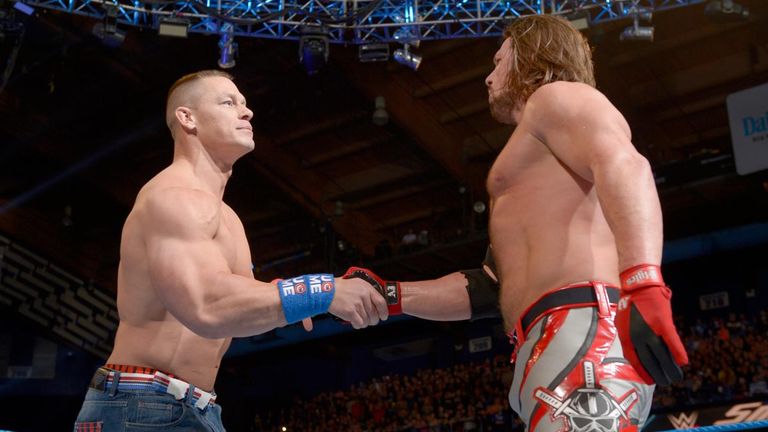 Cena is now looking forward to competing at WrestleMania 33, having missed out on a match at last year's showpiece after undergoing shoulder surgery.
The Cenation Leader did appear at AT&T Stadium in Texas - helping The Rock banish The Wyatt Family from the ring - but cannot wait to wrestle again at WWE's 'Super Bowl' on April 2.
"Every WrestleMania is the most important day of the year for every WWE Superstar," added Cena. "It's like a quarterback making it to the Super Bowl.
"[WrestleMania] meant a lot to me last year as I was told I wasn't supposed to be there and worked my butt off to make it.
"I am healthy, I feel great and after taking a back seat last year, I just want to perform for the WWE Universe on our biggest day."
Cena will defend the WWE Title inside the Elimination Chamber on Sunday night, live on Sky Sports Box Office from 1am.
WWE Elimination Chamber booking details
WWE Elimination Chamber will be shown on Sky Sports Box Office (channel 491) and Sky Sports HD Box Office (channel 492) at 1am, Sunday, February 12 (Monday morning) - a live text blog will also run on skysports.com and the Sky Sports app.
WWE Elimination Chamber will repeated on Sky Sports Box Office (channel 491) BUT NOT Sky Sports HD Box Office (channel 492) between 10am on Monday, February 13 and 10pm on Thursday, February 16.
The pay-per-view will cost £14.95 for viewers in the United Kingdom and €21.95 for customers in the Republic of Ireland.
You can order the show online by visiting this link: https://my.sky.com/orderboxoffice/?DCMP=WWEEliminationChamber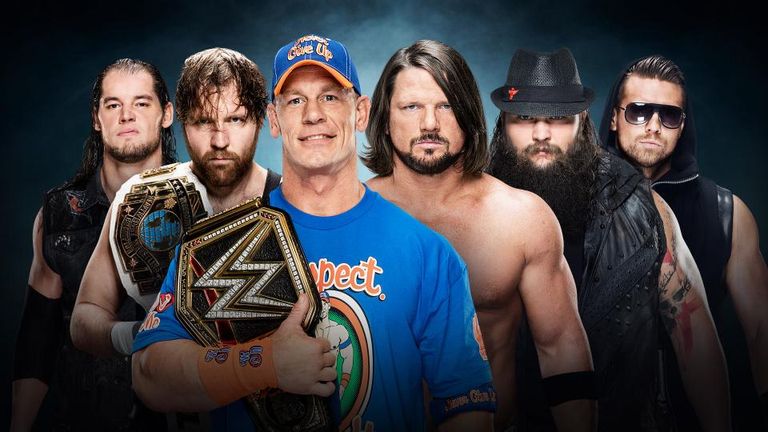 You can also book the event over the phone: UK viewers should call 03442 410 888, while customers in the Republic of Ireland should call 0818 220 225. (There may be an additional charge for telephone bookings).
You can also order the show via your Sky remote:
Sky+: Press the box office button on your remote, then click the sports tab followed by WWE Elimination Chamber.
Sky Q: Press Home on your Sky Q remote, select TV guide, then Box Office and then WWE Elimination Chamber. Enter your TV Pin if prompted. (Only bookings via Sky TV remote are recordable using Sky Plus).
Sky TV residential customers only. Commercial customers contact Sky for price and to order. Sky Box Office terms apply. Cable customers should contact their local cable operator.