Lou Williams scored 25 points and was perfect from the free-throw line to lift the Los Angeles Clippers to a 121-116 overtime win over the Golden State Warriors.
Game leaders
Golden State Warriors
Points: Kevin Durant - 33
Assists: Kevin Durant - 10
Rebounds: Draymond Green - 14
Los Angeles Clippers
Points: Lou Williams - 25
Assists: Lou Williams - 6
Rebounds: Harris/Harrell - 8
Williams broke a tie with a lay-up with 55.2 seconds remaining in overtime and later added three free throws after getting fouled on a three-point attempt, clinching the victory over the Stephen Curry-less Warriors.
Williams' tie-breaking hoop came after Klay Thompson capped a 31-point performance with a three-pointer with 1:07 to go to produce a 116-all tie.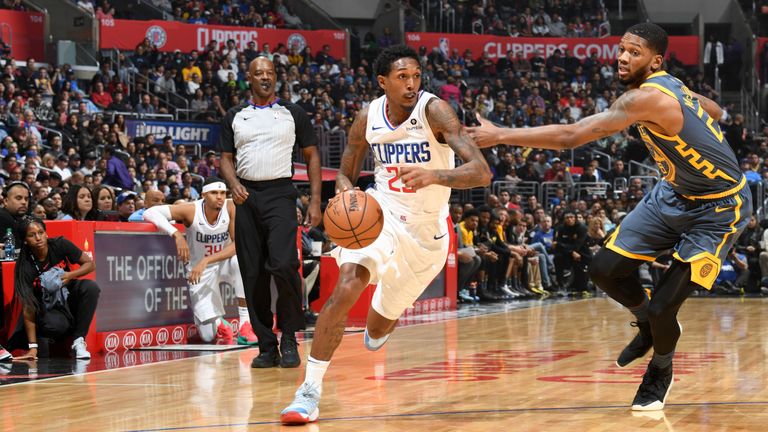 After Williams' hoop, the Warriors missed three opportunities to either tie or go ahead when Thompson misfired on a three-pointer and Kevon Looney couldn't connect on two follow-up shots.
Looney then fouled Williams at the other end on his three-point try with 13.4 seconds left, producing the clinching free throws.
The Warriors forced overtime by scoring the final 11 points of regulation while holding the Clippers without a field goal for the final 6:08.
Thompson's second three-pointer of the late run produced a 106-all tie with 1:27 to go.
Neither team scored again, with Thompson and Kevin Durant missing three-pointers, while Williams misfired three straight times at the other end.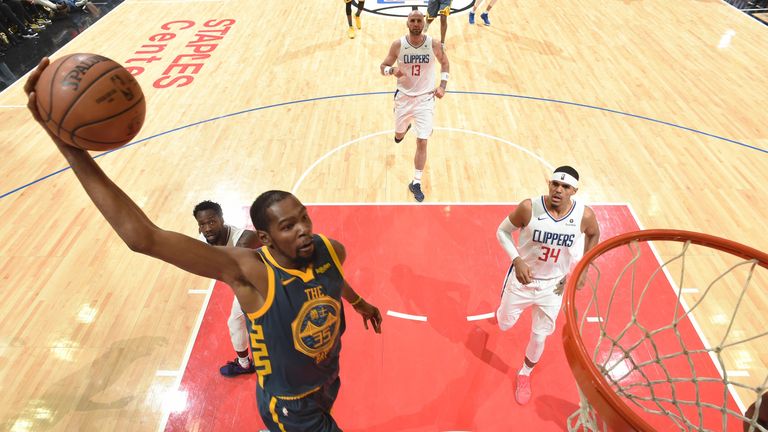 The Clippers missed their last 11 shots of regulation and mixed in two turnovers. They led 101-87 with 6:36 to play.
Williams (25 points) and Montrezl Harrell (23) combined for 48 points off the bench for the Clippers, who beat the two-time defending champs for just the second time in their last 15 meetings.
Williams shot 14-for-14 from the foul line, helping the Clippers to a 30-16 advantage in free-throw points.
Shai Gilgeous-Alexander (18 points), Tobias Harris (17), Danilo Gallinari (14) and Marcin Gortat (12) also scored in double figures for the Clippers, who began a three-game homestand with a win over Milwaukee on Sunday.
Durant recorded a triple-double for the Warriors before fouling out, accumulating 33 points, 11 rebounds and 10 assists.
Andre Iguodala added 14 points and Draymond Green returned from a two-game absence to grab a game-high 14 rebounds for the Warriors, who played a second straight game without Curry, out with a groin injury.
Monday night's results
New Orleans Pelicans 126-110 Toronto Raptors
Philadelphia 76ers 124-114 Miami Heat
Brooklyn Nets 113-120 Minnesota Timberwolves
Orlando Magic 109-117 Washington Wizards
Dallas Mavericks 103-98 Chicago Bulls
Utah Jazz 96-88 Memphis Grizzlies
Phoenix Suns 101-118 Oklahoma City Thunder
San Antonio Spurs 99-104 Sacramento Kings
Golden State Warriors 116-121 Los Angeles Clippers (OT)
Sky Sports is the new home of the NBA in the UK with live coverage throughout the week, including selected live games free to all Sky subscribers via Sky Sports Mix.
And www.skysports.com/nba will be your home for news, reports, video and features throughout the season while you can follow us @SkySportsNBA