Luka Doncic channelled his inner quarterback with a one-handed court-length assist in the Dallas Mavericks' 111-102 win over the Portland Trail Blazers.
The 19-year-old showed off his court vision as the Mavericks wrapped up their ninth win in their last 11 games.
With 40 seconds remaining, the Mavericks won a jump ball at their end of the court. Wesley Matthews tapped the ball back towards Doncic.
The rookie gathered the ball in his right hand close to his own basket, looked up and, with all the precision of an elite NFL quarterback, fired an overarm torpedo pass the length of the floor to team-mate Dennis Smith Jr, who caught the ball and iced the game with an easy lay-up.
Doncic, who was named NBA rookie of the month for November, finished the game with 21 points, nine rebounds and three assists.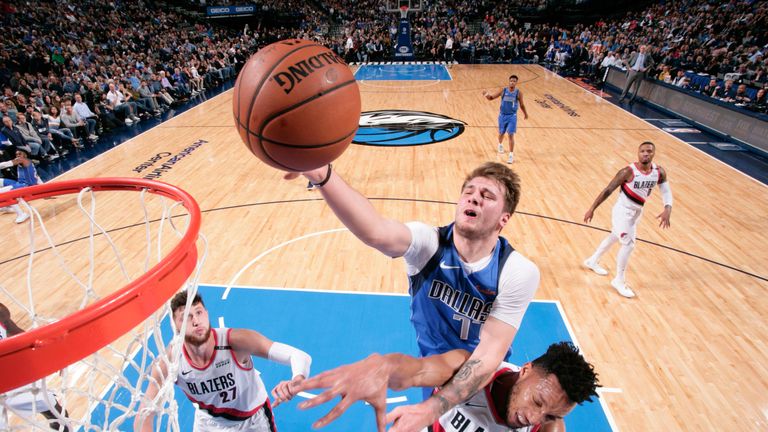 The 6ft 7in Slovenian is now averaging 18.6 points, 6.6 rebounds, 4.2 assists and 2.3 three-pointers per game in what is rapidly developing into a stellar first season in the league.
Tuesday night's results
Portland Trail Blazers 102-111 Dallas Mavericks
Orlando Magic 105-90 Miami Heat
Chicago Bulls 90-96 Indiana Pacers
San Antonio Spurs 105-139 Utah Jazz
Sacramento Kings 122-105 Phoenix Suns
Sky Sports is the new home of the NBA in the UK with live coverage throughout the week, including selected live games free to all Sky subscribers via Sky Sports Mix.
And www.skysports.com/nba will be your home for news, reports, video and features throughout the season while you can follow us @SkySportsNBA