Paul George hit the game-winning three-pointer with 3.1 seconds remaining and finished with a season-high 47 points as the Oklahoma City Thunder pulled off their biggest comeback in franchise history for a 114-112 road victory over the Brooklyn Nets on Wednesday.
Russell Westbrook added 21 points, 17 assists and 15 rebounds to claim his 108th career triple-double, moving him past Jason Kidd for third place on the NBA's all-time list.
Game leaders
Oklahoma City Thunder
Points: Paul George - 47
Assists: Paul George - 15
Rebounds: Russell Westbrook - 17
Brooklyn Nets
Points: Allen Crabbe - 22
Assists: Rondae Hollis Jefferson - 9
Rebounds: Rondae Hollis Jefferson - 6
George, who scored 25 points in the fourth quarter as Oklahoma City overturned what had been a 23-point deficit, recorded his ninth career 40-point game and fourth since joining the Thunder last summer.
He finished two points shy of his career high, shooting 10 of 12 in the fourth when the Thunder outscored the Nets 39-19 to win for the 16th time in 19 games since opening the season 0-4.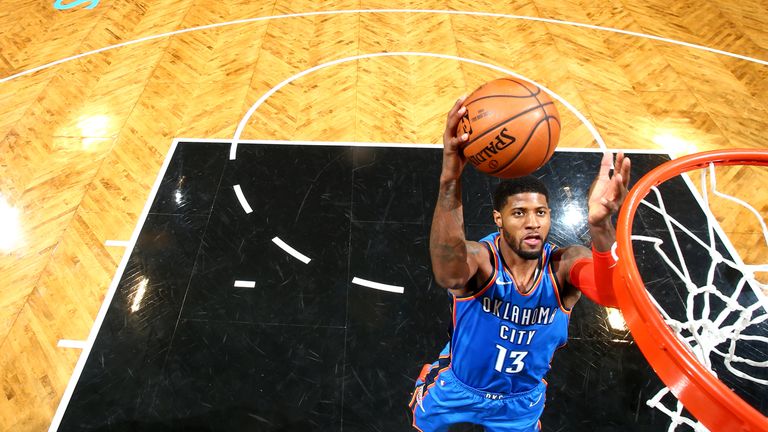 Westbrook reached his 108th triple-double when the Thunder trailed by 17. He is 30 behind Magic Johnson for second place and 73 behind all-time leader Oscar Robertson's 181.
Allen Crabbe led the Nets with 22 points, but was scoreless in the final 12 minutes as Brooklyn's home losing streak and overall losing streak reached eight games.
Joe Harris added 19 points in the loss, while D'Angelo Russell and Spencer Dinwiddie scored 17 points apiece as the Nets lost for the fifth time when carrying a lead into the fourth quarter and blew their second-largest lead of the season.
The Thunder trailed 99-80 with 8:53 remaining. George cut the lead to single digits at 105-97 at the 5:34 mark, and his layup with 1:43 left cut the deficit to 112-111.
George missed his next two shots, Brooklyn's Russell missed two three-pointers and Westbrook blew a layup with 28 seconds left.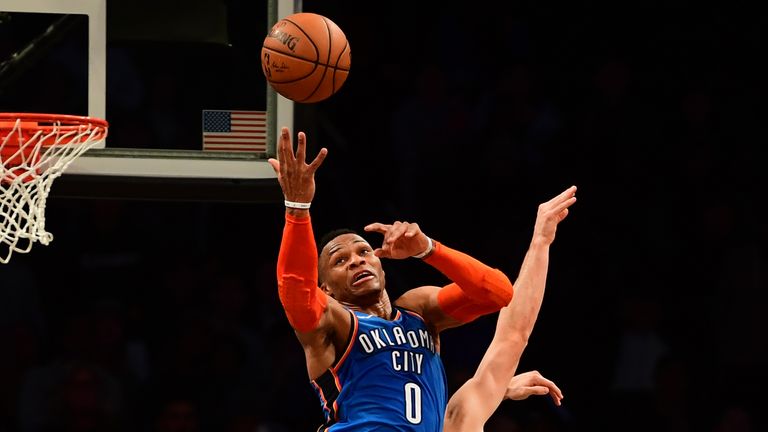 After Oklahoma City called its last timeout with 8.1 seconds left, Schroder inbounded to Westbrook, who was covered by Crabbe. Westbrook passed it to George, who took one dribble and then hit a three-pointer from the right wing.
On the next possession, Westbrook deflected Jared Dudley's dribble out of bounds, leaving 0.1 seconds remaining. The game ended when Adams deflected Harris' inbound pass.
Before the dramatic comeback, Westbrook was at 21 points, 15 rebounds and 12 assists as Oklahoma City faced a 93-75 deficit entering the fourth. The Nets held their 23-point lead (88-65) with 4:21 left in the third following a basket by Dinwiddie.
Wednesday night's results
Golden State Warriors 129-105 Cleveland Cavaliers
Denver Nuggets 124-118 Orlando Magic
Washington Wizards 131-117 Atlanta Hawks
Oklahoma City Thunder 114-112 Brooklyn Nets
Philadelphia 76ers 102-113 Toronto Raptors
Los Angeles Clippers 86-96 Memphis Grizzlies
Detroit Pistons 92-115 Milwaukee Bucks
Charlotte Hornets 104-121 Minnesota Timberwolves
Dallas Mavericks 106-132 New Orleans Pelicans
San Antonio Spurs 113-121 Los Angeles Lakers
Sky Sports is the new home of the NBA in the UK with live coverage throughout the week, including selected live games free to all Sky subscribers via Sky Sports Mix.
And www.skysports.com/nba will be your home for news, reports, video and features throughout the season while you can follow us @SkySportsNBA