LeBron James scored 42 points, including 14 consecutive points during a pivotal stretch in the fourth quarter, as the Los Angeles Lakers came from behind to beat the visiting San Antonio Spurs.
Wednesday night's results
Golden State Warriors 129-105 Cleveland Cavaliers
Denver Nuggets 124-118 Orlando Magic
Washington Wizards 131-117 Atlanta Hawks
Oklahoma City Thunder 114-112 Brooklyn Nets
Philadelphia 76ers 102-113 Toronto Raptors
Los Angeles Clippers 86-96 Memphis Grizzlies
Detroit Pistons 92-115 Milwaukee Bucks
Charlotte Hornets 104-121 Minnesota Timberwolves
Dallas Mavericks 106-132 New Orleans Pelicans
San Antonio Spurs 113-121 Los Angeles Lakers
San Antonio Spurs 113-121 Los Angeles Lakers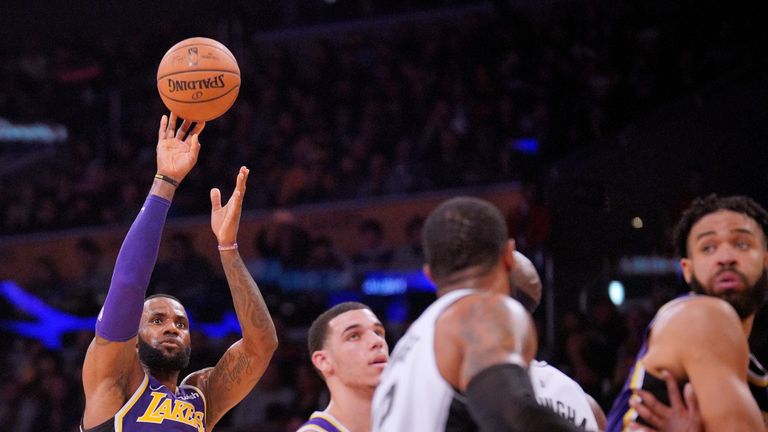 The game went back and forth throughout the fourth quarter and was tied at 104 before Lonzo Ball poured in a three-pointer to give Los Angeles a 107-104 lead with 2:36 to play.
With the Lakers up 112-109, James hit a three-pointer and a layup on Los Angeles' next two possessions, then a free throw with 20.8 seconds to play to close out the scoring.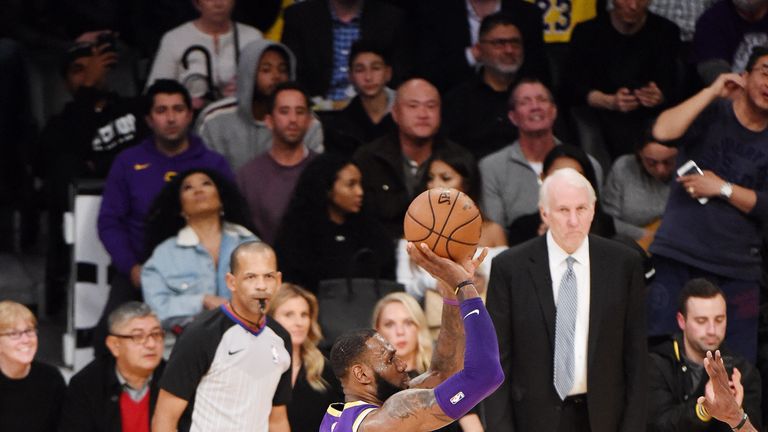 Kyle Kuzma added 22 points as the Lakers earned a fourth consecutive win.
DeMar DeRozan led the Spurs with 32 points while Rudy Gay scored a season-high 31 points. LaMarcus Aldridge scored 21 points for San Antonio, who have now lost four of their last five.
James made 15 of his 24 shot attempts from the field and also had six assists and five rebounds.
Golden State Warriors 129-105 Cleveland Cavaliers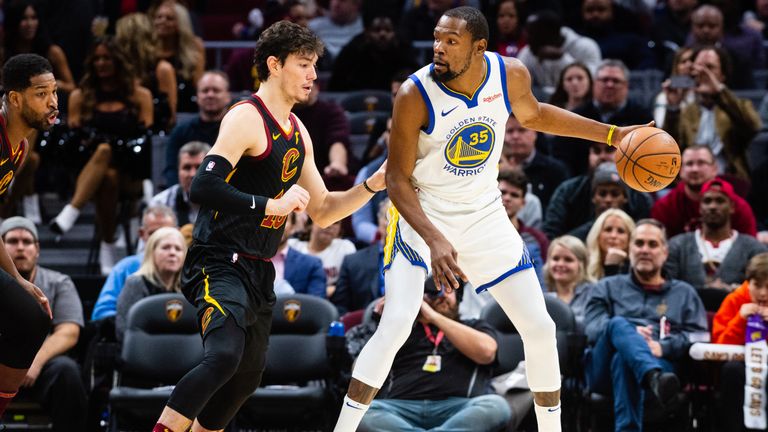 Stephen Curry continued his impressive return from injury with a 42-point showing as the Golden State Warriors cruised to a 129-105 victory over the Cleveland Cavaliers.
Kevin Durant scored 15 of his 25 in the third quarter as Golden State surged from behind to overcome host Cleveland in a rematch of June's NBA Finals.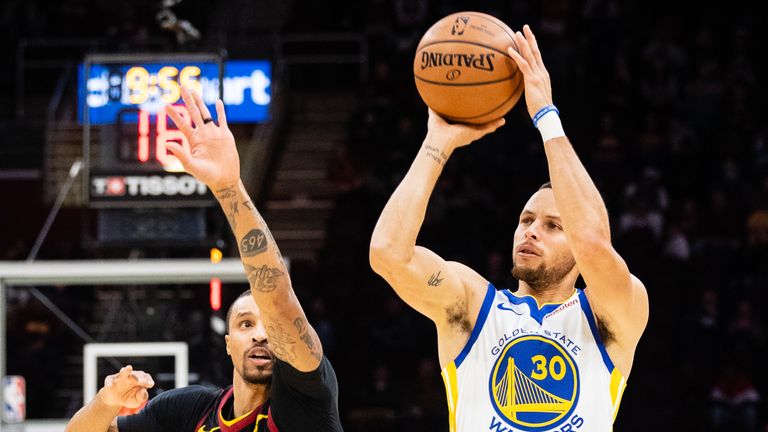 Curry, who missed almost a month of action with a groin injury, made nine of his 14 three-point attempts for the Warriors, who are still without fellow All-Star Draymond Green.
The Warriors, who swept the Cavaliers in the Finals to claim a second consecutive title, trailed 64-58 at half-time before exploding for 37 points in the third quarter, which created a nine-point lead.
Durant hit three shots from the beyond the arc in his personal flurry, while Curry also drained a trey as part of his big night that included 25 first-half points.
Philadelphia 76ers 102-113 Toronto Raptors
Kawhi Leonard scored 36 points, grabbed nine rebounds and added five steals to help the Toronto Raptors secure a victory over the visiting Philadelphia 76ers.
In a matchup that was billed as a possible preview of the Eastern Conference Finals, Leonard produced another assertive performance and made five of his six three-point attempts.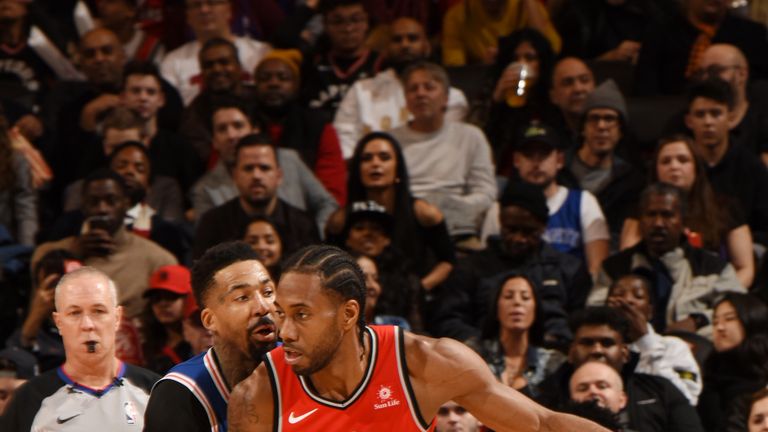 Jimmy Butler went toe to toe with Leonard as he scored 38 points on 15-27 shooting and added 10 rebounds for the 76ers, but quiet scoring nights from Joel Embiid and Ben Simmons saw Philadelphia come up short.
Toronto benefitted from Jonas Valanciunas expertise from the bench, as he added 26 points and eight rebounds in just 18 minutes, while Serge Ibaka had 18 points and eight rebounds for the Raptors, who have won nine of their past 10 games.
It was the 13th straight victory over the 76ers at home for the Raptors, including two this season. Toronto has won 20 of the past 22 games between the teams overall.
Oklahoma City Thunder 114-112 Brooklyn Nets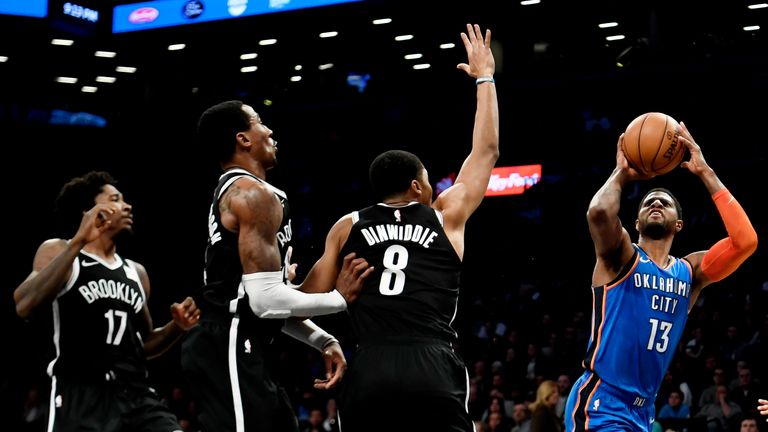 Paul George hit the game-winning three-pointer with 3.1 seconds remaining and finished with a season-high 47 points as the Oklahoma City Thunder pulled off their biggest comeback in franchise history for a 114-112 road victory over the Brooklyn Nets on Wednesday.
Russell Westbrook added 21 points, 17 assists and 15 rebounds to claim his 108th career triple-double, moving him past Jason Kidd for third place on the NBA's all-time list.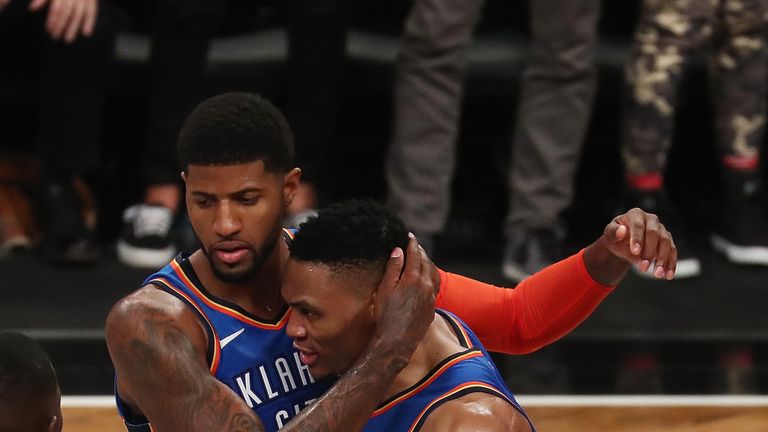 George, who scored 25 points in the fourth quarter as Oklahoma City overturned what had been a 23-point deficit, recorded his ninth career 40-point game and fourth since joining the Thunder last summer.
He finished two points shy of his career high, shooting 10 of 12 in the fourth when the Thunder outscored the Nets 39-19 to win for the 16th time in 19 games since opening the season 0-4.
Westbrook reached his 108th triple-double when the Thunder trailed by 17. He is 30 behind Magic Johnson for second place and 73 behind all-time leader Oscar Robertson's 181.
Allen Crabbe led the Nets with 22 points, but was scoreless in the final 12 minutes as Brooklyn's home losing streak and overall losing streak reached eight games.
Denver Nuggets 124-118 Orlando Magic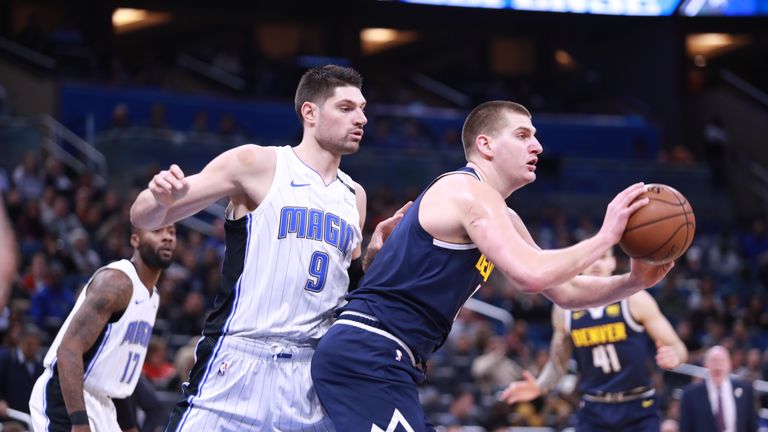 Jamal Murray scored 31 points and handed out eight assists as the Denver Nuggets maintained their winning streak with an overtime victory over the Orlando Magic.
The Nuggets made it seven straight wins and maintained their position at the top of the Western Conference as they improved to 17-7 for the season.
Nikola Jokic added 12 points, 13 assists and eight rebounds for Denver, and Paul Millsap scored 18 points.
Evan Fournier had 26 points for Orlando but fouled out with two minutes left in overtime. Nikola Vucevic had 24 points and 15 rebounds, Aaron Gordon scored 19, and Terrence Ross finished with 17 as the Magic lost for the third time in five games.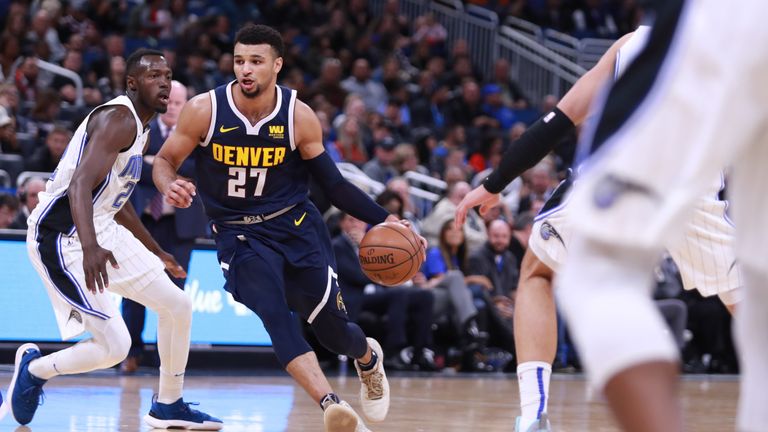 There were 21 lead changes in the game that was tightly contested throughout, and neither team led by more than six points in the third and fourth quarters.
The Magic trailed by three points with just nine seconds remaining in regulation when they inbounded the ball to Ross, who drilled a three-pointer from the wing to send the game into overtime.
Denver then scored nine of the first 11 points of overtime and held on. The winning streak is the Nuggets' longest since December 2013.
Detroit Pistons 92-115 Milwaukee Bucks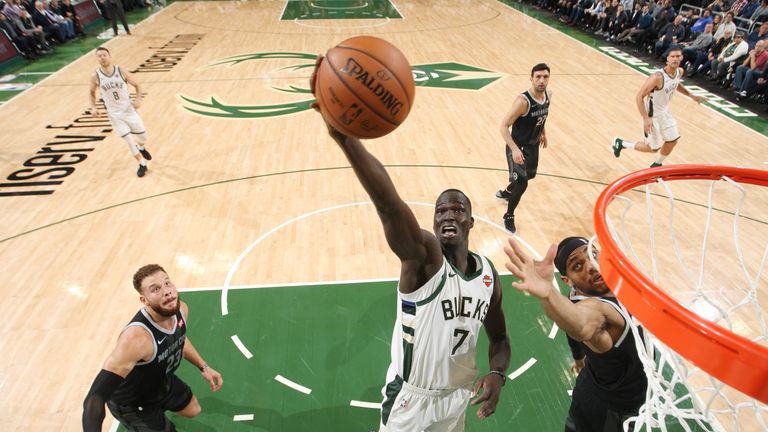 Eric Bledsoe scored 27 points in 26 minutes as the Milwaukee Bucks produced a strong team performance to defeat the Detroit Pistons.
Five other Milwaukee players reached double figures as the Bucks improved to 12-2 at home.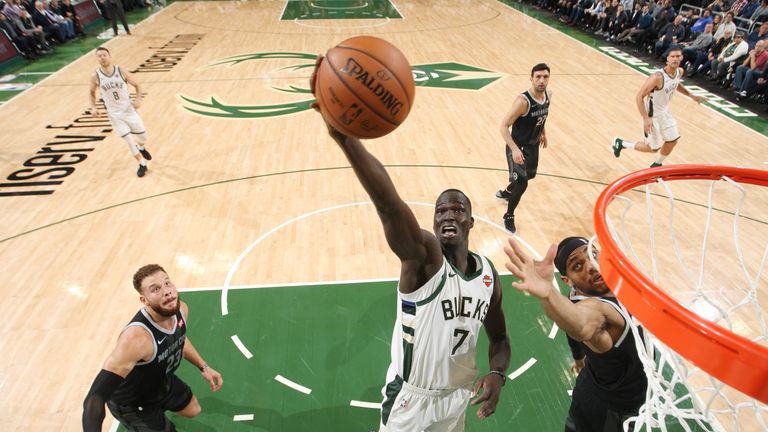 Giannis Antetokounmpo had 15 points, eight rebounds and five assists, and Malcolm Brogdon tossed in 14 points. Tony Snell, Thon Maker and Sterling Brown contributed 11 points apiece for Milwaukee.
Blake Griffin carried the Pistons with 31 points, seven rebounds and four assists. Reggie Jackson supplied 15 points, seven rebounds and five assists. Andre Drummond chipped in 10 points and eight rebounds.
Dallas Mavericks 106-132 New Orleans Pelicans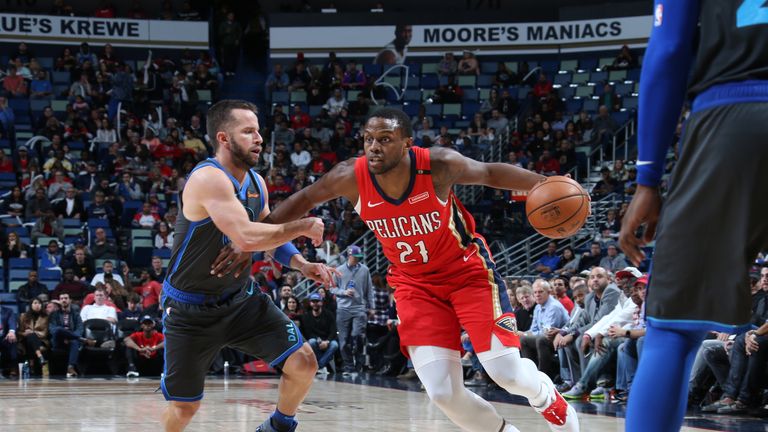 Julius Randle took advantage of a rare start with 27 points and 18 rebounds as the New Orleans Pelicans routed the Dallas Mavericks.
Anthony Davis, who left the game briefly in the third quarter with an apparent ankle injury, also scored 27.
However, it was Randle, who started in place of the unwell Nikola Mirotic for the second straight game, who backed up his career-high 37-point showing against the Los Angeles Clippers two nights earlier.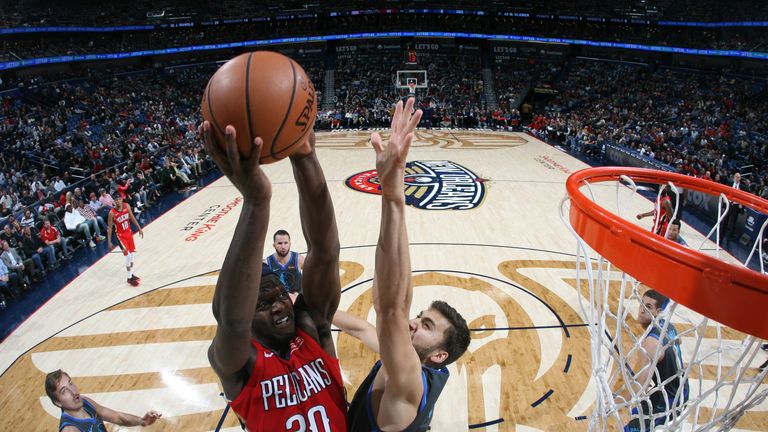 E'Twaun Moore and Jrue Holiday scored 17 each as New Orleans had six scorers in double figures. Darius Miller had 12 and Cheick Diallo 10 as the Pelicans won for just the third time in their last nine games.
Jeremy Lamb and Nicolas Batum led the Hornets with 18 points each, as Kemba Walker had an off shooting night with just 15 points on 6-16.
Los Angeles Clippers 86-96 Memphis Grizzlies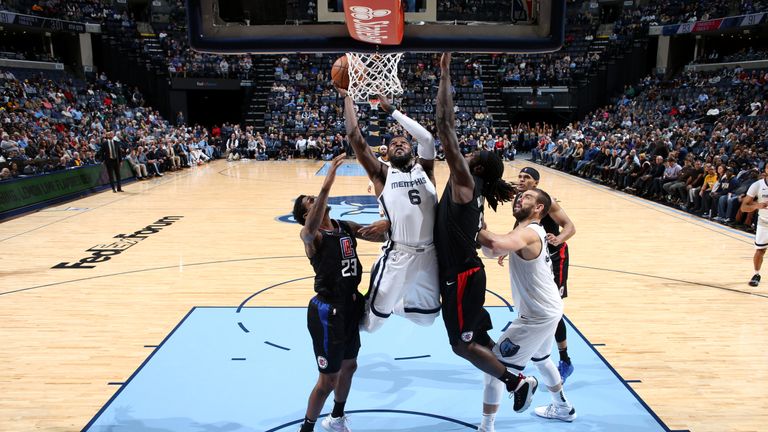 Mike Conley scored 22 points as the Memphis Grizzlies built a big early lead and held on for a victory over the visiting Los Angeles Clippers.
JaMychal Green added 19 points and 11 rebounds off the bench for the Grizzlies, who had lost four of their last five.
Conley, who fouled out when the Clippers rallied for an overtime victory when the teams met two weeks ago, added seven rebounds and went 9-16 from the field.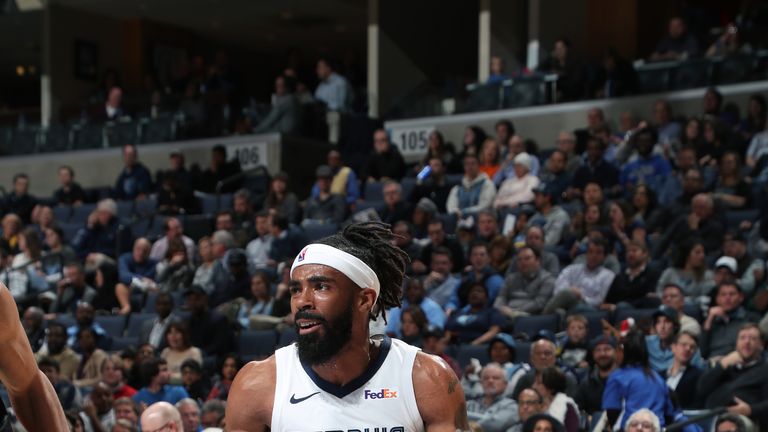 Boban Marjanovic scored 19 points off the bench as the Clippers erased a 16-point, first-half deficit to lead in the third quarter, only to let the chance at a road victory slip away.
The Clippers entered with five victories in their previous six games, but got very limited production from Eastern Conference player of the month Tobias Harris, who had just seven points on 2-13 shooting.
Charlotte Hornets 104-121 Minnesota Timberwolves
Karl-Anthony Towns scored 35 points and grabbed 12 rebounds as the Minnesota Timberwolves exploded in the fourth quarter to secure victory over the visiting Charlotte Hornets.
Towns led a 22-2 Minnesota surge after the Hornets took a 96-93 lead into the final eight minutes. The center scored seven in a 10-0 run as the Timberwolves gained control, and then teamed up with Robert Covington to turn the game into a blowout.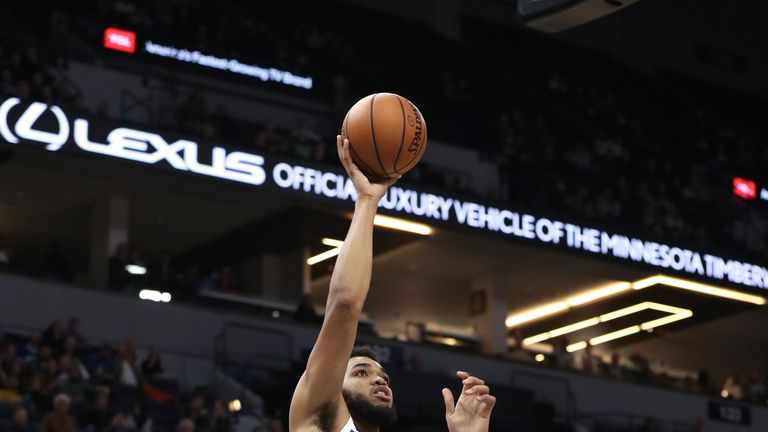 Andrew Wiggins had a strong all-round game with 26 points, six rebounds and five assists, while Derrick Rose chipped in with 16 points from the bench.
The Timberwolves (13-12) are now over the .500 mark for the first time all season. They are 9-3 since the trade that brought Covington and Dario Saric from Philadelphia for Jimmy Butler.
Washington Wizards 131-117 Atlanta Hawks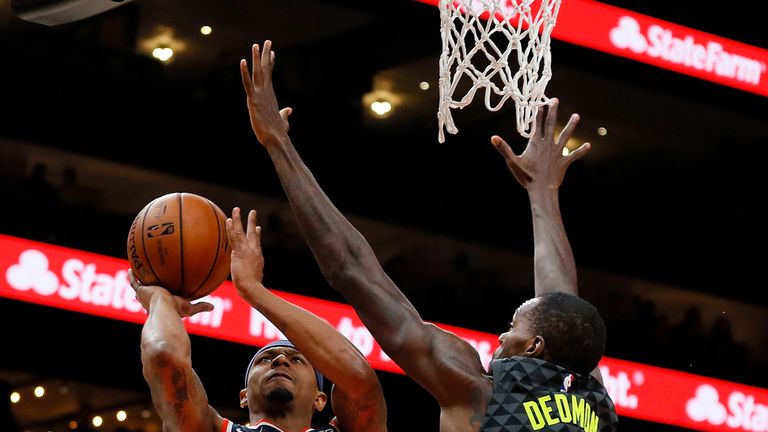 Bradley Beal shone in the absence of his fellow All-Star guard John Wall to score 36 points as the Washington Wizards eased to victory over the Atlanta Hawks.
With Wall absent for personal reasons, Beal carried the offensive load as he went 12-22 from the field and also handed out nine assists.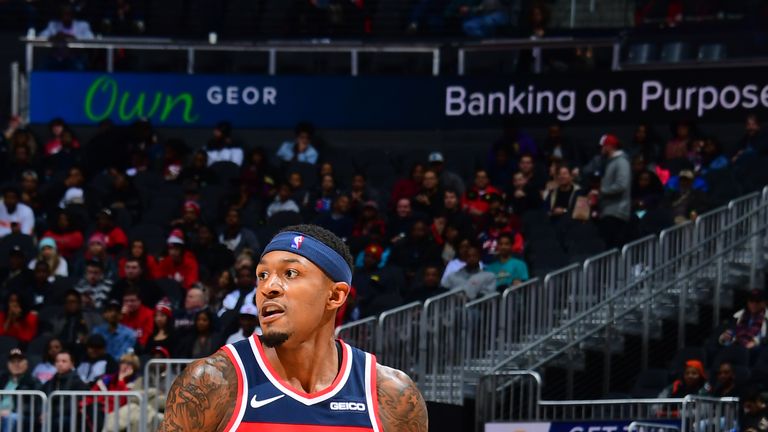 The win was the third straight for Washington, while Atlanta lost for the fourth time in a row.
Wall's replacement in the starting lineup, Austin Rivers, chipped in with nine points, seven rebounds and seven assists, while Otto Porter Jr. had 20 points.
John Collins led the Hawks with 26 points and 14 rebounds.
Sky Sports is the new home of the NBA in the UK with live coverage throughout the week, including selected live games free to all Sky subscribers via Sky Sports Mix.
And www.skysports.com/nba will be your home for news, reports, video and features throughout the season while you can follow us @SkySportsNBA