DeMarcus Cousins served as a facilitator before thriving as a battering ram, leading the Golden State Warriors to a 106-104 road victory over the Houston Rockets on Wednesday night.
Wednesday night's scores
Golden State Warriors 106-104 Houston Rockets
Brooklyn Nets 96-108 Oklahoma City Thunder
Utah Jazz 114-97 Phoenix Suns
Detroit Pistons 74-108 Miami Heat
Orlando Magic 90-100 Washington Wizards
Memphis Grizzlies 111-132 Atlanta Hawks
Golden State Warriors 106-104 Houston Rockets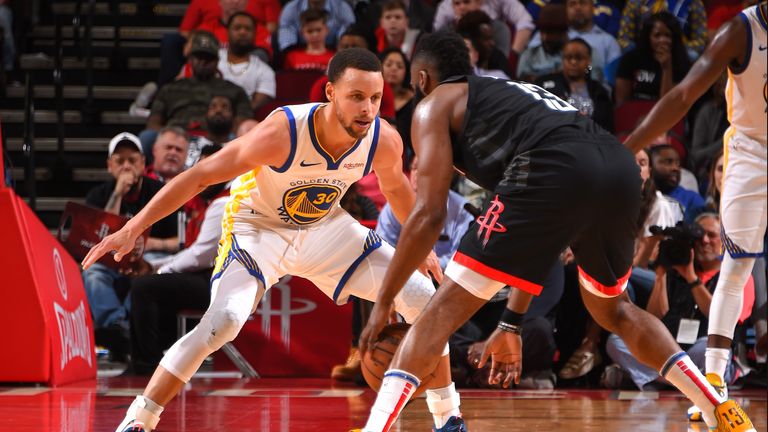 DeMarcus Cousins served as a facilitator before thriving as a battering ram, leading the Golden State Warriors to a 106-104 victory over the host Houston Rockets at Toyota Center.
Cousins posted season-highs in points (27) and assists (seven) to help the Warriors avert a four-game season-series sweep by the Rockets.
Game leaders
Golden State Warriors
Points: Klay Thompson - 30
Assists: DeMarcus Cousins - 7
Rebounds: DeMarcus Cousins - 8
Houston Rockets
Points: James Harden - 29
Assists: James Harden - 10
Rebounds: Clint Capela - 13
Golden State played without All-Star forward Kevin Durant (ankle), yet controlled the action for much of the first half before reasserting control with a series of offensive rebounds and second-chance baskets in the third quarter.
The Warriors, 4-6 over their previous 10 games, snapped the Rockets' season-best nine-game winning streak by striking an effective inside-out balance.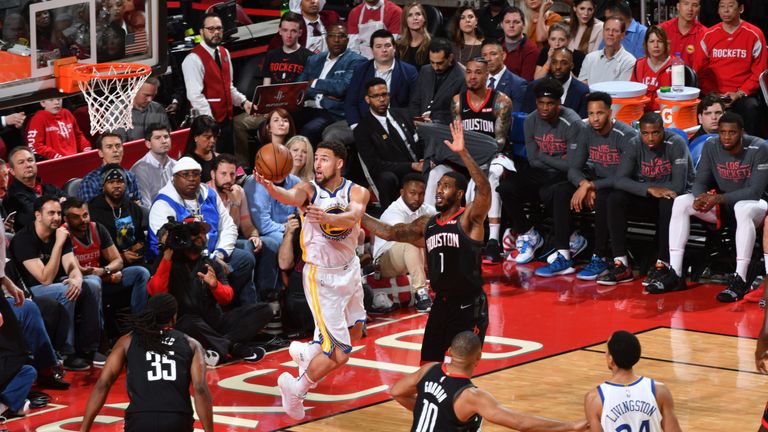 Stephen Curry and Klay Thompson combined for 54 points on 20-of-43 shooting, with Thompson tallying 30 and five three-pointers.
The Rockets sliced what was a 14-point, fourth-quarter deficit to 104-103 on a three-point play by Chris Paul with 10.8 seconds remaining. But Curry sank two free throws with eight seconds left and, after James Harden missed the second of two free throws with 6.4 seconds left, Andre Iguodala tracked down the loose ball in the backcourt for Golden State to seal the victory.
Thompson, Cousins and Curry (24 points) were the only Warriors to score in double figures. Golden State shot 49.4 per cent from the floor and finished 10-for-10 from the free-throw line.
Paul finished with 24 points and was instrumental in engineering the rally down the stretch of the second quarter. While the Rockets pulled even at 52-52 on a Harden three-pointer with 32.5 seconds left, it was Paul who scored seven points in succession to help erase a 49-42 deficit.
Harden paired 29 points with 10 assists but continued his recent struggles from deep, missing 10-of-12 threes. Clint Capela posted a double-double (13 points, 13 rebounds) but struggled to defend Cousins on the block.
The Warriors turned seven offensive rebounds into six second-chance points in the third period. Cousins recorded six assists in the first half.
Brooklyn Nets 96-108 Oklahoma City Thunder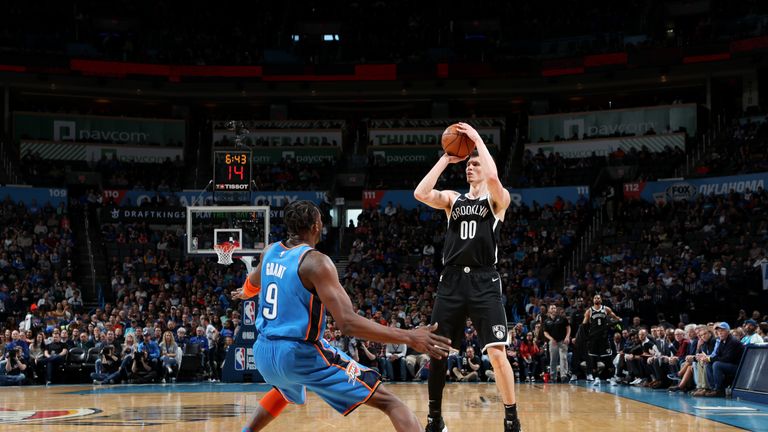 Paul George and Russell Westbrook combined for 56 points as the Oklahoma City Thunder beat the visiting Brooklyn Nets 108-96.
It was the second time this season the Thunder had come from a double-digit deficit in the second half to beat the Nets.
Oklahoma City trailed by as much as 17 early in the second quarter and 10 early in the second half. The comeback happened in the third quarter when George snapped out of his recent slump with 12 points.
Oklahoma City scored 38 points in the third after scoring just 42 points in the first half.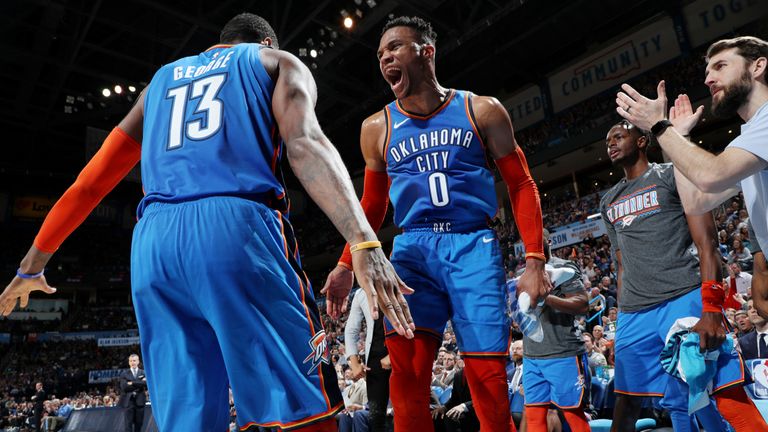 George had taken a bit of a back seat offensively recently after struggling from the field - especially from behind the 3-point line - in four games since returning from a left shoulder injury. Early on, George seemed bothered again by the shoulder injury, even wearing an ice pack on his right shoulder at one point in the first half.
But in the second half, George found his groove and finished with 25 points on 9-of-18 shooting, including 3-of-6 from behind the arc.
Westbrook finished with 31 points, 12 rebounds and 11 assists for his first triple-double since February 28. It was the 14th game this season where the Thunder won after trailing by double figures. Spencer Dinwiddie led the Nets with 25 points.
Utah Jazz 114-97 Phoenix Suns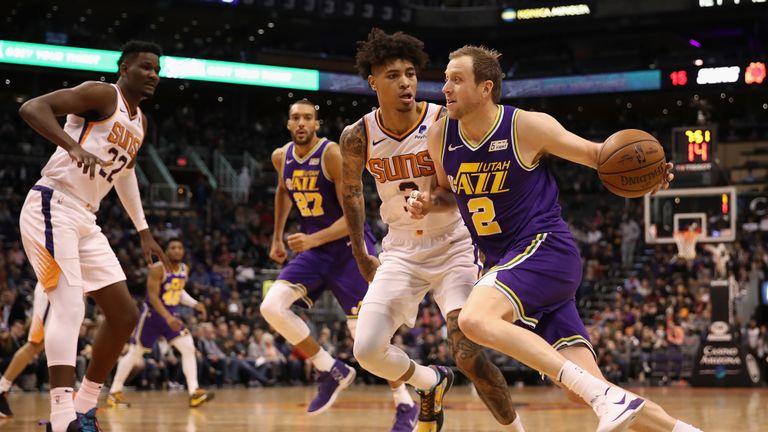 Donovan Mitchell scored 26 points to help the Utah Jazz record a 114-97 victory over the host Phoenix Suns.
Rudy Gobert had 18 points and 20 rebounds for the Jazz, who halted a two-game slide. Utah have defeated the Suns by an average of 23 points while winning each of the past five meetings.
Derrick Favors added 18 points, seven rebounds and seven assists, Joe Ingles scored 15 points, and Jae Crowder had 12 for the Jazz, who outscored Phoenix 36-22 during the fourth quarter.
Devin Booker scored 27 points for the Suns, who lost for just the third time in eight games. Kelly Oubre Jr added 18 points, Tyler Johnson scored 15 and Richaun Holmes had 11.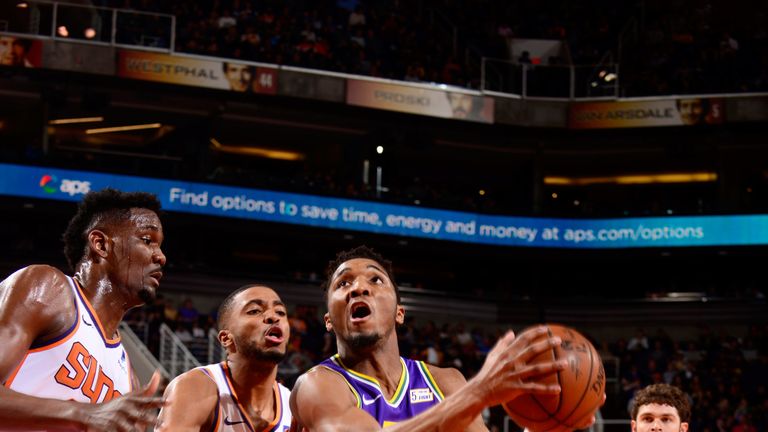 Phoenix rookie standout Deandre Ayton managed just two points on 1-of-9 shooting.
Ayton scored his first points of the game on a short basket with 10:48 remaining. Utah followed by scoring seven of the next nine points to take an 89-79 advantage with 8:29 left.
Phoenix later moved within 99-89 on Booker's three-pointer with 4:06 remaining before the Jazz scored the next 11 points to seal the victory.
Detroit Pistons 74-108 Miami Heat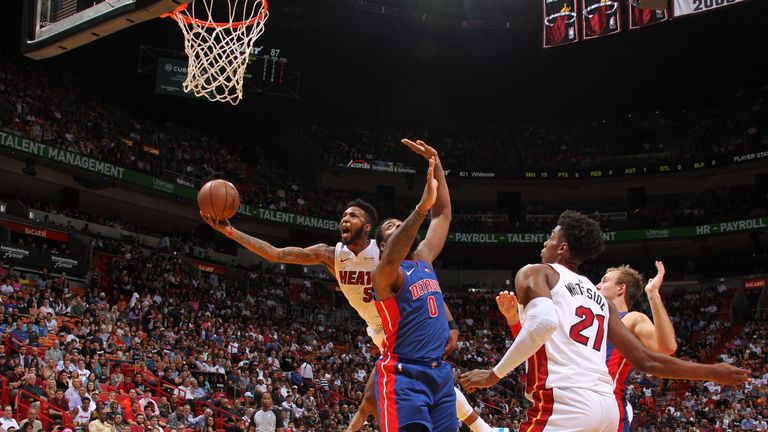 Justise Winslow led a balanced attack with 16 points as the host Miami Heat scored the first 21 points of the second half to roll past the Detroit Pistons 108-74.
The Heat outscored the Pistons 33-8 in the third quarter. It was Detroit's lowest-scoring quarter since November 21, 2012, when they had an eight-point quarter against Orlando.
Dion Waiters had 14 points, while Hassan Whiteside and Josh Richardson scored 13 apiece. Dwyane Wade tossed in 11 points off the bench for Miami.
Blake Griffin led Detroit with 13 points. Former Heat guard Wayne Ellington added 11 points and Luke Kennard chipped in 10 off the bench.
The Pistons have lost two in a row following a five-game winning streak. The teams, both of which are fighting for playoff spots in the Eastern Conference, split their four-game season series.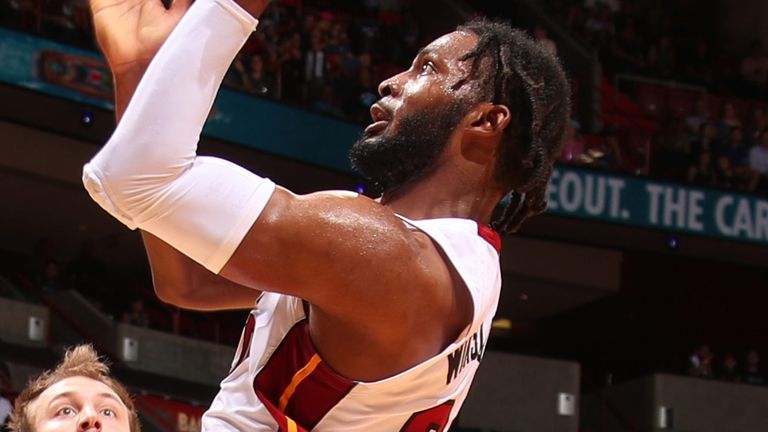 Andre Drummond, the league's top rebounder, was held to five points and nine rebounds before fouling out.
Kelly Olynyk got the Heat's third-quarter outburst going with a three-point play. Waiters made a three-pointer and Bam Adebayo scored seven points during the spurt, including a lob dunk and a three-point play. Olynyk hit two free throws to give the Heat a 21-point advantage. Waiters then made a baseline shot and Winslow knocked down a corner three.
Griffin finally ended Detroit's scoring drought by making two free throws with 5:27 left in the quarter. The Pistons didn't make their first field goal of the half until 2:52 remaining in the quarter, when Thon Maker hit a short jumper.
Richardson's three-pointer later in the quarter gave the Heat a 30-point advantage.
Orlando Magic 90-100 Washington Wizards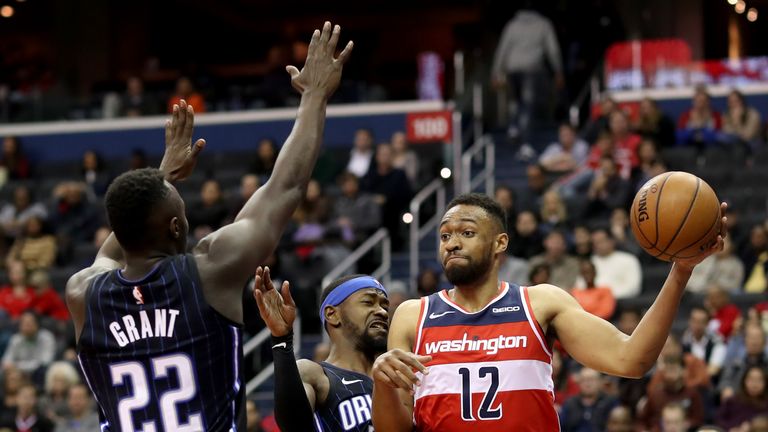 Bradley Beal scored 23 points and Thomas Bryant added 21 points and 10 rebounds as the Washington Wizards defeated the visiting Orlando Magic 100-90.
Jabari Parker added 19 points and nine rebounds as the Wizards, 11th in the Eastern Conference, gained a game on the ninth-place Magic as they both chase the eighth-place Miami Heat.
Nikola Vucevic led the Magic with 20 points and 14 rebounds. DJ Augustin scored 16 points and Aaron Gordon and Jonathan Isaac had 13 each for the Magic, who have lost four of five.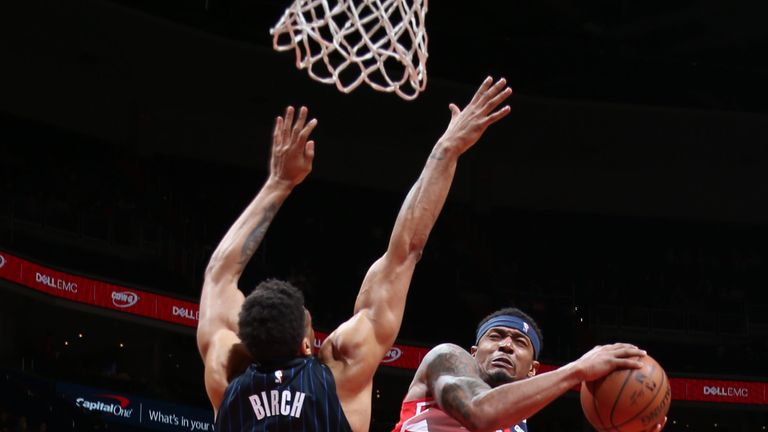 Washington's reserves, led by Bryant, Parker and Chasson Randle (13 points), scored 59 points. Bryant and Parker both shot 9-of-12 from the field.
After the score was tied 80-80, Randle's three-pointer and six points by Parker sparked an 11-2 Wizards run that made it 91-82 with 5:05 left.
Back-to-back three-pointers by Augustin and Evan Fournier cut the Magic's deficit to 94-90, but Parker's basket pushed the Washington lead back to six. Bryant scored four points and the lead was 10 with under a minute remaining.
Memphis Grizzlies 111-132 Atlanta Hawks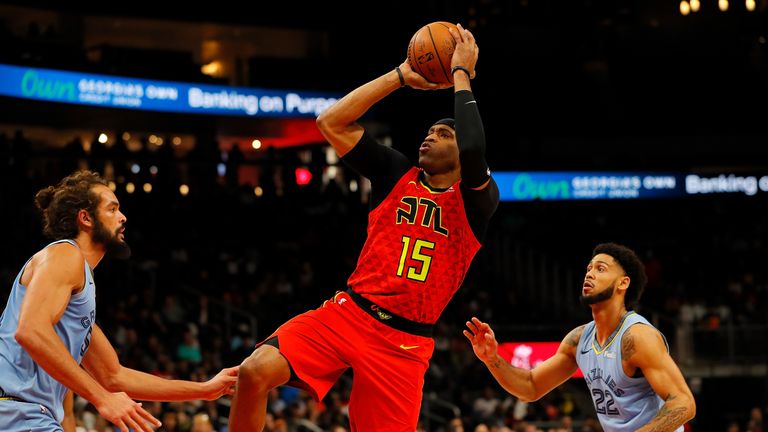 The Atlanta Hawks continued their hot play on offense as John Collins, Trae Young and Alex Len combined for 69 points in a 132-111 win over the visiting Memphis Grizzlies.
The Hawks entered the game as the NBA's top offensive team since the All-Star Game, averaging 122.5 points, and they topped the 120-point mark for the seventh time in the past 11 games.
Collins finished with 27 points on 11-for-17 shooting and grabbed 12 rebounds for his 28th double-double of the season. Young scored 22 points and had eight rebounds. Len came off the bench to add 20 points and eight rebounds.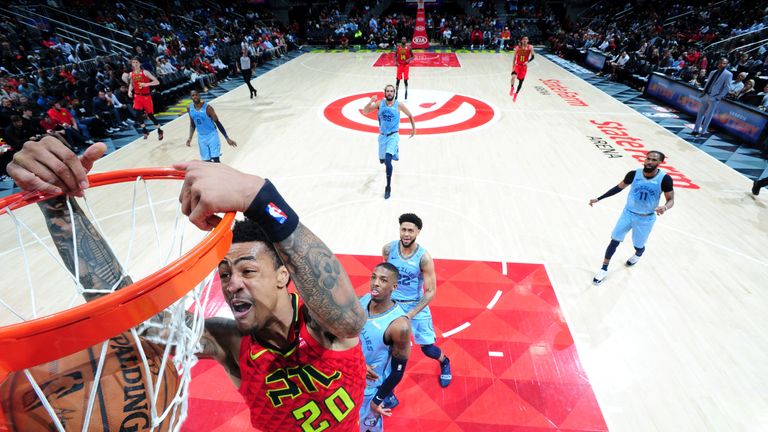 Kevin Huerter scored 16, making four three-pointers, Taurean Prince had 15 and Vince Carter scored 10 for the Hawks.
The Grizzlies were led by CJ Miles, who came off the bench to shoot 8-of-12 on three-point attempts and score a season-high 33 points. Mike Conley added 20 points and seven assists, and Joakim Noah had 12 points, eight rebounds and five assists.
Atlanta led by as many as 23 points in the third quarter before Memphis trimmed the margin to 15. The Hawks answered with a Carter fadeaway shot and a Carter 3-pointer followed by a Len dunk for a 97-75 lead. The Hawks were on top 110-90 at the end of three quarters.
Want to watch the NBA but don't have Sky Sports? Get the Sky Sports Action and Arena pack, click here.