The Portland Trail Blazers hope to take their improved play a step further on their home court Saturday night when they seek their first win of the Western Conference finals in Game 3 against the Golden State Warriors.
Golden State Warriors 2-0 Portland Trail Blazers
Game 3: Warriors @ Trail Blazers, May 19, 2am
Game 4: Warriors @ Trail Blazers, May 21, 2am
Game 5 if necessary: Trail Blazers @ Warriors, May 23, 2am
Game 6 if necessary: Warriors @ Trail Blazers, May 25, 2am
Game 7 if necessary: Trail Blazers @ Warriors, May 27, 2am
All games broadcast live on Sky Sports Arena
The Trail Blazers played competitively with the two-time defending champions on the road for more than three quarters in Game 1 on Tuesday before taking a lead into the final minute of the rematch on Thursday.
The result? Two losses, but a greater confidence that their third try in the best-of-seven series will produce better results.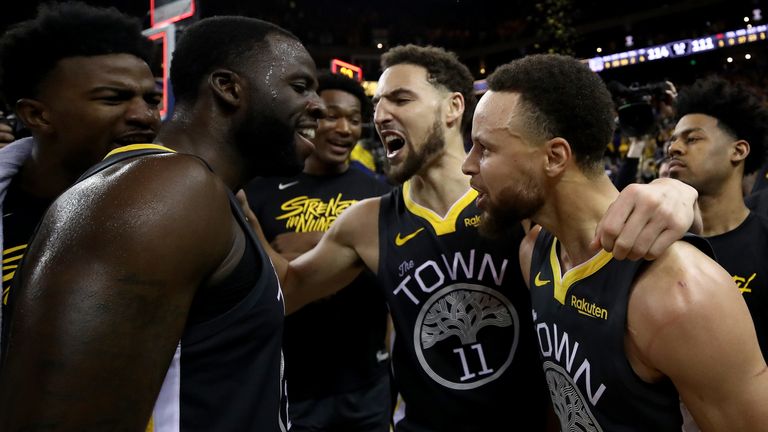 "They earned it down the stretch," Trail Blazers guard CJ McCollum said of Golden State's 14-3 finish Thursday after the Warriors trailed by eight. "They made more plays than us in the last two minutes, last three minutes, but I like our chances going forward. I like the way we came out and competed.
"We got to bring that same energy at home. Understand that this is the first time in 19 years we've been in the conference final. I'm really looking forward to the opportunity of playing at home and building on what we've done. Being down 0-2, it's not what you would like to see, but it's our reality, so now we got to go get some at home."
Live NBA: Golden State @ Portland
The Trail Blazers responded well to adversity in their most recent home game, dominating the final three quarters in a 119-108 win over the Denver Nuggets in Game 6 of the Western semi-finals when a loss would have ended their season. Portland then won Game 7 at Denver, 100-96.
For the second game in a row, Stephen Curry and Klay Thompson got the better of their heralded Portland counterparts, McCollum and Damian Lillard. After outscoring their rivals 62-36 in Game 1, the Warriors' All-Star duo won the battle 61-45 in the rematch.
Golden State travelled to Portland on Friday without injured forward Kevin Durant, who has been ruled out of the next three games. But the Warriors have won three in a row without him, including a series-clinching Game 6 in Houston last week.
"We're fortunate to be in the position we're in," Warriors coach Steve Kerr said after Golden State's 114-111 victory Thursday, a game in which his team trailed by as many as 17 points. "We know we're going into one of the toughest arenas to play in in the league.
"We've been in this situation many times, so we know how we have to play. We've got to play with great discipline and some desperation like we did for only parts of (Game 2). We've got to play that way the whole game, and that's what it will take up in Portland."
The Warriors have won at least one road game in each of their past 21 postseason series, an NBA record.
Key Battle: Splash Brothers vs Lillard and McCollum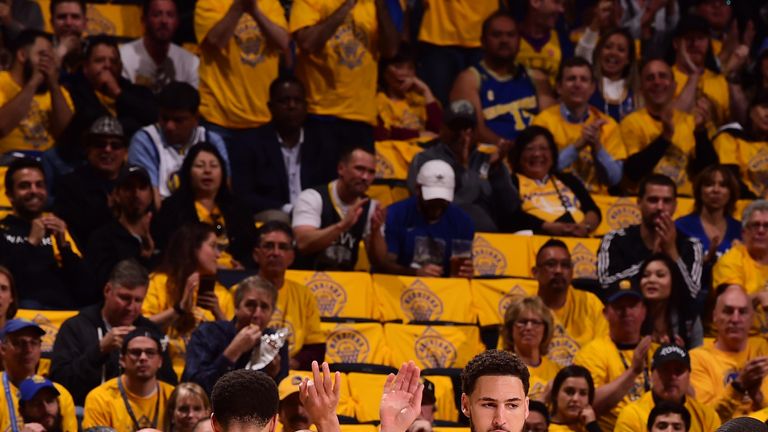 As their team's primary scorers, this battle of backcourt duos was always going to dictate the outcome of this series.
So far, Curry and Thompson have held the upper hand, outscoring the Blazers backcourt 62-36 in Game 1 and 61-45 in Game 2.
Neither Blazers guard has shot better than 40 per cent in the series to date. Will the home comforts of Moda Center help Lillard and McCollum strike back in this match-up?
Last time out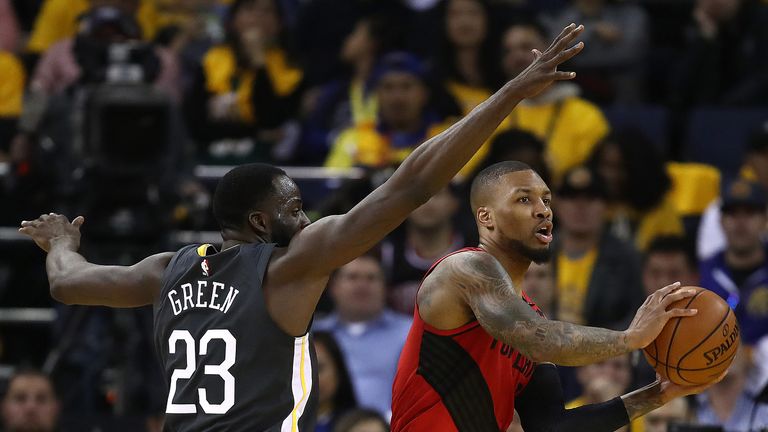 Numbers game
30.0 - That's the Warriors' average assists per game in the Western Conference Finals. It's higher than their overall APG in the playoffs and their APG in the regular season.
The Warriors are the league's best team when it comes to sharing the ball but they have responded to the absence of Durant by doing an even better job of it.
One to watch (Warriors): Kevon Looney
Looney chipped in 14 points, seven rebounds, two assists, one steal and one block, didn't miss a shot and threw down the decisive dunk in the final minute of the Warriors Game 2 win. His team-mate Klay Thompson hailed his performance as special.
The reserve big man has logged at least 20 minutes off the bench in each of the Warriors' last five games and his energy and physicality perfectly complement the finesse games of their star players.
One to watch (Trail Blazers): Enes Kanter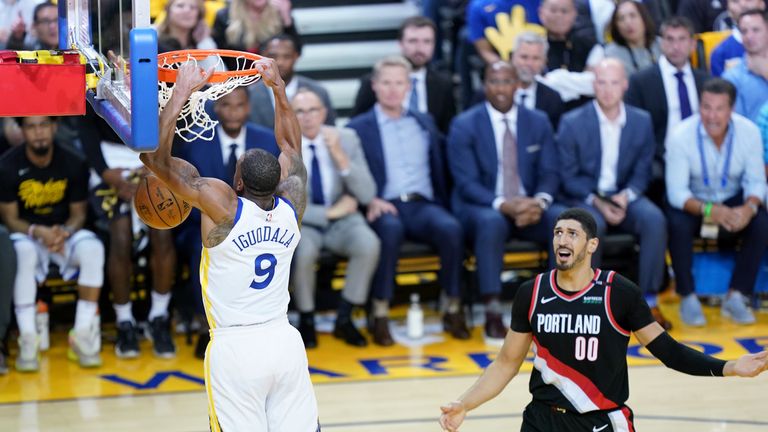 Struggling through a debilitating shoulder injury and having to play the most important games of his career while fasting for Ramadan, Kanter's playoff campaign has been one of toughness and determination. Even his much-maligned defensive play passed the test in the opening two rounds of the playoffs.
The Warriors are sure to exploit Kanter with Stephen Curry-Draymond Green pick-and-rolls. Kanter will surely have his say by making an impact with his offensive rebounding. Whatever the outcome, the Turkish center's postseason - in which he has averaged 12.1 points and 10.5 rebounds per game - has been one of the best stories of the playoffs.
Watch Golden State Warriors @ Portland Trail Blazers Game 3 live on Sky Sports Arena in the early hours of Sunday morning (2am)
Want to watch the NBA but don't have Sky Sports? Get the Sky Sports Action and Arena pack, click here.