Terry Rozier, standing in for the injured Kyrie Irving, scored 17 points and handed out 10 assists as the Boston Celtics crushed the Charlotte Hornets.
Wednesday night's scores
Charlotte Hornets 94-126 Boston Celtics
Memphis Grizzlies 97-99 Minnesota Timberwolves (OT)
Denver Nuggets 105-99 New Orleans Pelicans
Dallas Mavericks 114-90 New York Knicks
Chicago Bulls 105-89 Miami Heat
Atlanta Hawks 113-135 Sacramento Kings
Indiana Pacers 89-107 Washington Wizards
Utah Jazz 105-132 Portland Trail Blazers
Charlotte Hornets 94-126 Boston Celtics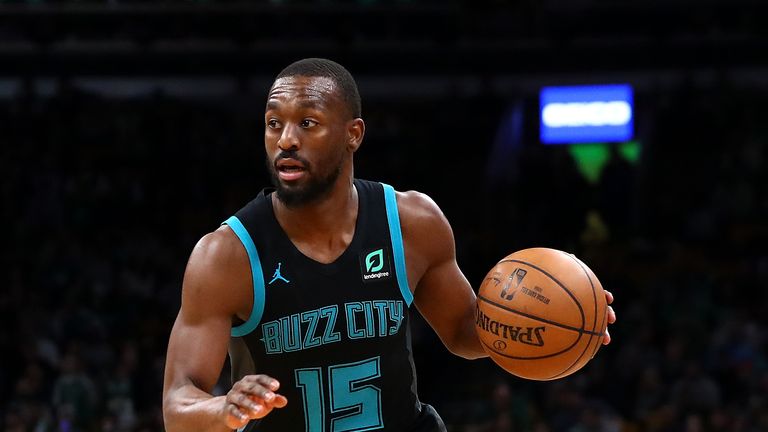 Terry Rozier filled in for injured Kyrie Irving and had 17 points, 10 assists and five rebounds as the Boston Celtics remained hot with an easy 126-94 victory over the visiting Charlotte Hornets on Wednesday night.
The Celtics took control of the game in the third quarter, outscoring the Hornets 35-16 to push a four-point half-time lead to 23. They went on to lead by as many as 35 points in the fourth quarter.
The Celtics (32-19) have won seven of their past eight games. They are also now 24-4 over the past two seasons when playing without Irving, who missed his third game in the past week with a strained left hip.
Jaylen Brown came off the bench to lead the Celtics with 24 points.
The Celtics also got 20 points from Jayson Tatum, 15 from Marcus Morris, 14 from Al Horford, and 12 from Gordon Hayward.
Kemba Walker led the Hornets (24-26) with 21 points, although he didn't play in the fourth quarter with the game out of hand. It was Walker's best game since being named as a starter for the Eastern Conference in the All-Star Game.
The Hornets also got 16 points from Malik Monk, 13 points from Nicolas Batum and 10 from Marvin Williams.
Memphis Grizzlies 97-99 Minnesota Timberwolves (OT)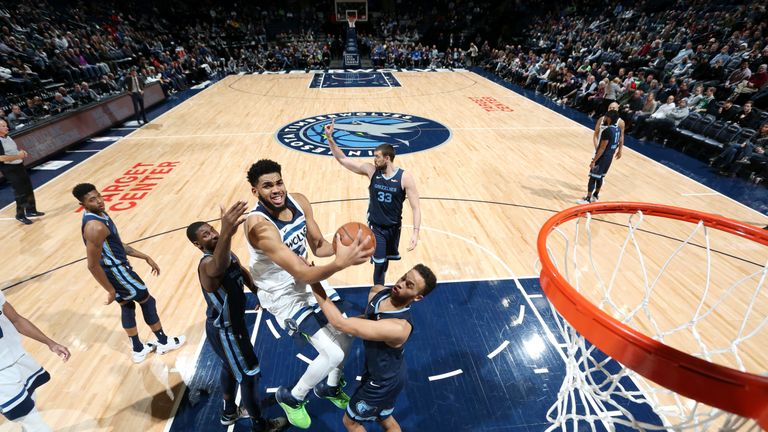 Karl-Anthony Towns hit a 20-foot jump shot at the buzzer as the Minnesota Timberwolves pulled off a 99-97 victory over the Grizzlies, sending Memphis to their eighth consecutive road defeat.
Towns had 16 points and 10 rebounds while Jerryd Bayless scored 19 points and handed out a career-high 12 assists for Minnesota.
Andrew Wiggins, who scored 12 points for the Wolves, missed a 21-foot jumper with three seconds remaining in overtime. Towns grabbed the rebound on the wing and got off his game-winning shot just before time expired.
Mike Conley scored 26 points and Marc Gasol added 19 for the Grizzlies, who have lost 10 of their past 11 games. Kyle Anderson added 14 points for Memphis, and Ivan Rabb had 10 points and 10 rebounds.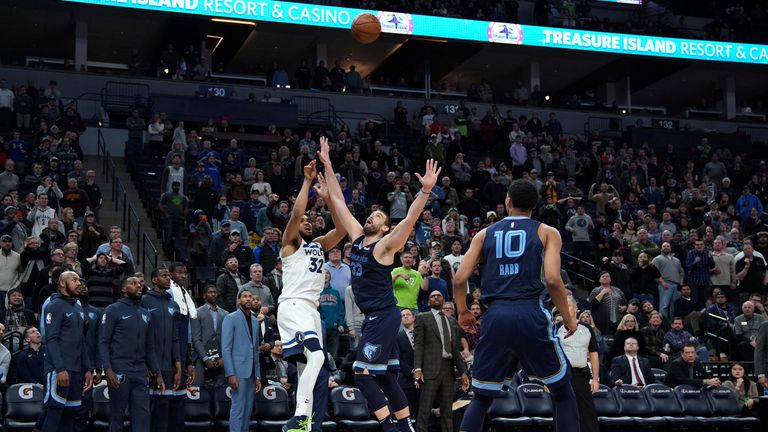 Bayless had two shots to give the Wolves the lead in the closing seconds of regulation, finally missing a 20-foot jumper from the wing to send the game into overtime.
Taj Gibson, Gorgui Dieng and Anthony Tolliver each scored 10 points for the Timberwolves, who ended a two-game losing streak and improved to 6-5 under interim head coach Ryan Saunders, who took after Tom Thibodeau was fired earlier this month.
Bayless, who has received more playing time under Saunders, recorded his first double-double since November 2015.
Denver Nuggets 105-99 New Orleans Pelicans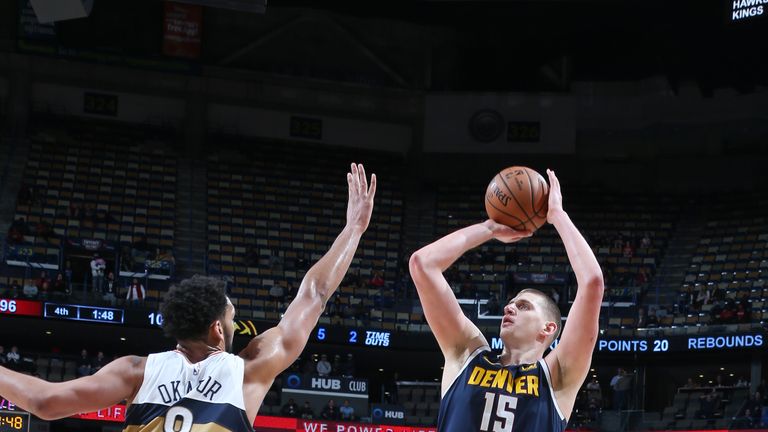 Nikola Jokic had a triple-double as the visiting Denver Nuggets defeated the short-handed New Orleans Pelicans 105-99.
Jokic had 20 points, 13 rebounds and 10 assists, Malik Beasley added 22 points, Monte Morris scored 20 and Paul Millsap had 13 as the Nuggets won their fourth consecutive game.
The Pelicans played without five of their top six scorers for the second consecutive night. Anthony Davis, Julius Randle, Elfrid Payton, E'Twaun Moore and Nikola Mirotic were all sidelined by injury, leaving just guard Jrue Holiday available among their top six players.
Holiday scored 22 points, Kenrich Williams added 21, Darius Miller had 15 and Jahlil Okafor 14 to lead the Pelicans, who lost for the fourth time in five games.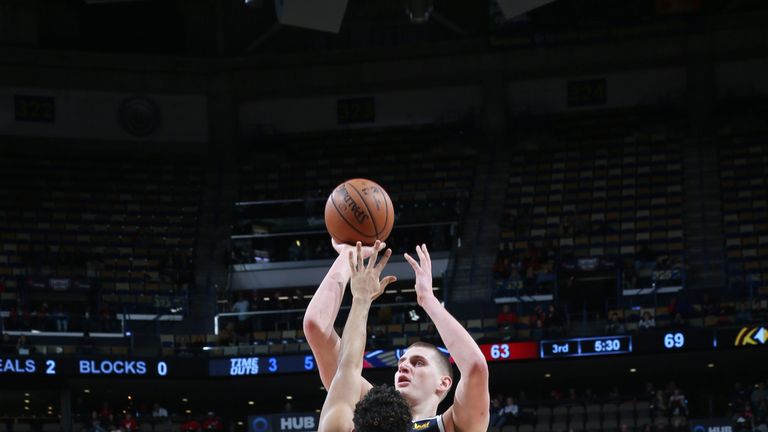 The Nuggets, who rallied from a 25-point deficit to win at Memphis on Monday, led for most of the game.
Gary Harris connected with back-to-back three-pointers to give the Nuggets an 86-75 lead after three quarters but an 11-2 Pelicans run cut Denver's lead to 88-86.
The Pelicans got within two points twice more, but Beasley scored five points to help Denver open a 100-93 lead.
Back-to-back three-pointers by Ian Clark and Holiday pulled New Orleans within 100-99 with 1:33 left. But the Nuggets turned to Jokic, who made consecutive baskets for a 104-99 lead with 42 seconds left, and New Orleans didn't score again.
Chicago Bulls 105-89 Miami Heat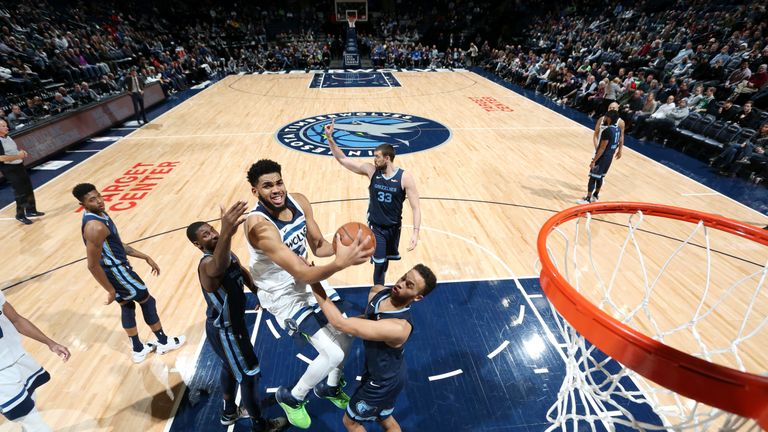 Bobby Portis scored a season-high 26 points to lead the visiting Chicago Bulls to a 105-89 victory over the Miami Heat.
Wayne Selden finished with 20 points while Lauri Markkanen and Kris Dunn scored 14 points each for the Bulls, who snapped a four-game losing streak and won their second in the past 16. Robin Lopez was Chicago's fifth double-figure scorer with 13 points, and Markkanen grabbed a game-high 13 rebounds.
Portis scored 22 second-half points, the highest scoring half of his career. His seven points during a 25-9 run in the final 7:32 of the third period helped the Bulls take the lead for good. Shaquille Harrison's jump shot with 35.9 seconds remaining capped the run and gave Chicago a quarter-ending, 78-68 lead.
Miami never got the deficit lower than seven points following the Bulls' third-quarter run. Selden's three-pointer with 4:06 remaining in the fourth quarter increased the Bulls advantage to 99-80. Selden converted 4-of-6 from beyond the arc.
The Bulls played without leading scorer Zach LaVine. The fifth-year guard, who averages 22.9 points per game, sprained his right ankle in the Bulls' loss at Brooklyn on Tuesday.
Tyler Johnson scored 15 points and Justise Winslow finished with 14 points for Miami. Dwyane Wade sat out because of right knee soreness.
Dallas Mavericks 114-90 New York Knicks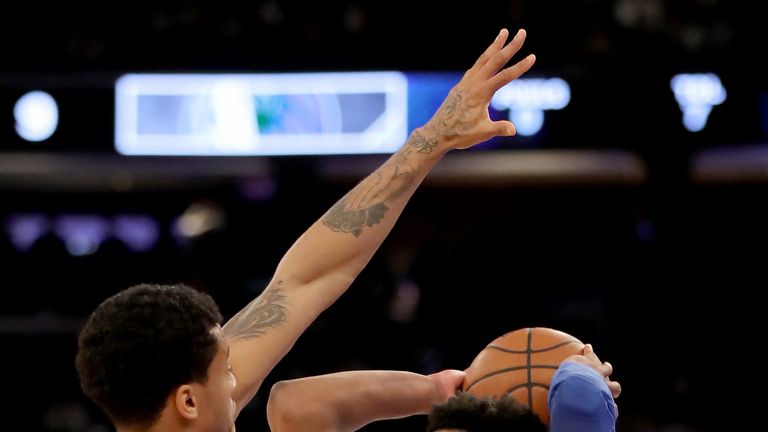 Dennis Smith Jr finished with a triple-double and Dirk Nowitzki scored a season-high 14 points in his possible finale at Madison Square Garden as the visiting Dallas Mavericks pulled away for a 114-90 win over the New York Knicks.
The Mavericks have won three of four. The Knicks have lost 11 straight, 19 of 20 and 24 of 26. New York have the worst record in the NBA.
Smith collected 13 points, 15 assists and 10 rebounds. Harrison Barnes led all scorers with 19 points while Wesley Matthews added 17 points and rookie sensation Luka Doncic had 16 points and eight rebounds.
The 40-year-old Nowitzki, who is coming off the bench this season and has played in just 19 of the Mavericks' 50 games, received standing ovations when he entered in the first quarter and when he came back to play the final 4:35 of the game.
Nowitzki, who hasn't announced his plans for beyond this season but is widely expected to retire, drew more applause when he drained a three-pointer and a long jumper within a 62-second span late in the fourth. He missed his last field goal attempt with 49 seconds left.
Nowitzki made it clear he wanted Dallas to dribble out the shot clock on their final possession instead of giving him another shot.
Rookie Kevin Knox scored 17 points for the Knicks, who received 16 points from Trey Burke, 13 points from Mario Hezonja and 11 points from rookie Allonzo Trier.
Utah Jazz 105-132 Portland Trail Blazers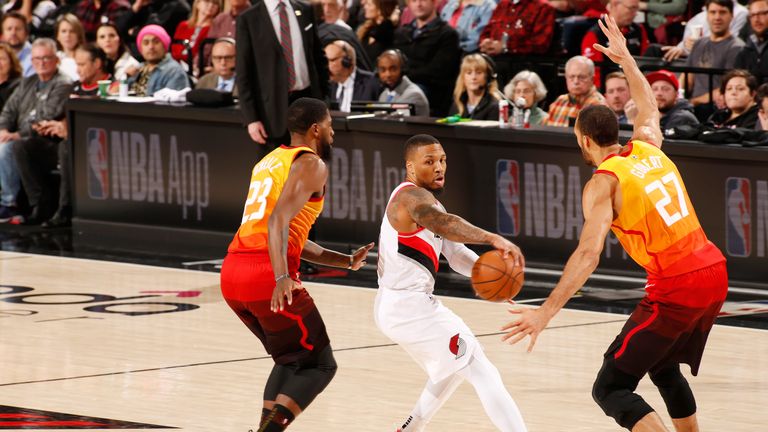 Damian Lillard and CJ McCollum combined for 66 points as the Portland Trail Blazers dismantled the visiting Utah Jazz 132-105 for their eighth straight home victory.
Lillard collected 36 points, 11 assists and eight rebounds and McCollum scored 30 points for the Trail Blazers, who led by as many as 34 points.
Five players scored in double figures and all 11 who played scored for Portland, who shot 53.3 per cent from the field, including 16-of-32 from three-point range.
Donovan Mitchell scored 22 points for Utah, who had won nine of its previous 10 outings. Rudy Gobert added 15 points and nine rebounds for the Jazz.
Lillard and McCollum combined for 45 points to lift Portland to a 74-58 half-time lead. Utah cut the margin to 80-70 early in the third quarter. Portland came back with a 17-0 tear to make it 97-70. The Blazers increased the gap to 109-80 going into the final period.
Portland upped its lead to 122-88 with 8:24 left. The Jazz got no closer than 29 points the rest of the way.
Indiana Pacers 89-107 Washington Wizards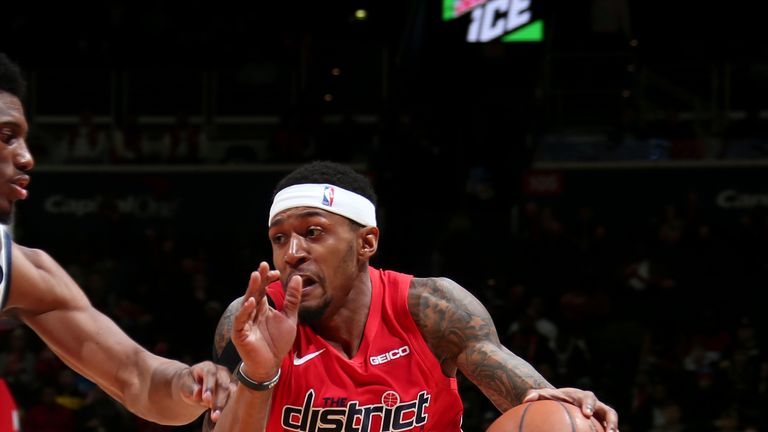 Bradley Beal scored 25 points and Jeff Green added 23 as the Washington Wizards routed the visiting Indiana Pacers 107-89.
Chasson Randle added 13 points for the Wizards, who had lost two straight. Jordan McRae and Trevor Ariza contributed 12 points apiece.
Thaddeus Young led six Pacers in double figures with 13 points. The 89 points were a season low for Indiana, who fell to 0-3 since losing Victor Oladipo to a season-ending quadriceps injury. The Pacers have dropped three games in a row for the first time this season.
Beal made 9-of-15 from the field and added six rebounds and six assists while Randle shot 5-for-7 as Washington improved to 16-9 at home.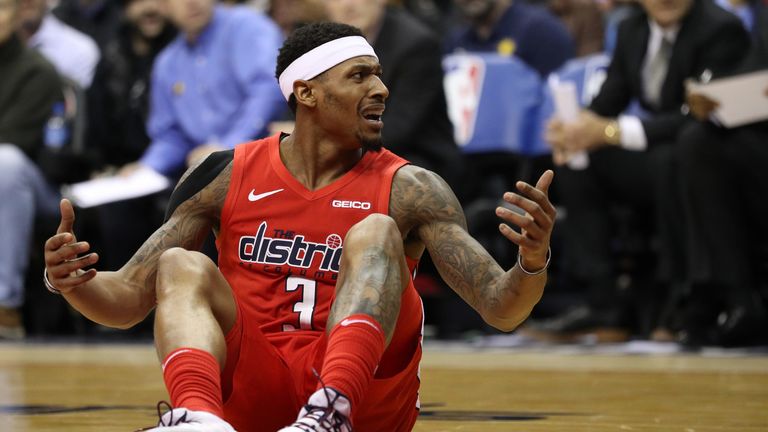 The Wizards led by 14 at intermission and scored the first eight points of the third quarter. Beal's three-pointer with 8:54 left in the third quarter gave Washington a 70-48 lead.
The Wizards led by as many as 25 after Green's three-pointer before Indiana rallied and outscored the hosts 19-7 to enter the fourth quarter trailing 82-69.
Randle sank a free throw, Beal scored four quick points, Randle hit a 31-footer, and the Wizards led 90-69 with 10:09 remaining. The Pacers got no closer than within 18 points the rest of the way.
Atlanta Hawks 113-135 Sacramento Kings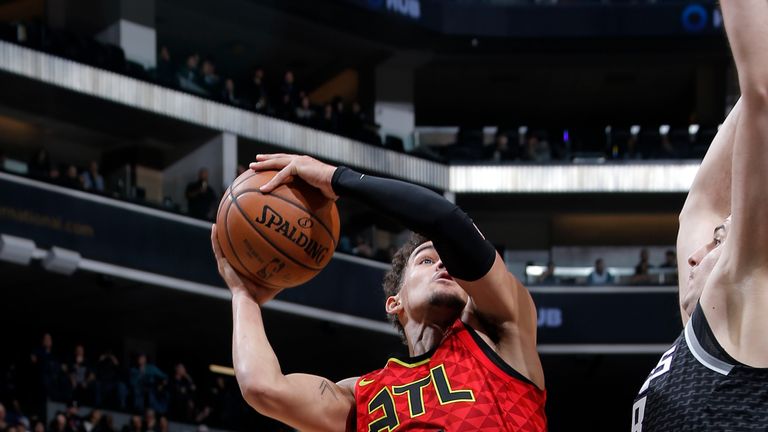 Marvin Bagley III scored nine of his 17 points in the second quarter, helping the Sacramento Kings distance themselves early from the visiting Atlanta Hawks en route to a 135-113 victory.
Sacramento grabbed a 32-31 advantage by the end of the first quarter, then used a combined 20 points from reserves Bagley, Yogi Ferrell and Harry Giles in a 35-point, second-quarter explosion that opened a 67-53 lead by half-time.
With their backups continuing to dominate, the Kings extended their margin to 29 in the third period before coasting home in the opener of a six-game homestand.
Bagley, Giles (team-high 20 points), Bogdan Bogdanovic (16) and Ferrell (11) all scored in double figures off the bench for the Kings.
Rookie Trae Young won his individual duel with Kings point guard De'Aaron Fox, outscoring his rival 23-9. John Collins added 14 points and Alex Len 13 for the Hawks, while DeAndre' Bembry, Kevin Huerter, Taurean Prince and Jeremy Lin had 11 apiece.
Want to watch the NFL or NBA on the Sky Sports USA channel but don't have Sky Sports? Get the Sky Sports Action and Arena pack, click here.