Paul George hit 10 three-pointers and top-scored with 43 points as the Oklahoma City Thunder hammered the Miami Heat.
Friday night's scores
Oklahoma City Thunder 118-102 Miami Heat
Houston Rockets 122-136 Denver Nuggets
Boston Celtics 113-99 New York Knicks
Atlanta Hawks 112-128 Utah Jazz
Memphis Grizzlies 92-100 Charlotte Hornets
Oklahoma City Thunder 118-102 Miami Heat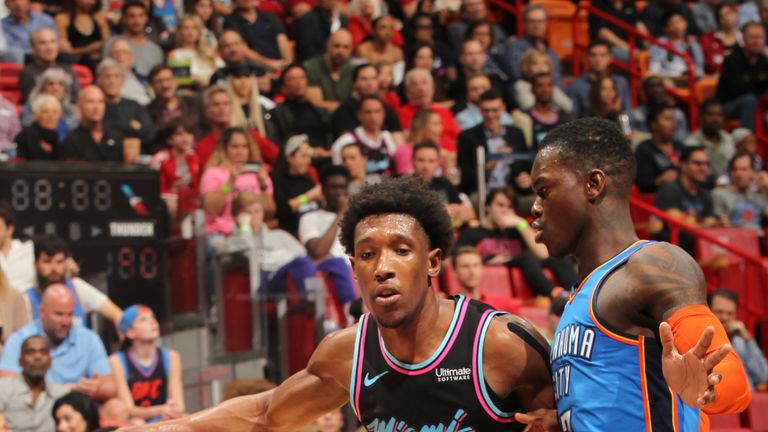 Paul George scored a game-high 43 points and Russell Westbrook posted his 18th triple-double as the Oklahoma City Thunder continued their offensive surge in a 118-102 rout of the host Miami Heat on Friday.
George (26 points) and reserve guard Dennis Schroder (24) combined for 50 in the first two quarters as the Heat allowed their second-most points in a half, narrowly outscoring the sharp-shooting duo by just three.
He connected on a career-high 10 three-pointers, and Schroder scored 28 in 29 minutes off the bench for the Thunder, who won their seventh consecutive overall and sixth straight against Miami.
Westbrook notched 14 points, 14 assists and 12 rebounds in his fifth triple-double in a row and Steven Adams had 13 points.
Miami's Kelly Olynyk tallied 21 points and Josh Richardson had 18. Hassan Whiteside had 12 points and 16 rebounds for the Heat, who lost their second straight overall and have dropped four of the last six.
The Thunder led 31-24 behind 16 points from George as the six-time All-Star made 6-of-8 field goals, including 3-for-3 from beyond the arc.
Schroder came off the bench to replace Westbrook in the second quarter and immediately became as big of a nuisance to the Heat as George. The backup scored seven points as the Thunder built a 17-point lead by scoring 12 unanswered points early in the quarter.
Schroder followed up George's 16-point first quarter with 24 of his own in the second - his career high for any single period - as Oklahoma City shot 58.3 per cent from the floor, led by as many as 23 and held a 72-53 half-time edge.
Miami cut the deficit to 15 early in the second half after a lay-up by Whiteside, but Patrick Patterson's three-pointer gave the Thunder a 94-74 lead after three, and they cruised in the final quarter with reserves on the floor.
Houston Rockets 122-136 Denver Nuggets
Malik Beasley scored a career-high 35 points and Nikola Jokic had 31 points, 13 rebounds and nine assists as the host Denver Nuggets nearly held James Harden below 30 points in a 136-122 win over the Houston Rockets.
Harden finished with exactly 30 points and now has scored at least that many in 25 straight games. Nine came in the fourth quarter, the final on a three-pointer with just over a minute left to reach 30.
Torrey Craig scored a career-high 22 points for Denver, who ended a nine-game losing streak against the Rockets. The Nuggets last beat Houston on December 14, 2015.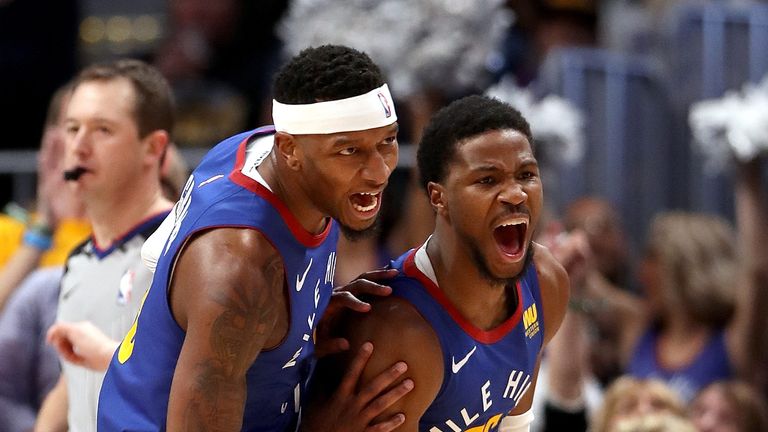 Denver played without their starting backcourt pair. Jamal Murray missed his fourth straight game with a sprained left ankle, and Gary Harris was out with a right adductor strain.
Kenneth Faried, who played his first seven seasons with Denver, had a season-high 23 points.
Denver quickly pushed the lead to 18 at the start of the third quarter. Beasley hit a three-pointer, Jokic scored on a shot in the lane and then hit a three-pointer to make it 91-73.
The Rockets got within nine, but Craig scored seven straight points in a 10-0 Denver run, and the Nuggets led by 18 heading into the fourth.
Houston got to within 11 at 124-113 with 4:17 left on Harden's sixth three-pointer of the game to give him 27. Denver went on a 10-2 run to put it away.
Boston Celtics 113-99 New York Knicks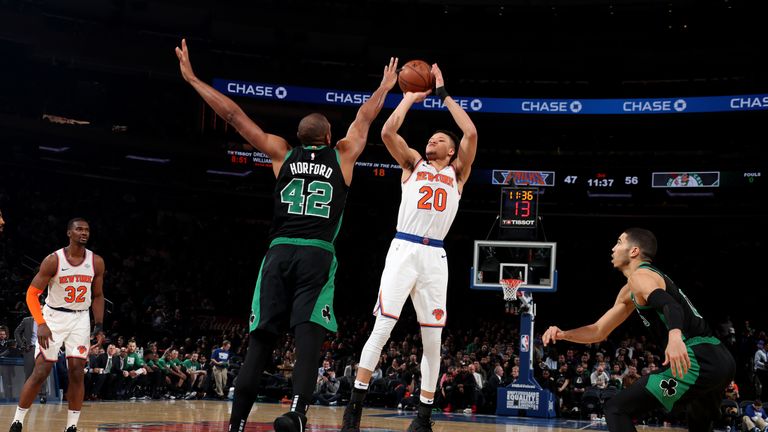 Kyrie Irving capped an eventful day by posting 23 points, 10 rebounds and six assists as the Boston Celtics recorded a 113-99 victory over the New York Knicks, whose home losing streak reached 13 games.
After addressing his impending free agency during the morning shootaround by saying "ask me after July 1", Irving returned from missing the previous two games with a strained left hip and helped the Celtics win for the eighth time in nine games.
Irving heard cheers in pregame introductions and some fans chanted "We Want Kyrie" as the New Jersey native shot 9-of-20 and recorded his 13th double-double and reached double digits in rebounds for the second time.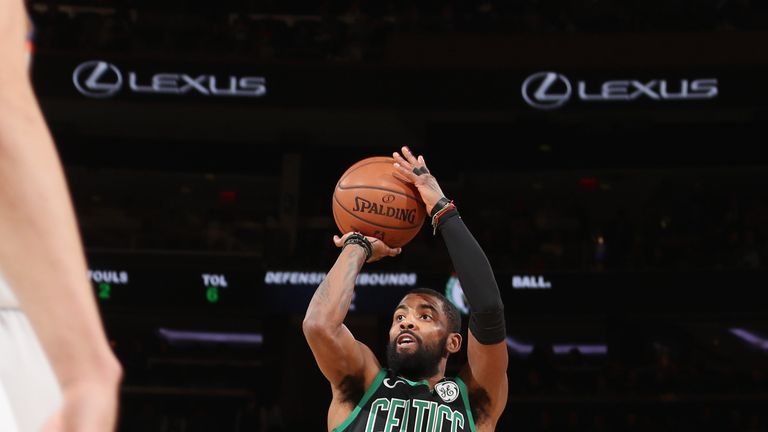 Marcus Morris added 18 points, Al Horford and Gordon Hayward contributed 14 apiece while Jayson Tatum chipped in 13.
The Knicks broke the team record for the longest home losing streak set during their 17-65 2014-15 campaign under coach Derek Fisher and former president Phil Jackson.
A day after trading Kristaps Porzingis, Trey Burke, Tim Hardaway Jr and Courtney Lee to Dallas in a move that opened up about $70m in salary cap space, the Knicks played shorthanded. They acquired Dennis Smith Jr, Wesley Matthews and DeAndre Jordan in the deal but none of the players were active Friday.
Daymean Dotson scored a season-high 22 points and rookie Kevin Knox added 21 points for New York.
Atlanta Hawks 112-128 Utah Jazz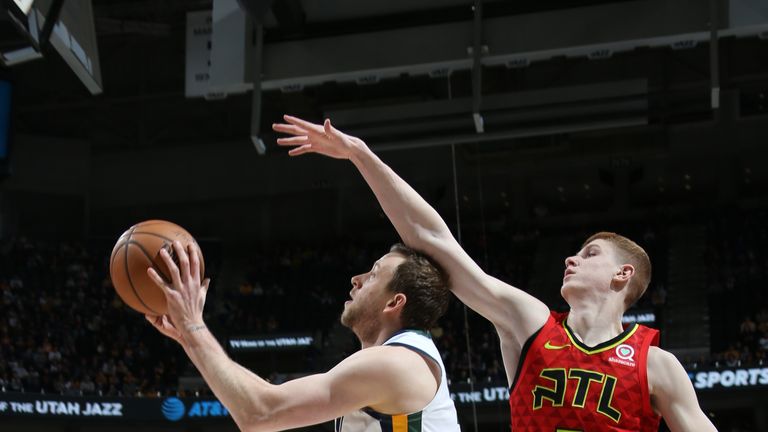 Rudy Gobert responded to his All-Star snub with 25 points and 13 rebounds as the Utah Jazz cruised to a 128-112 victory over the Atlanta Hawks in Salt Lake City.
Gobert made all seven field-goal attempts while posting his 42nd double-double of the campaign one night after being passed over on the list of Western Conference reserves for the All-Star Game on February 17.
Ricky Rubio registered 22 points and 11 assists, and Joe Ingles scored 19 points as the Jazz won for the 10th time in the past 12 games. Donovan Mitchell scored 15 points, Derrick Favors and Kyle Korver added 14 points apiece and Jae Crowder had 13 points.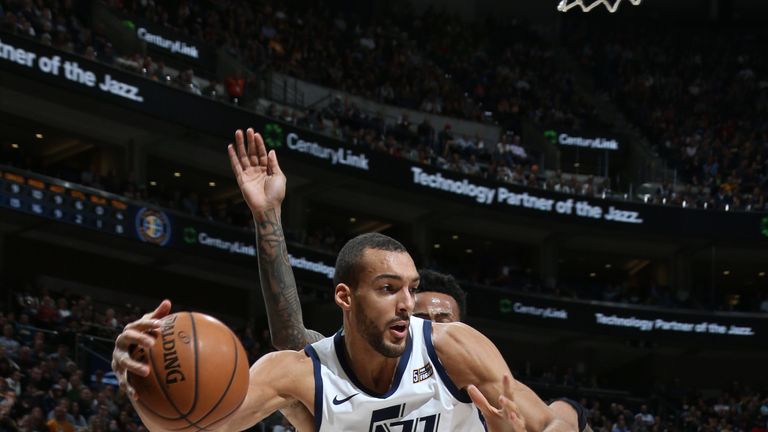 Trae Young had 28 points and nine assists for the Hawks, who dropped to 2-3 on a seven-game road trip. John Collins scored 19 points, Dewayne Dedmon added 15 and Kevin Huerter had 14.
The Jazz made 52.9 per cent of their shots, including 12 of 35 from three-point range.
Memphis Grizzlies 92-100 Charlotte Hornets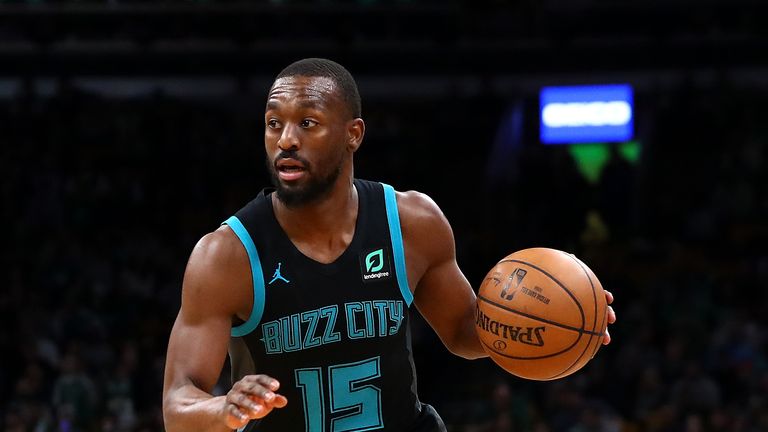 Marvin Williams hit two three-pointers in an 11-0 run as the Charlotte Hornets rallied in the final five minutes for a 100-92 win over the visiting Memphis Grizzlies.
The Hornets wound up outscoring the Grizzlies 15-3 in the final five minutes, after trailing 90-85 with 4:38 remaining.
Williams hit a three-pointer to tie it at 90-all, then he hit another triple on the Hornets' next possession for a 93-90 lead with 2:17 left. He later hit two free throws to push the lead to six at the time.
The win was the Hornets' second over the Grizzlies in the past nine nights. Charlotte also won 118-107 in Memphis on January 23. The Grizzlies have now lost 11 of their last 12 and 17 of their last 19.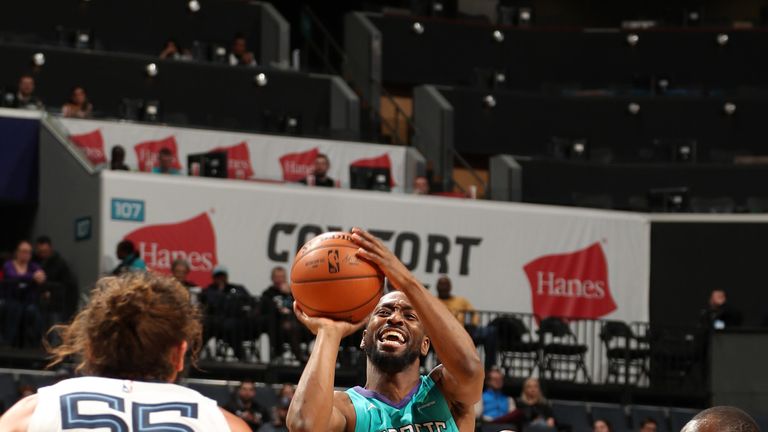 Kemba Walker led the Hornets with 23 points. Malik Monk scored 20, including 10 straight Hornets points at one stretch in the fourth quarter. Williams finished with 16.
The Grizzlies were without two starters, Mike Conley and Jaren Jackson Jr. Conley, who scored 31 against the Hornets in Memphis, had a knee injury, and Jackson was a late scratch with a quad injury.
Shelvin Mack started in Conley's place and led the Grizzlies with 19 points. Marc Gasol endured a tough shooting night (3-of-10) and finished with just eight points.
Want to watch the NFL or NBA on the Sky Sports USA channel but don't have Sky Sports? Get the Sky Sports Action and Arena pack, click here.