Giannis Antetokounmpo scored 24 points to lead six Milwaukee Bucks scorers in double figures as the Eastern Conference leaders defeated the New Orleans Pelicans on Tuesday night.
Tuesday night's scores
Milwaukee Bucks 130-113 New Orleans Pelicans
Los Angeles Lakers 123-107 Chicago Bulls
Cleveland Cavaliers 99-106 Philadelphia 76ers
Minnesota Timberwolves 107-133 Denver Nuggets
Portland Trail Blazers 125-104 Los Angeles Clippers
San Antonio Spurs 112-105 Dallas Mavericks
New York Knicks 98-103 Indiana Pacers
Milwaukee Bucks 130-113 New Orleans Pelicans
Giannis Antetokounmpo scored 24 points to lead six Milwaukee scorers in double figures as the visiting Bucks defeated the New Orleans Pelicans 130-113.
Khris Middleton added 23 points, Malcolm Brogdon scored 18, Eric Bledsoe and former Pelicans forward Nikola Mirotic had 14 each and Brook Lopez 13.
Elfrid Payton had his second consecutive triple-double for the Pelicans, who lost their fourth straight game, finishing with 14 points, a career-high 15 rebounds and 11 assists. He is the first New Orleans player to have a triple-double in consecutive games since Chris Paul did it in 2008.
Julius Randle had 23 points, Anthony Davis had 21 points and 12 rebounds, Frank Jackson scored 14, Darius Miller 13, Cheick Diallo 11 and Ian Clark 10.
Milwaukee led by eight at half-time and Middleton and Brogdon made consecutive three-pointers to help increase the lead to 68-54. The Bucks pushed the lead to 84-62 on Bledsoe's three-pointer before Davis got hot.
He scored 10 consecutive Pelicans points during the quarter, and New Orleans cut the deficit to 101-89 at the end of the third period.
Davis finished with 17 points in the quarter, but he did not play in the fourth quarter as has become the norm under the minutes restriction the Pelicans have imposed on him since his trade request at the end of January.
After the Pelicans pulled within seven points at 105-98, Milwaukee scored the next eight points to extend their advantage and make the game safe.
Los Angeles Lakers 123-107 Chicago Bulls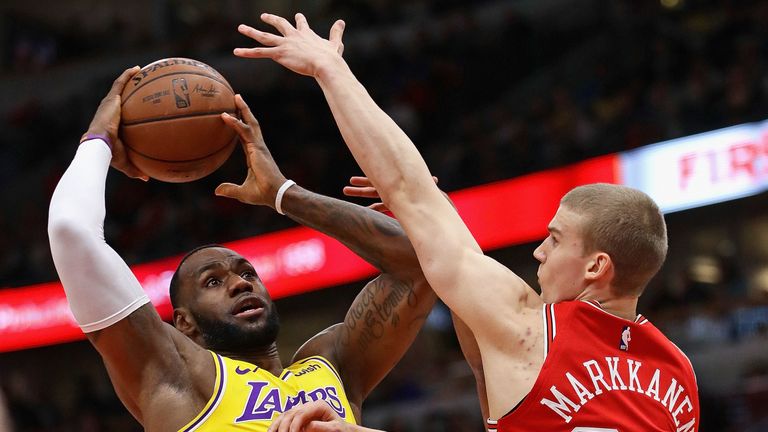 LeBron James posted 36 points and 10 rebounds as the visiting Los Angeles Lakers overcame their lowest-scoring first quarter of the season to end a five-game losing streak with a 123-107 win against the Chicago Bulls on Tuesday night.
Kentavious Caldwell-Pope scored 24 points off the bench, Kyle Kuzma scored 21, Rajon Rondo had 14 points and 10 assists and JaVale McGee finished with 10 points and 11 rebounds for the Lakers.
Robin Lopez scored 20 points, Otto Porter Jr had 19 points and nine rebounds and Kris Dunn finished with 18 points, seven rebounds and nine assists for Chicago.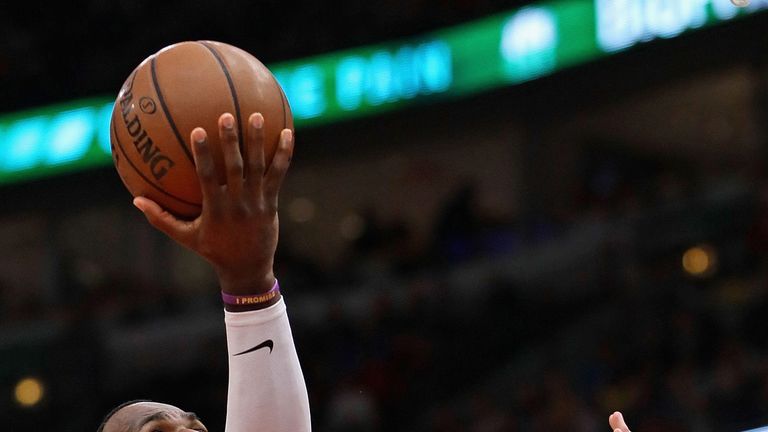 The Lakers, who trailed by as many as 20 early in the second quarter, went ahead for the first time since making the first basket of the game when Kuzma put in a lay-up for a 66-64 lead with 8:48 left in the third quarter.
The Bulls moved back out in front by eight points, but Los Angeles reeled them back in and scored the final 16 points of the third quarter to take a 98-84 lead into the fourth.
Chicago scored the first eight points of the fourth quarter and got as close as 100-96 with 8:38 left, but the Lakers put together a 10-3 run to go back ahead by double figures for good.
Cleveland Cavaliers 99-106 Philadelphia 76ers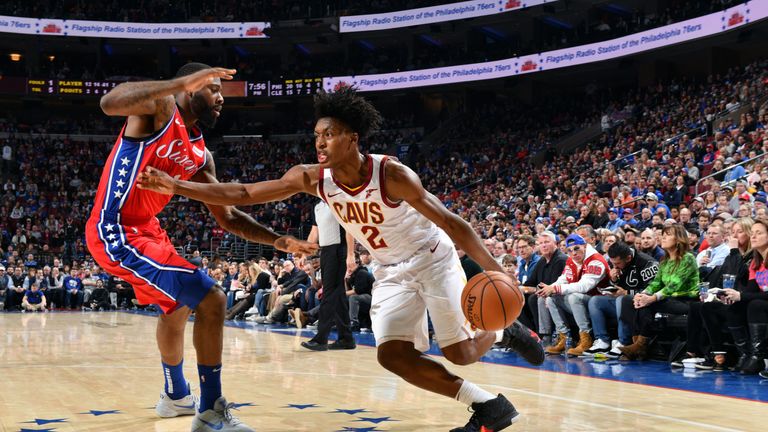 Ben Simmons had 26 points, 10 rebounds and eight assists to lead the host Philadelphia 76ers past the Cleveland Cavaliers 106-99.
Joel Embiid added 17 points and 19 rebounds for his 50th double-double of the season. Embiid also blocked four shots.
JJ Redick scored 17 points for the Sixers, who were without Jimmy Butler as he was held out for a planned rest day.
Collin Sexton paced the Cavaliers with 26 points while Cedi Osman added 18 and Jordan Clarkson had 13. The Cavaliers played without forward Kevin Love, who has yet to play in back-to-back games since returning from a foot injury.
The Cavaliers scored only 12 points in the first quarter but trailed by just six, 53-47, at half-time. Philadelphia committed 14 turnovers, which kept Cleveland close.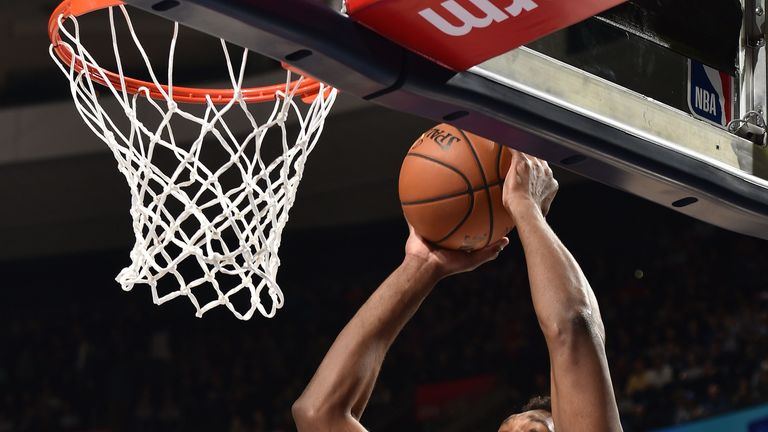 The game remained tight throughout the third as Sexton scored nine straight points, and the Cavaliers trailed 81-77 entering the fourth.
The Sixers held a slim 83-81 lead early in the fourth before going on a 6-0 run. When Embiid rumbled to the basket and scored, the Sixers went ahead 89-81 with 8:16 remaining.
Cleveland kept battling and took a 97-96 lead with 2:53 remaining after an 11-0 spurt.
Mike Scott then responded for the Sixers with a three-pointer to give them a 99-97 advantage.
Embiid had a clutch offensive rebound and dunk before making four free throws in the final 30 seconds to help seal the win.
Minnesota Timberwolves 107-133 Denver Nuggets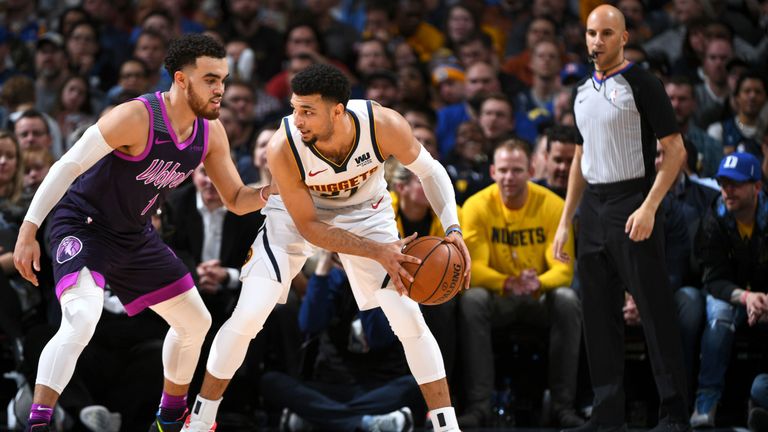 Jamal Murray scored 30 points and Paul Millsap had 23 as the host Denver Nuggets beat the Minnesota Timberwolves 133-107.
Nikola Jokic had 18 points, eight rebounds and seven assists and Monte Morris scored 16 off the bench for Denver, who produced a season-high 40 assists.
Karl-Anthony Towns returned to the Minnesota lineup with 34 points and 10 rebounds, and Tyus Jones scored 16 for the short-handed Timberwolves.
Towns missed Minnesota's win over the New York Knicks on Sunday after injuring his knee the night before. The Timberwolves feared their franchise player might have suffered a torn ACL, but he was diagnosed with inflammation.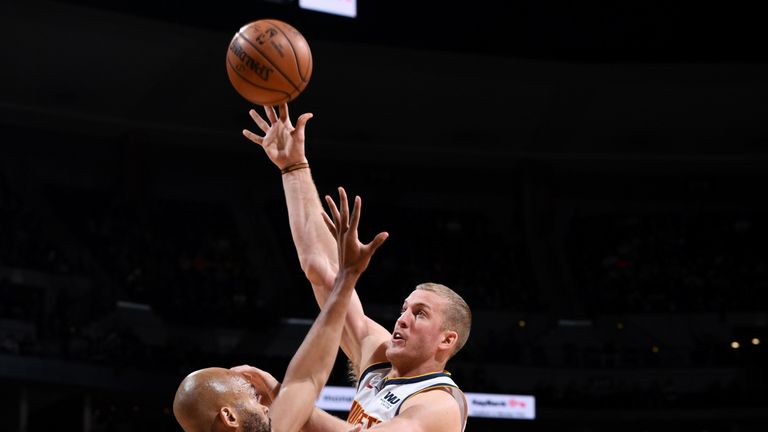 Denver led for nearly the entire game and by 10 at half-time before taking control in the third quarter. A three-pointer by Dario Saric pulled Minnesota within 60-53 a minute into the second half, and their deficit hovered near that margin before the Nuggets built a double-digit lead.
Denver was up 74-61 after Jokic tipped in a miss by Murray and Gary Harris drained a three-pointer from the wing. A Timberwolves turnover led to another Jokic putback, and then Murray drained a 15-footer to make it 78-61 with 6:15 left in the third quarter.
The Nuggets built a 19-point lead 3:53 into the fourth quarter and the Timberwolves never got closer than 15 the rest of the way.
Portland Trail Blazers 125-104 Los Angeles Clippers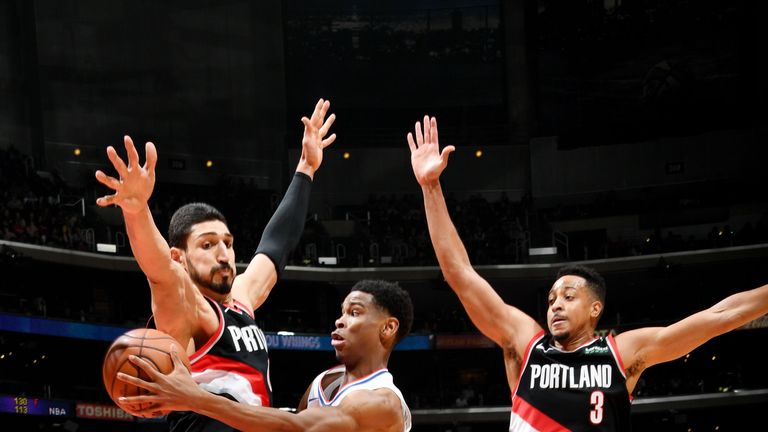 CJ McCollum scored 23 of his 35 points in the fourth quarter to lead the Portland Trail Blazers to a 125-104 road victory over the Los Angeles Clippers.
Damian Lillard recorded 20 points and 12 assists as Portland won for the eighth time in the past 11 games. Jusuf Nurkic added 20 points and 12 rebounds, Enes Kanter contributed 14 points and nine rebounds, and Seth Curry scored 10 for the Trail Blazers.
Montrezl Harrell registered 22 points and 11 rebounds, and Lou Williams added 18 points for Los Angeles, who had a five-game winning streak halted. Shea Gilgeous-Alexander scored 15 points, Landry Shamet added 11 and Ivica Zubac had 10 points and 15 rebounds.
The Trail Blazers outscored Los Angeles 40-20 in the final quarter to pull away.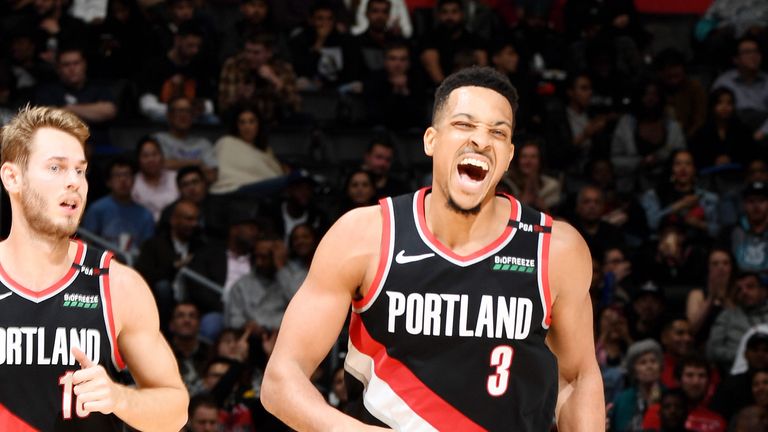 The Clippers trailed 95-94 after Garrett Temple's basket with 8:50 remaining before Portland answered with a 15-3 run. McCollum scored 13 points during the surge and connected on a trio of three-pointers, the final one giving Portland a 110-97 advantage with 5:40 remaining.
A short time later, McCollum made three free throws after being fouled while shooting a triple, and Jake Layman followed with a trey to give the Trail Blazers a 116-99 lead with 4:34 to play.
McCollum scored his final basket with 2:51 left, and coach Terry Stotts pulled him 20 seconds later.
San Antonio Spurs 112-105 Dallas Mavericks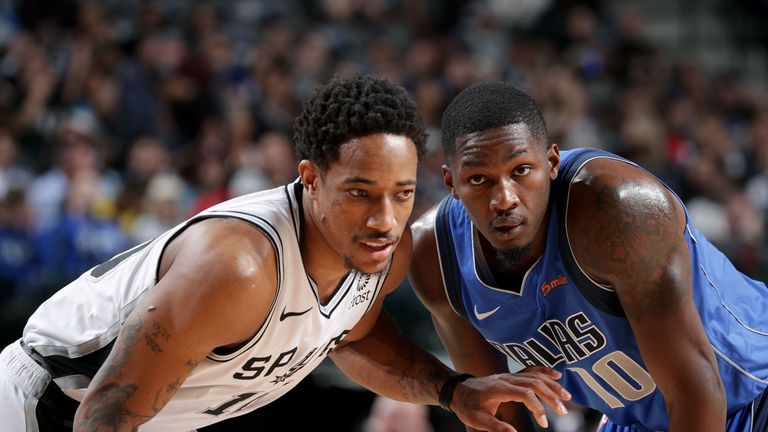 DeMar DeRozan scored 16 of his team-high 33 points in the first quarter and LaMarcus Aldridge had 10 of his 28 in the third to lead the visiting San Antonio Spurs to a 112-105 victory over the scuffling Dallas Mavericks.
Derrick White added 23 points, making 10-of-16 shots and 3-of-5 from beyond the arc, plus seven assists, and Davis Bertans dropped a trio of three-pointers, including two big ones in the fourth quarter.
San Antonio, who shot 52.4 per cent for the game, picked up their 40th win of the season and ran their win streak to a season-best six games.
Dallas managed to stay close throughout but lost for a sixth consecutive game as rookie Luka Doncic, playing with a sore right knee, was limited to 12 points on 5-of-18 shooting. He was 1-of-7 from deep, a frustrating 1-of-9 from the free-throw line and had nine of the Mavericks' 14 turnovers.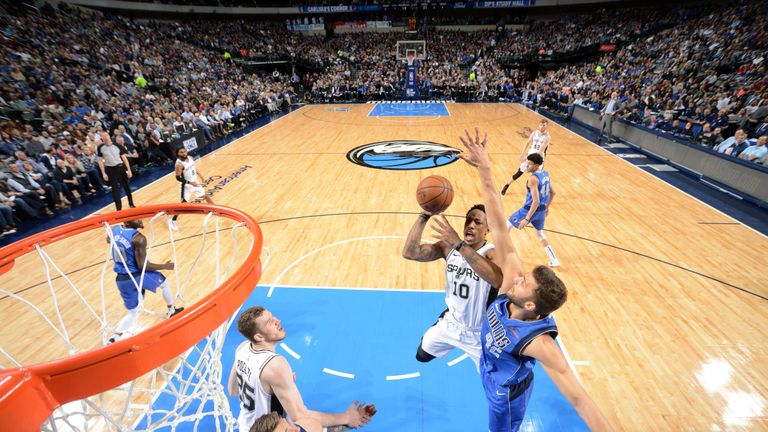 Dallas' other rookie guard, second-round pick Jalen Brunson, kept the team within striking distance most of the game with a career-high 34 points on an efficient 12-of-16 shooting, including 3-of-6 from long range.
Three times late in the fourth quarter Dallas got within three points, including 97-94, when Bertans responded with a dagger three-pointer for the Spurs.
The Mavericks once again came back, getting within 102-99 before DeRozan and White each hit baskets to return San Antonio to a comfortable margin.
New York Knicks 98-103 Indiana Pacers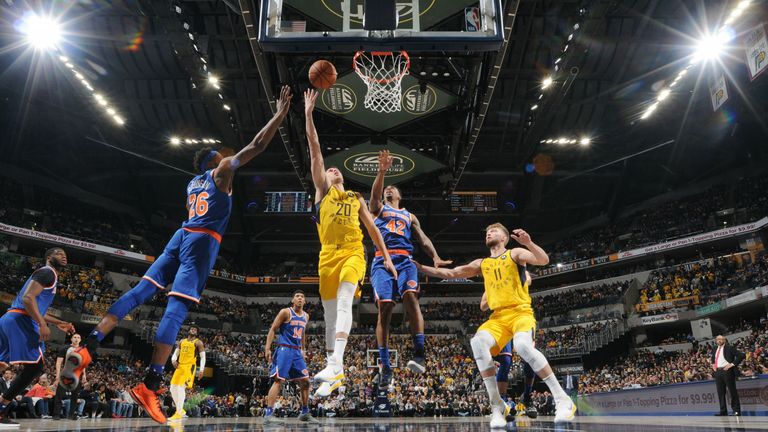 Bojan Bogdanovic scored 24 points as the Indiana Pacers continued their home dominance of the New York Knicks by holding on for a 103-98 victory.
The Pacers rebounded from a pair of nationally televised double-digit defeats at Milwaukee and Philadelphia by beating the Knicks for the 13th time in their last 14 meetings in Indianapolis.
Indiana completed the win despite allowing a 12-4 run in a shaky final five-and-a-half minutes. They missed 10 straight shots and went scoreless for over five minutes until Darren Collison hit a step-back jumper from the right wing over New York forward Noah Vonleh with 24 seconds left to halt a 9-0 Knicks run make it 101-95.
After New York called their last timeout, Emmanuel Mudiay hit an off-balance three-pointer over Thaddeus Young with 19 seconds left to make it 101-98. Indiana then called their final timeout and Dennis Smith Jr nearly stole the inbound pass in the backcourt.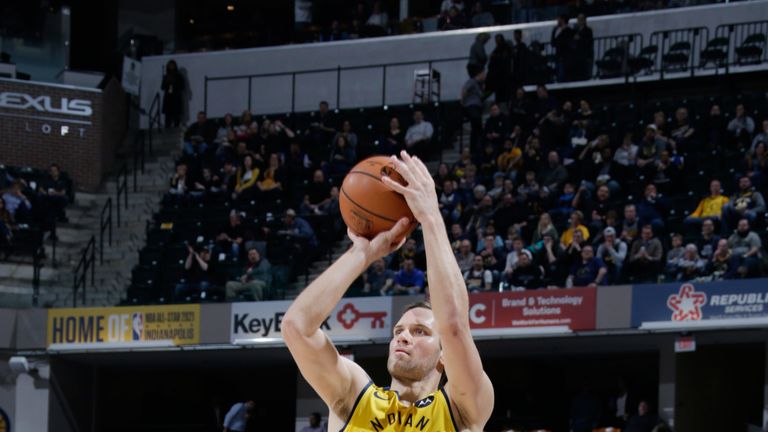 Instead of losing possession, however, the Pacers got to the free-throw line and Collison hit both shots to make it 103-98 with 16 seconds left. On New York's next possession, Damyean Dotson's three-point try clanked off the front of the rim with nine seconds left. Collison grabbed the rebound and the Pacers ran out the clock.
Collison added 16 points for the Pacers while Myles Turner collected 15 and nine rebounds.
The Knicks' latest losing streak is now at seven games as New York scored fewer than 100 points for the fourth straight game.
Mudiay led the Knicks with 21 points while Dotson added 18. Rookie Kevin Knox contributed 16 and DeAndre Jordan collected 12 and 16 boards.
Want to watch the NBA but don't have Sky Sports? Get the Sky Sports Action and Arena pack, click here.