Sky Sports NBA TV analyst and BBL star Mike Tuck breaks down the Eastern and Western Conference Finals match-ups, makes his series predictions and invites you to have your say.
And then there were four. After a dramatic quartet of semi-final series concluded with CJ McCollum's Game 7 masterclass and Kawhi Leonard's buzzer-beating four-bounce fadeaway jumper, the line-up for the NBA Conference Finals is set.
In the East, the No 1-seeded Milwaukee Bucks face Leonard's Toronto Raptors. In the West, defending NBA champions the Golden State Warriors, in their record-equalling fifth successive Conference Finals, meet McCollum, Damian Lillard and the Portland Trail Blazers.
Read Mike Tuck's breakdown of both series then have your say by voting in our polls.
Milwaukee Bucks (1) vs Toronto Raptors (2)
Eastern Conference Finals schedule
Game 1: Raptors @ Bucks, May 16, 1:30am
Game 2: Raptors @ Bucks, May 18, 1:30am
Game 3: Bucks @ Raptors, May 20, 12am
Game 4: Bucks @ Raptors, May 22, 1:30am
Game 5 if necessary: Raptors @ Bucks, May 24, 1:30am
Game 6 if necessary: Bucks @ Raptors, May 26, 1:30am
Game 7 if necessary: Raptors @ Bucks, May 28, 1:30am
All games broadcast live on Sky Sports Arena
Live NBA: Toronto @ Milwaukee
The NBA postseason is all about key match-ups and star power and these two teams have two of the biggest stars in the playoffs.
How are the Raptors going to stop the Greek Freak? Giannis Antetokounmpo is a match-up nightmare, too tall and physical for perimeter players and too athletic and quick for bigs. In the team's regular season meetings, we saw Giannis guarded by Pascal Siakam and Kawhi Leonard but in this series I could also see the Raptors putting Serge Ibaka on him to match his length and physicality.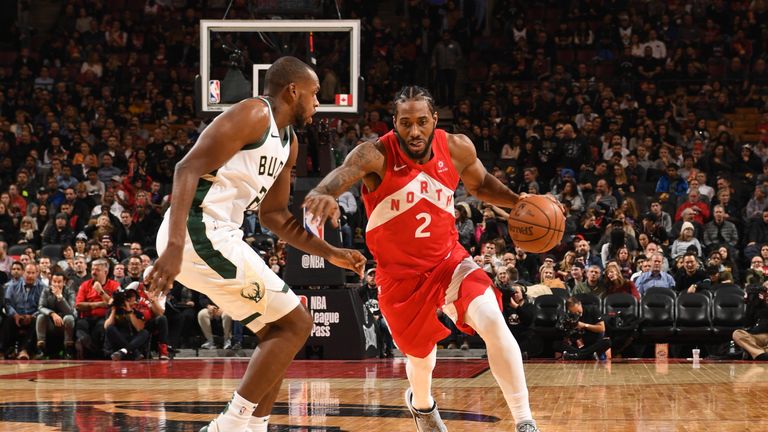 On the other end, we have Kawhi, who has proven himself as the Raptors' most important player by some distance. Getting it done on both ends of the floor, Leonard has a massive responsibility with the offensive load he has to carry but he has not shied away from that and also not shied away from the big moments, hitting the biggest shot in Raptors history in Game 7 to win semi-final series against Philly.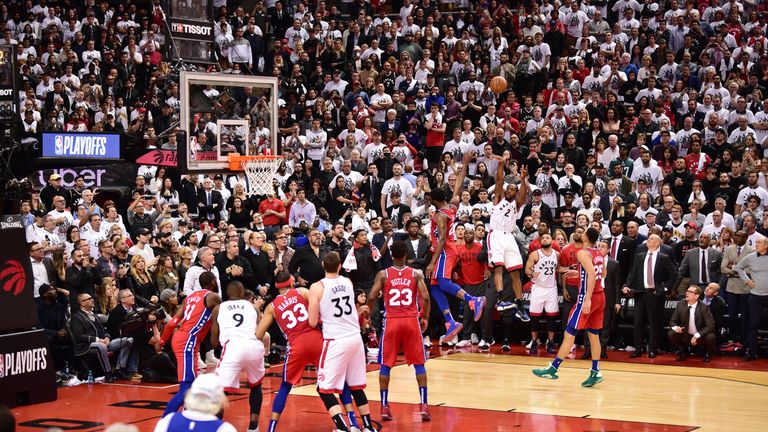 How reliant are the Raptors on Leonard? Without him on the floor, the Raptors are 16 points worse than their opponents per 100 possessions. Conversely, when Giannis takes a seat on the bench, the Bucks have actually been better, outscoring their opponents by 21 points per 100 possessions.
The Raptors have to slow Giannis down. I think putting a bigger guy like Ibaka on him in spurts will help with this. They need to pack the paint and be ready to throw the double team in help-side defense with the rest of their guys ready to rotate to kick out shooters.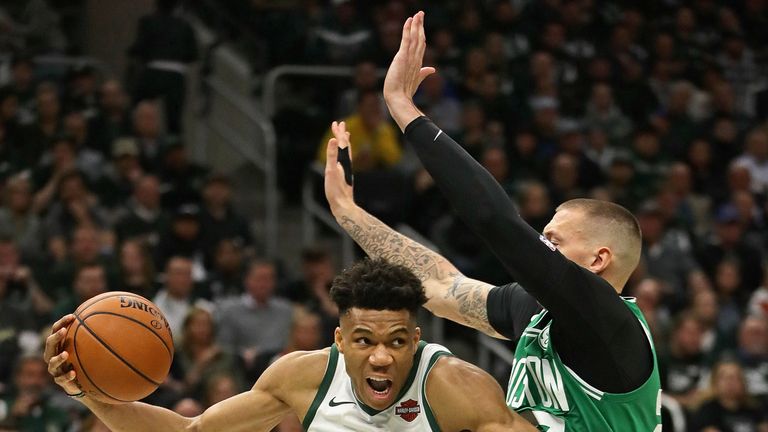 Milwaukee will look to make Kawhi a passer/playmaker, because he is such an offensive threat. The Bucks need to get the ball out of his hands and make other Raptors players try to beat them.
These teams share the similarity of being built around a star player but the outcome of the series is going to be decided by the contributions of the supporting casts.
The Bucks starters work really well with Giannis, offering a big outside shooting threat and slashing to the hoop, particularly from Eric Bledsoe and the now-back-to-full-fitness Malcolm Brogdon.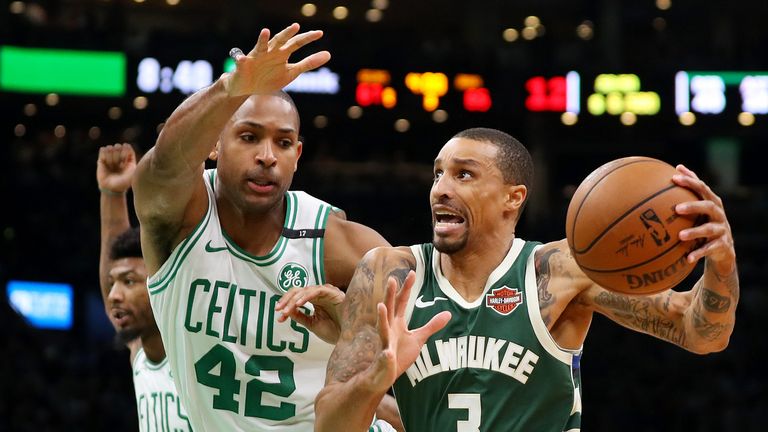 Conversly, Toronto have a great supporting cast full of potential, albeit one that has looked tentative throughout the playoffs because of how ball-dominant Kawhi can be.
The Raptors' supporting players have to be more aggressive than we have seen so far. On far too many occasions, we've seen players being passive or indecisive with the ball, putting even more pressure on Kawhi to score. Guys like Kyle Lowry, Pascal Siakam and Marc Gasol need to step up and attack in order to help balance out the offensive load.
I'm really looking forward to this series and I think it will go down to the wire. It's an EXTREMELY TOUGH one for me as I am from Toronto and am emotionally invested in this Raptors team!
But I just don't see them getting past Giannis and his Bucks. Bucks win the series in seven games.
Golden State Warriors 1-0 Portland Trail Blazers
Western Conference Finals schedule
Game 1: Trail Blazers 94-116 Warriors | Box Score
Game 2: Trail Blazers @ Warriors, May 17, 2am
Game 3: Warriors @ Trail Blazers, May 19, 2am
Game 4: Warriors @ Trail Blazers, May 21, 2am
Game 5 if necessary: Trail Blazers @ Warriors, May 23, 2am
Game 6 if necessary: Warriors @ Trail Blazers, May 25, 2am
Game 7 if necessary: Trail Blazers @ Warriors, May 27, 2am
All games broadcast live on Sky Sports Arena
Live NBA: Portland @ Golden State
The Western Conference Finals will be a series defined by the backcourt battle between Portland's Damian Lillard and CJ McCollum and Golden State's Splash Brothers, Stephen Curry and Klay Thompson. Given the potency of these backcourt duos, both teams' best defense is a strong offense!
Making these primary scorers work on both ends of the floor is going to be key for success in this series. We've seen Klay guarding Lillard and McCollum a lot this season and he will need to stay active at both ends.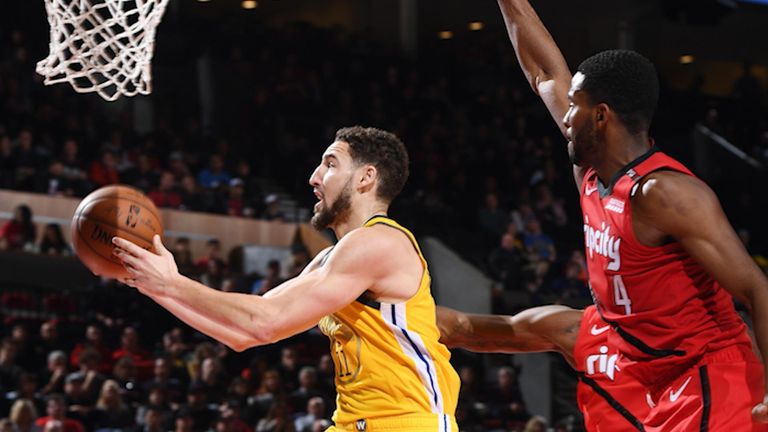 I think this series will rely heavily on creating appealing mismatches for each team's guard play. The Golden State Warriors switch everything on defense and this is something Portland will have to look to exploit.
Can they get slower bigger guys like Draymond Green, Kevon Looney, and if they go with a big line-up, Andrew Bogut, in situations where Lillard is dribbling to open space or to the basket? Or where McCollum can utilise his mid-range game.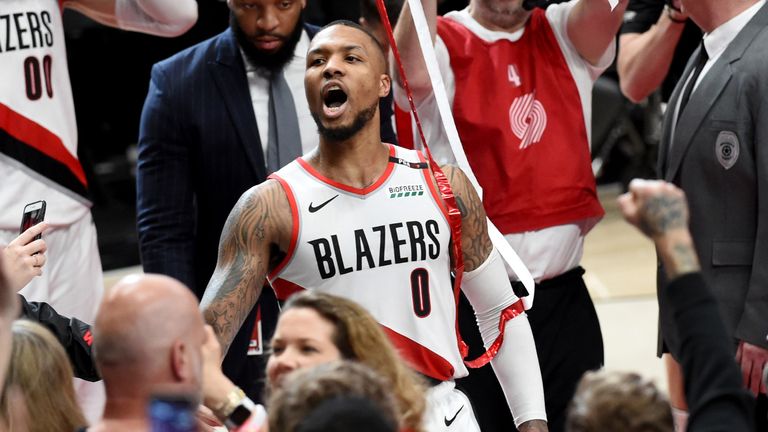 For the Blazers, defensively, their obvious weakness is Enes Kanter. I expect Curry, particularly, to attack and exploit Portland's Turkish center and try to create confusion in their defense.
The Warriors have been the best offensive team in the playoffs. In fact, their offensive efficiency (117.4 points per 100 possessions) is even better than the league-leading mark (114.9 points per 100 possessions) they posted in the regular season.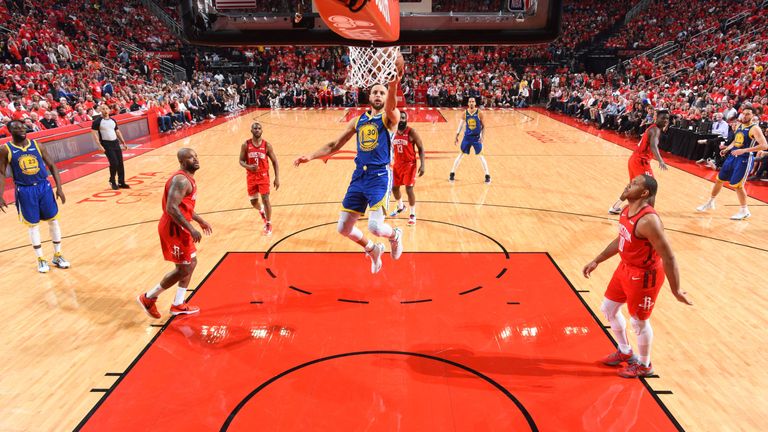 The defending champions have only trailed in 28 per cent of their postseason minutes to date, the lowest in the playoffs. In comparison, the Blazers have found themselves behind for 50 per cent of their playoff minutes. That said, this is a team that came from 17 points down to win a Game 7 on the road. They have proven themselves capable of making huge comebacks.
Kevin Durant's return will have a huge effect on the outcome of this series. He missed Game 1, may miss Game 2 and we are still not sure when he will return. As they showed in Game 1, the Splash Brothers and company are more than capable of holding it down in his absence.
Warriors win it in six!
Want to watch the NBA but don't have Sky Sports? Get the Sky Sports Action and Arena pack, click here.