Stephen Curry hit a career-playoff-equalling nine three-pointers en route to a game-high 36 points as the Golden State Warriors dispatched the Portland Trail Blazers in Game 1 of the Western Conference Finals.
Golden State Warriors 1-0 Portland Trail Blazers
Game 1: Trail Blazers 94-116 Warriors | Box score
Game 2: Trail Blazers @ Warriors, May 17, 2am
Game 3: Warriors @ Trail Blazers, May 19, 2am
Game 4: Warriors @ Trail Blazers, May 21, 2am
Game 5 if necessary: Trail Blazers @ Warriors, May 23, 2am
Game 6 if necessary: Warriors @ Trail Blazers, May 25, 2am
Game 7 if necessary: Trail Blazers @ Warriors, May 27, 2am
All games broadcast live on Sky Sports Arena
Curry produced a superb all-round performance as the defending NBA champions, without the injured Kevin Durant, rolled to a resounding 116-94 victory at Oracle Arena.
Curry connected on 12 of his 23 shots (including 9-of-15 from three-point range) and added six rebounds and seven assists - including floor-length passes to Klay Thompson and Draymond Green for easy baskets - as Golden State struck the first blow in the best-of-seven series.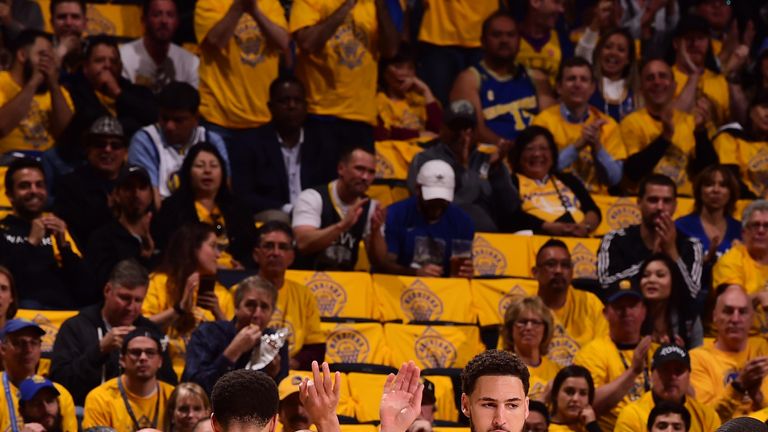 The teams played on mostly even terms for the first 16 minutes, during which the Warriors managed just a two-point lead, before consecutive hoops by reserve Jonas Jerebko, one a three-pointer, finally got the Warriors rolling.
Then Curry took over. He poured in 11 points in the final 5:29 of the half, helping Golden State take a 54-45 lead into the intermission. He scored 19 of his 36 points in the first half.
The Warriors used a 13-5 burst to open the second half to extend their advantage to 67-50. Curry had three triples in the run.
At the end of the third quarter, Curry teased two Portland defenders before accelerating into the paint and lifting a scoop lay-up over Blazers big man, high off the glass and through the hoop.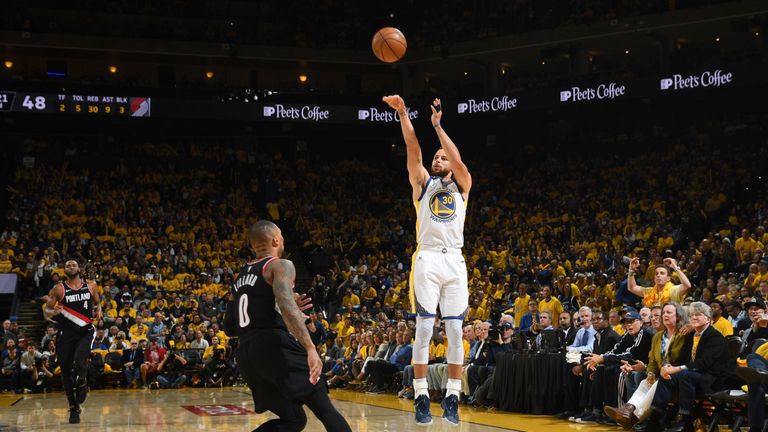 Speaking after the game, Curry said: "I know what I'm capable of on the floor. The situation calls for me to be a little bit more aggressive and hopefully that'll continue," said Curry, who came into the series shooting 37.1 per cent on threes this postseason.
"Obviously it's nice to see the ball go in. I didn't shoot the ball well for four-and-a-half the last series and got off to a good start tonight. I want to maintain that. Every game is different, you've got to re-establish yourself. That's my perspective no matter how I play."
Game 2 takes place in Oakland in the early hours of Friday morning (2am), live on Sky Sports Arena.
Want to watch the NBA but don't have Sky Sports? Get the Sky Sports Action and Arena pack, click here.