Down 2-0 in the Eastern Conference Finals to the Milwaukee Bucks, it looked as though the Toronto Raptors had another painful, unavoidable postseason collapse coming their way. Now, though, it seems not.
Live NBA: Toronto @ Milwaukee
Milwaukee Bucks 2-2 Toronto Raptors
Game 5: Raptors @ Bucks, May 24, 1:30am
Game 6: Bucks @ Raptors, May 26, 1:30am
Game 7 if necessary: Raptors @ Bucks, May 28, 1:30am
All games broadcast live on Sky Sports Arena
This is a different Raptors team this season. They won a draining Game 3 in double overtime, before looking much more comfortable in Game 4, taking the lead early and held it the rest of the way to earn an 18-point win.
Sky Live: Raptors @ Bucks Game 5
No one does that to Milwaukee. It was the Bucks' second-biggest loss of the season, behind only an early February game against the Orlando Magic in which they were missing Giannis Antetokounmpo and shot an anomalously poor 6-for-35 from three-point range. But this wasn't that. This was an opponent meeting the challenge of a full-strength Bucks and simply besting them.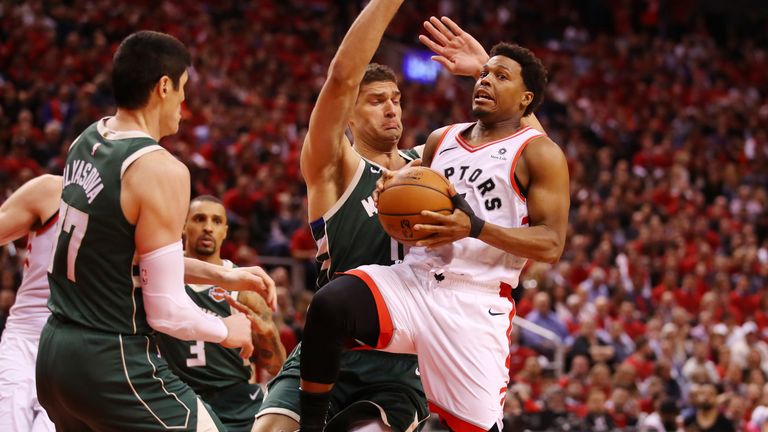 To do so, Toronto changed its matchups, brought the heat from minute one, upped the defense, and took Milwaukee out of everything they wanted to do.
How did they do it? Here are six defensive takeaways from the Raptors' Game 3 and 4 wins that enabled them to level the series and win back all the momentum.
Walling off the paint
Although the Bucks are one of the NBA's best outside shooting teams - sixth in the regular season in three-point percentage at 36.6 per cent, second in total makes - they are not merely casting up outside looks. Rather, the bulk of their threes come from driving inside the arc, drawing defenders and kicking to open shooters. The defensive key to this, then, is to prevent driving into the paint.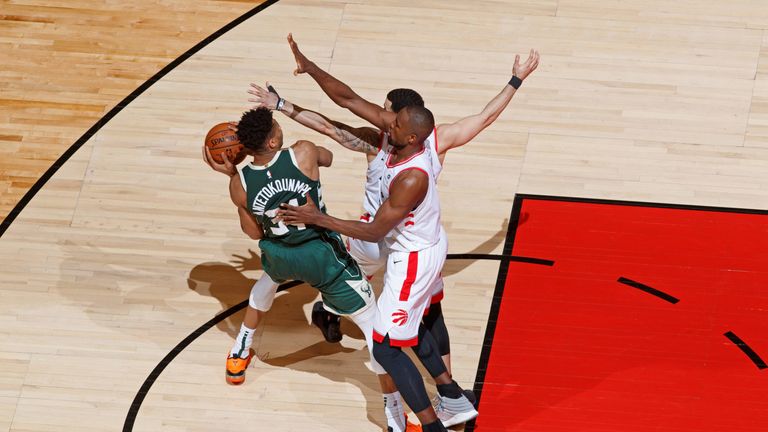 To do so means building a defensive wall against ball handlers, particularly in transition, where the Bucks are at their best. Having given up 46.7 paint points per game in the first three, the Raptors needed to stop Milwaukee from getting there.
This meant using multiple defenders essentially in a line above the free-throw area, denying holes for ball-handlers to drive through, and while this ran the risk of giving up the perimeter to a sweet-shooting Bucks team, they had answers for that, too.
Closing down everything
Look at this defensive possession from early in the fourth quarter.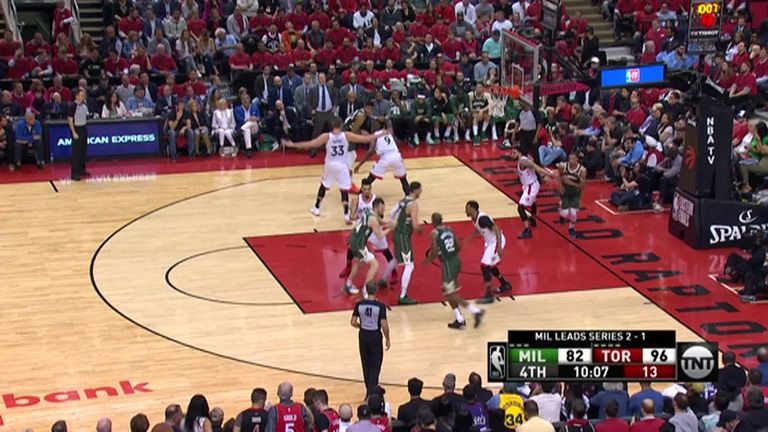 With the slower Serge Ibaka on Antetokounmpo, Toronto sent a double-team with Marc Gasol. Giannis drove the possession anyway, drawing defenders and kicking the pass to a shooter.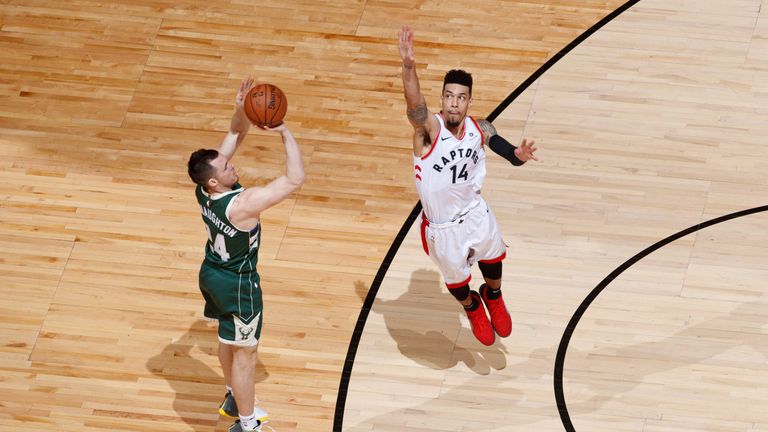 The risk with any double is that someone, somewhere is open, and here Pat Connaughton gets a look from outside. It is not open for long, though; Danny Green is quick to rotate over and cleanly contest Connaughton's attempt, forcing the miss.
No defense can take everything away, yet this recognition of when and who to match up with formed the foundation of everything the Raptors did defensively. Wherever the Bucks went, the Raptors got there first.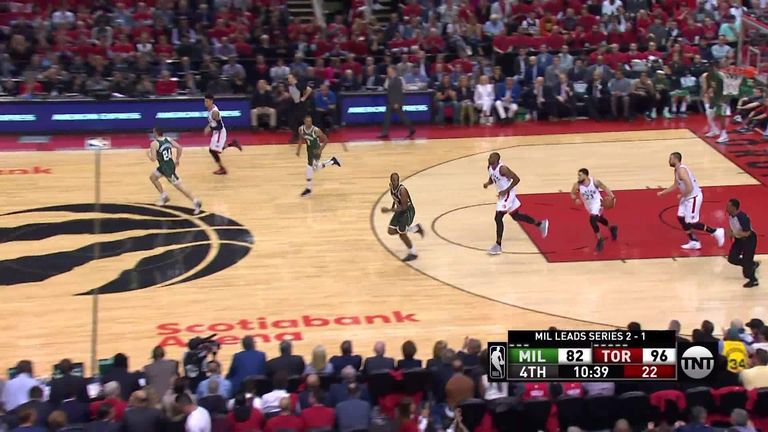 Limiting turnovers, rebounding, picking up earlier and their own scoring
Trying to stop Antetokounmpo in transition is like trying to stop a train with a fishing rod. Yet in a variety of ways, Toronto slowed Milwaukee down.
Milwaukee, normally, are one of the NBA's best rebounding teams. They led the league in the regular season by grabbing 80.3 per cent of available defensive rebounds and were second in total rebounding percentage at 52.3 per cent.
However, incorporating the physicality and the fire outlined below, Toronto were able to offset that and won the rebound battle in Game 4. They did so in part through a feisty and scrappy performance on the glass by Serge Ibaka, who is finding ways to contribute in this series.
The Raptors also helped their defense by scoring well themselves. The old saying goes that the best offense is a good defense. But the same is also true in reverse; Toronto slowed the game down by making the Bucks repeatedly have to pick the ball out of the net after a made basket.
They also turned the ball over less. In game four, the Raptors committed only 11 turnovers, and of that, only eight were of the live-ball variety, which allowed play to immediately come back the other way.
Of those eight, only six led to quick Bucks scoring opportunities. Toronto got somewhat lucky in that the Bucks uncharacteristically hit only two of these six shots. But the fact that there were only six to begin with is to Toronto's credit.
When live-ball transition opportunities did come, or even when Milwaukee just sought to push the pace off missed shots, the Raptors picked them up earlier. The Raptors particularly stood out in this area in Game 4, giving up only 13 fast-break points all game, halving the 27.3 they conceded on average through the first three.
The idea that good transition defense involves getting your defenders back into their half is only partly true. It is not much use if they are flat-footed and/or not guarding anyone. See this clip from early in Game 4 - Toronto has all five defenders back, yet Giannis gets a dunk anyway.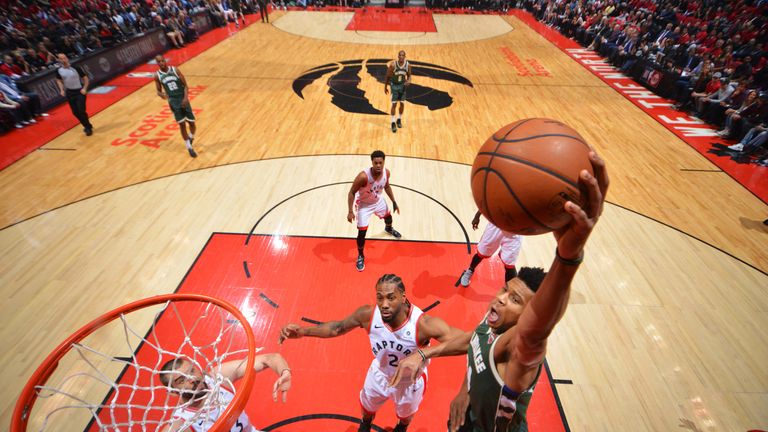 However, picking Giannis up earlier with someone quick enough to defend him changes that.
A few minutes later, Kawhi was able to pick up a streaking Antetokounmpo from just inside the half court line and was able to impede him enough to force the miss.
Kawhi on Giannis and double-teams
Kawhi Leonard's superstardom has always come from his abilities on both ends of the court. Arguably the league's best defensive forward since Scottie Pippen, his versatility and individual brilliance as a defender make him the rare and special two-way superstar.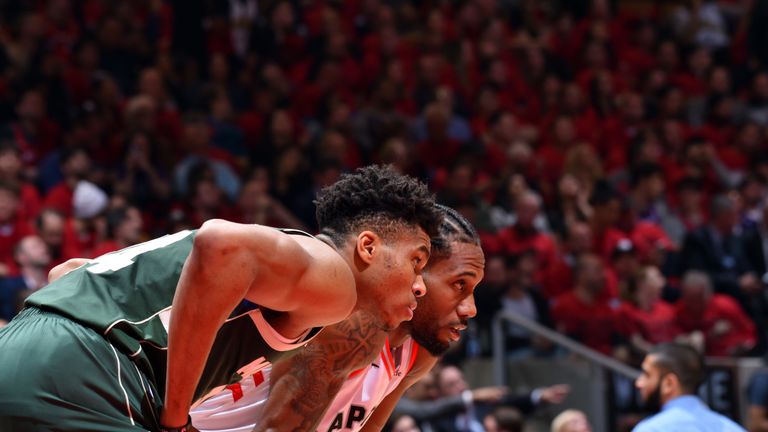 Because they need him so much offensively, the Raptors wanted to not have to rely on Leonard checking Giannis on defense much if they could avoid it.
After Game 2, however, they have had to concede the need to do this. Without OG Anunoby and reliable depth, resulting in many smaller guard-heavy line-ups that lacked the pre-requisite length, the Raptors needed a strong wing with size and speed to try and check the Greek Freak.
That player is Leonard, and Nick Nurse subbed Leonard in and out of game whenever Giannis did, to maximise the amount of time Toronto could have that favourable match-up.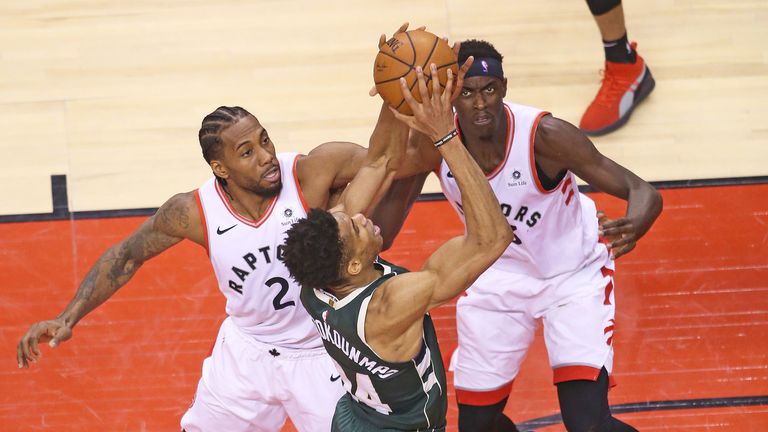 When not able to get that match-up, the Raptors countered with double-teams. When Giannis would face or post up, Toronto would send help, without waiting for him to first begin his move. This often took the form of Gasol, not a fleet-of-foot defender but a heady one who knows when and where to rotate. Faced with two opponents, Antetokounmpo often had to give the ball up. And from there, the Raptors quickly closed on the shooters.
Strategic switching
When able to get the favourable Leonard match-up without needing to double, the Raptors sought to keep it that way. As otherwise innocuous as this possession looks, notice the strategic defensive decisions Toronto makes when faced with a simple Milwaukee off-ball cut.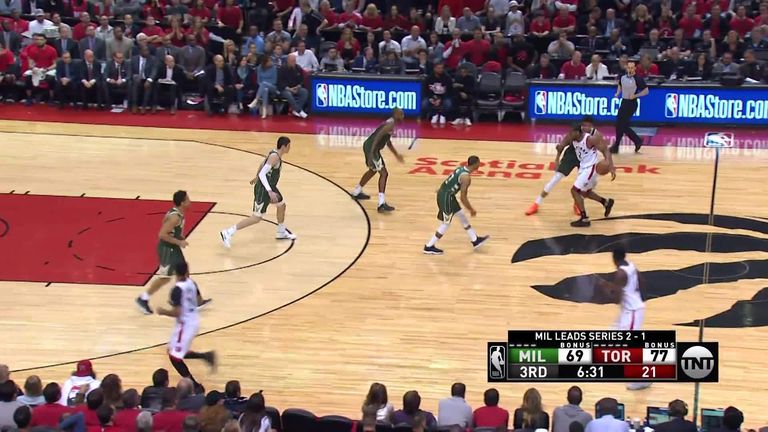 Giannis makes his half-court living calling for screens, having defending teams switch smaller players onto him, then taking them into the post and scoring over. Even though opponents know he wants to do this, they are hard-pushed to stop it when Milwaukee runs enough off-ball cuts and screens that defenders can, in theory, only keep up with if they switch.
Toronto, though, avoided this. Kawhi picks up Giannis as designed, and Pascal Siakam (another lengthy, quick defender) is on Khris Middleton. The Bucks are trying to switch a guard onto Antetokounmpo, so Malcolm Brogdon dutifully sets a decoy slip screen onto Siakam, with the hope that Brogdon's defender, the much-smaller Norman Powell, would switch onto Middleton. From there, Middleton could screen for Giannis, and hopefully force Powell and Leonard to switch as well, leaving Powell having to defend Antetokounmpo, to whom he would give up a lot of size.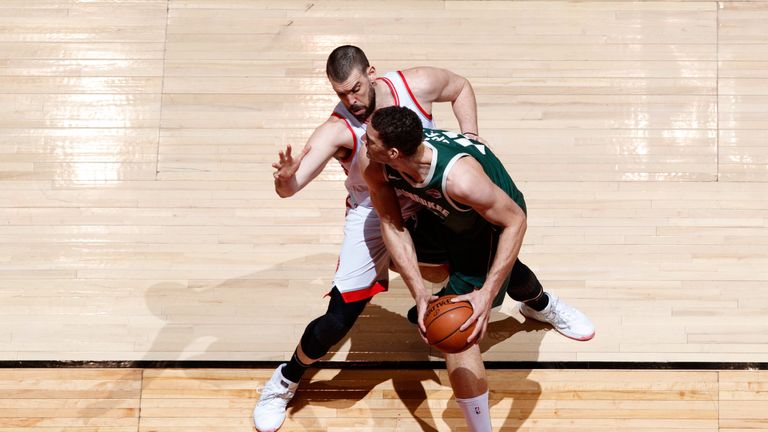 Through good communication, however, Toronto retained the match-up they wanted. They allowed the switch against Kawhi, but by preventing needing to switch between Middleton and Brogdon, Kawhi ends up switching with Siakam rather than Powell. Siakam versus Giannis is a match-up Toronto likes, and, aided by Marc Gasol's help defense, Antetokounmpo is forced into a tough shot, which he misses. With their opponent in an inefficient area of the court going one-on-one with one of their better defenders, the Raptors won this battle.
Physicality
The usual line of thinking goes that in the playoffs, NBA teams are allowed to defend each other more physically than in the regular season. That is proving to be so in this series; the refs are letting the teams play.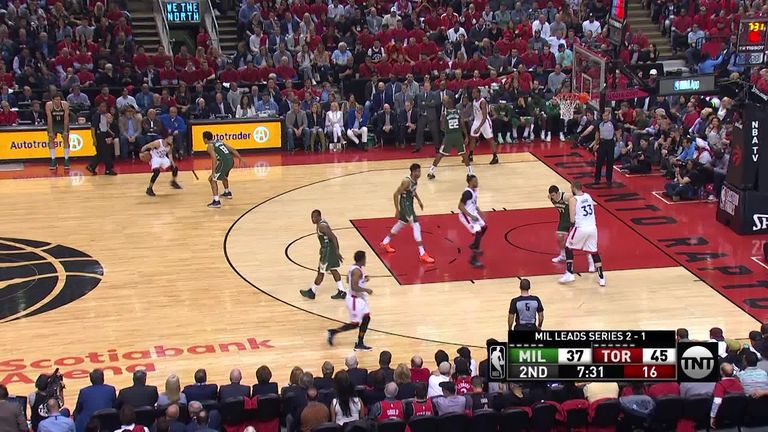 Making this a particularly fruitful strategy is that Antetokounmpo, an average free throw shooter at the best of times and possibly under the influence of Drake, has been missing his free throws. Putting him at the line is not hurting the Raptors, allowing them to play even more physically against him, not worried about foul calls.
Will Milwaukee respond in Game 5?
To counter all this, Milwaukee's players need to move both the ball and themselves more. The best team throughout the regular season is not used to being a challenge that others can rise to; reports that the defeated Bucks were quiet and stilted in the locker room after the game speaks to how significant of a performance the Raptors put up in Game 4. The Bucks, it seems, are rattled.
Now, then, it is their turn to change the game plan. Because the Raptors really are that good defensively.
Offense, especially outside shooting, is subject to a high degree of variance. Sometimes, the shots just don't go in. But the Raptors sure seem to find opponents have those variance-affected nights against them, and the defensive strategy and execution above is why.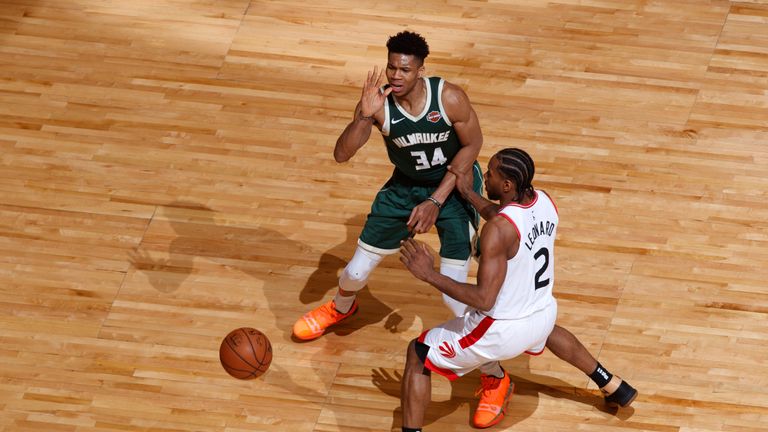 This is not an anomalous occurrence. Occasional slip-ups aside, the Raptors did this to both the Philadelphia 76ers and Orlando Magic in the first two rounds; their defense really is this good. The difference is in the quality of the opponent. But defense, as they say, wins champions. And right now, Toronto's defense is rattling the NBA's best team.
After the first two games, we examined whether the Bucks, being built not unlike the LeBron James-led Cleveland Cavaliers that have been the Raptors' Achilles heel for three consecutive seasons, would be a match-up so unfavourable that the Raptors could never overcome.
The verdict is in now, though - nope. These new Raptors are ready to fight.
Watch Raptors @ Bucks Game 5 live on Sky Sports Arena in the early hours of Friday morning (1:30am)
Want to watch the NBA but don't have Sky Sports? Get the Sky Sports Action and Arena pack, click here.