Vlade Divac and Jack Sikma were big men who could pass and shoot, helping redefine the post position in the NBA.
The pair also were the centers of attention on Thursday, receiving their orange jackets and awaiting induction at the Naismith Memorial Basketball Hall of Fame.
Divac was among the early wave of Europeans to join the NBA. The 7-foot-1 Serbian came to the Los Angeles Lakers in 1989 and played in the NBA until 2004. He finished with more than 13,000 points, 9,000 rebounds, 3,000 assists, and 1,500 blocks.
Sikma averaged 15.6 points, 9.8 rebounds and 3.2 assists in 14 seasons. He was the only center to lead the league in free throw percentage for a season.
They will be inducted on Friday along with the WNBA's Teresa Weatherspoon, NBA players Sidney Moncrief, Al Attles, Carl Braun, Chuck Cooper, Bobby Jones and Paul Westphal and coach Bill Fitch.
Also entering the shrine are two college teams: the Tennessee A&I men from 1957-59, the first to win three straight titles; and the Wayland Baptist women's teams that won 131 consecutive games from 1953-58.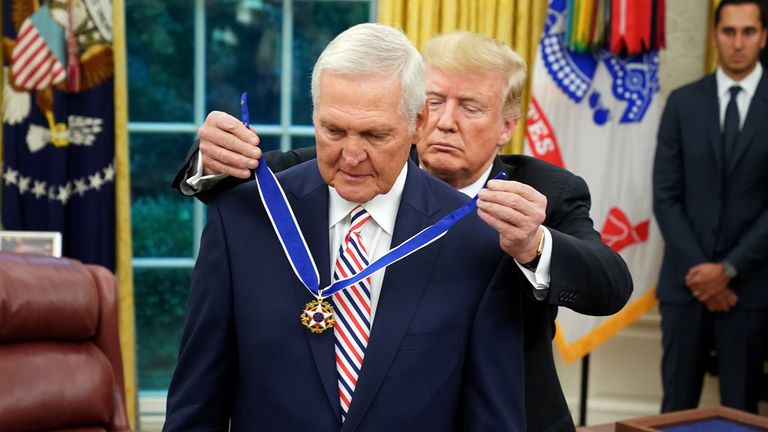 Meanwhile, US President Donald Trump has awarded the Presidential Medal of Freedom to pro basketball great Jerry West, formerly of the Los Angeles Lakers, during a White House ceremony.
Trump says West "richly deserved" the medal for his years as a player, general manager and supporter of the nation's war veterans.
The 81-year-old West noted his humble beginnings growing up in West Virginia and where sports has taken him, saying "it never ceases to amaze me the places you can go in this world chasing a basketball".
Last month, Trump awarded the medal to 91-year-old basketball great Bob Cousy. Earlier this year, golfer Tiger Woods received the same honor.
Want to watch the NBA and WNBA but don't have Sky Sports? Get the Sky Sports Action and Arena pack, click here.