Wasps to face Surrey Storm in Vitality Superleague opener
Champions' defence will begin on Sky Sports on February 10 at 7pm
By Sky Sports Netball
Last Updated: 16/10/17 9:16pm
Wasps will begin the defence of their Vitality Superleague title at home to Surrey Storm after the release of the fixtures for the 2018 season.
In their debut season, Tamsin Greenway led the franchise to a thrilling title, beating Loughborough Lightning, who topped the end of season standings, in the final at Birmingham's Barclaycard Arena.
The Coventry-based outfit were one of three new teams in the 2017 season as a revamped competition lived up to its billing with the race for the top four places going down to the final weekend of the regular season.
All 10 teams are back for 2018 when Greenway will be chasing a fourth successive title having won in each of her final two seasons with Storm and her new team will host her old in the pick of the Round One fixtures and it will be the first of a host of live action you can see on Sky Sports.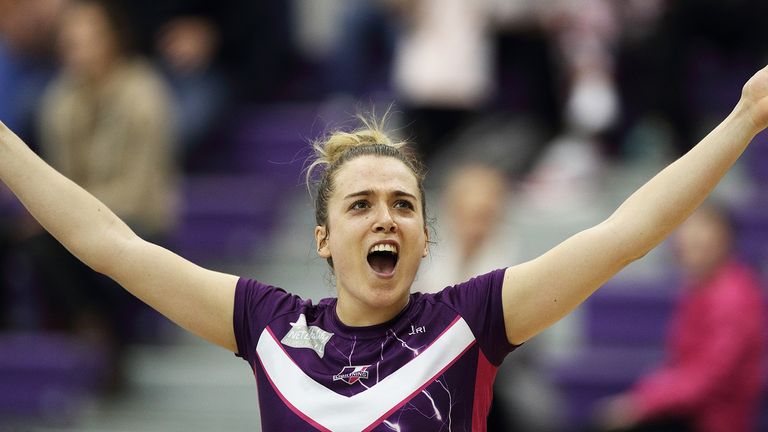 Lightning, who lost just once in the regular season, start life under a new coach with Karen Atkinson stepping down and Anna Carter joining as director of netball, begin against UWS Sirens - renamed after entering into partnership with the University of the West of Scotland.
There is another rebrand as benecosMavericks (formally Hertfordshire Mavericks) take on Celtic Dragons, while Manchester Thunder begin against Seven Stars and Team Northumbria host Team Bath.
England internationals Jade Clarke (Wasps), Kadeen (Team Bath) and Sasha Corbin (Mavericks) have all announced their returns to the Superleague and announcements will continue over the coming weeks.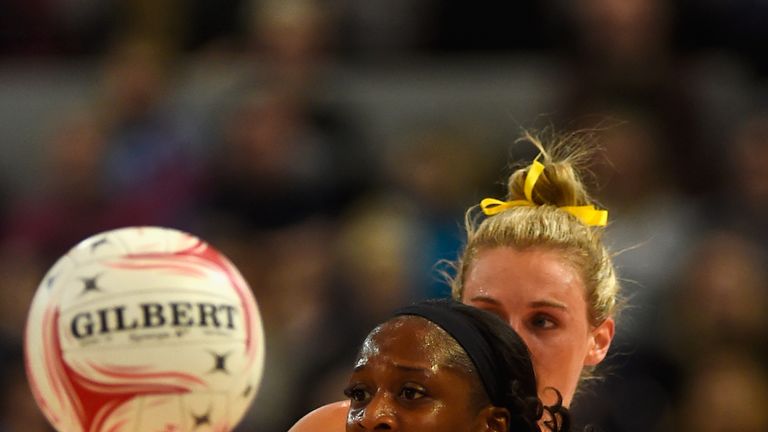 London's Copper Box Arena will host games once again including the Corbin sisters reunion where Sasha's Mavericks will host Team Bath in Round Nine and Surrey Storm's clash with Loughborough in Round Six.
With the Gold Coast 2018 Commonwealth Games taking place from April 5-15, the Superleague will take a break after Round 7 concludes on March 18 and will resume a month later on the weekend of April 21/22.
The regular season concludes on June 25 with the semi-finals a week later on June 30 and the Grand Final scheduled for July 7.
2018 Vitality Superleague Fixtures
Round One
Feb 10
Team Northumbria v Team Bath (6pm)
Loughborough Lightning v UWS Sirens (6pm)
Severn Stars v Manchester Thunder (6pm)
Wasps Netball v Surrey Storm (7pm) - live on Sky Sports
Feb 12
Celtic Dragons v benecosMavericks (7pm)
Round Two
Feb 17
Severn Stars v Wasps Netball (6pm)
Team Northumbria v Loughborough Lightning (6pm)
Feb 19
Celtic Dragons v Team Bath (7pm)
Manchester Thunder v UWS Sirens (7pm) - live on Sky Sports
benecosMavericks v Surrey Storm (7:30pm)
Round Three
Feb 22
Wasps Netball v UWS Sirens (7pm)
Feb 23
Manchester Thunder v Team Northumbria (7:30pm)
Team Bath v Surrey Storm (7:30pm)
Feb 24
benecosMavericks v Severn Stars (4pm)
Loughborough Lightning v Celtic Dragons (6pm)
Round Four
Feb 26
Celtic Dragons v Surrey Storm (7pm)
Loughborough Lightning v Manchester Thunder (7pm) - live on Sky Sports
UWS Sirens v Team Northumbria (7pm)
benecosMavericks v Wasps Netball (7:30pm)
Severn Stars v Team Bath (7:30pm)
Round Five
Mar 2
Team Bath v UWS Sirens (7:30pm)
Mar 3
Manchester Thunder v Celtic Dragons (5pm)
Loughborough Lightning v Wasps Netball (6pm)
Severn Stars v Surrey Storm (6pm)
Mar 5
Team Northumbria v benecosMavericks (7pm) - live on Sky Sports
Round Six
Team Bath v Manchester Thunder, TBC
Mar 10
Celtic Dragons v Severn Stars (4pm)
benecosMavericks v UWS Sirens (6pm)
Surrey Storm v Loughborough Lightning (6pm) - live on Sky Sports
Wasps Netball v Team Northumbria (7pm)
Round Seven
Mar 16
UWS Sirens v Severn Stars (7pm) - live on Sky Sports
Manchester Thunder v benecosMavericks (7:30pm)
Mar 17
Loughborough Lightning v Team Bath (6pm)
Team Northumbria v Surrey Storm (6pm)
Mar 18
Wasps Netball v Celtic Dragons (6pm)
Round Eight
Apr 21
Manchester Thunder v Surrey Storm (5pm)
Team Northumbria v Severn Stars (6pm)
Loughborough Lightning v benecosMavericks (7pm)
Apr 22
Wasps Netball v Team Bath (3pm) - live on Sky Sports
May 28
UWS Sirens v Celtic Dragons (7pm)
Round Nine
Apr 27
Wasps Netball v Manchester Thunder (7pm)
Apr 28
UWS Sirens v Surrey Storm (2pm)
Celtic Dragons v Team Northumbria (4pm)
Severn Stars v Loughborough Lightning (6pm)
Apr 29
benecosMavericks v Team Bath (5pm) - live on Sky Sports
Round 10
Mar 12
Wasps Netball v Severn Stars (7pm)
May 4
Team Bath v Celtic Dragons (7:30pm)
May 5
UWS Sirens v Manchester Thunder (2pm)
Loughborough Lightning v Team Northumbria (6pm)
Surrey Storm v benecosMavericks (6pm)
Round 11
May 7
Surrey Storm v Celtic Dragons (3pm)
Manchester Thunder v Loughborough (5pm)
Team Bath v Severn Stars (5pm) - live on Sky Sports
Team Northumbria v UWS Sirens (6pm)
June 18
Wasps Netball v benecosMavericks (7pm)
Round 12
May 12
UWS Sirens v Wasps Netball (2pm)
Severn Stars v benecosMavericks (6pm)
Surrey Storm v Team Bath (6pm)
Team Northumbria v Manchester Thunder (6pm)
May 14
Celtic Dragons v Loughborough Lightning (7pm)
Round 13
benecosMavericks v Celtic Dragons, TBC
Team Bath v Team Northumbria, TBC
May 18
UWS Sirens v Loughborough Lightning (7pm)
Surrey Storm v Wasps Netball (7:30pm)
May 19
Manchester Thunder v Severn Stars (5pm)
Round 14
May 25
Celtic Dragons v Manchester Thunder (7pm)
May 26
UWS Sirens v Team Bath, 26th May (2pm)
benecosMavericks v Team Northumbria (6pm)
Wasps Netball v Loughborough Lightning (7pm)
May 28
Surrey Storm v Severn Stars (7pm) - live on Sky Sports
Round 15
June 1
Team Bath v benecosMavericks (7:30pm)
June 2
Surrey Storm v UWS Sirens (6pm)
Team Northumbria v Celtic Dragons (6pm)
Loughborough Lightning v Severn Stars (7pm)
Manchester Thunder v Wasps Netball, (tbc) - live on Sky Sports
Round 16
June 8
Team Bath v Loughborough Lightning (7:30pm)
June 9
Celtic Dragons v Wasps Netball (4pm)
Surrey Storm v Team Northumbria (6pm)
benecosMavericks v Manchester Thunder (6pm)
June 11
Severn Stars v UWS Sirens (7pm) - live on Sky Sports
Round 17
June 15
Team Bath v Wasps Netball (7:30pm)
June 16
Celtic Dragons v UWS Sirens (4pm)
benecosMavericks v Loughborough Lightning (6pm)
Severn Stars v Team Northumbria (6pm)
Surrey Storm v Manchester Thunder (6pm)
Round 18
June 21
UWS Sirens v benecosMavericks (5:30pm)
June 23
Manchester Thunder v Team Bath (5pm)
Team Northumbria v Wasps Netball (6pm)
June 25
Loughborough Lightning v Surrey Storm (7pm) - live on Sky Sports
Severn Stars v Celtic Dragons (7:30pm)
Semi-Final
June 30
1st place v 4th place (tbc)
2nd place v 3rd place, 30th June (tbc)
2018 Grand Final
July 7
Winner SF1 v Winner SF2 (tbc)
Follow the 2018 Vitality Superleague season with us on Sky Sports and through our website skysports.com/Netball also our app for mobile devices and iPad, or follow our Twitter account @SkyNetball