England up to second in world rankings as automatic qualifiers for Netball World Cup 2019 are confirmed
Roses already qualified as host nation for tournament to be held at Liverpool's Echo Arena in July
By Paul Prenderville
Last Updated: 02/07/18 3:22pm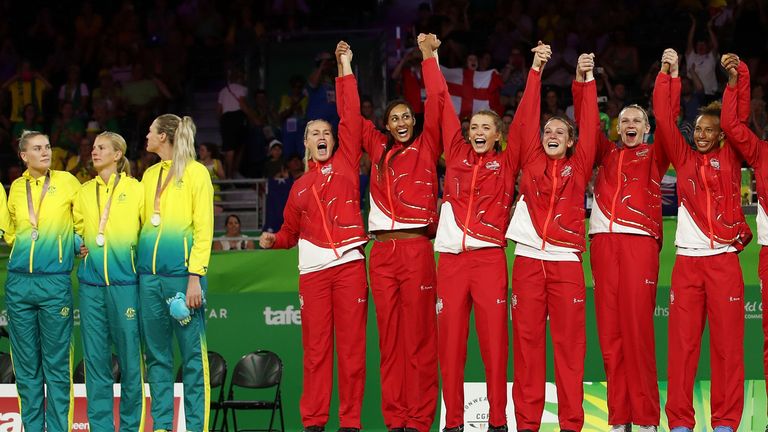 England have moved up to second in the latest Netball World rankings which has confirmed the five other automatic qualifiers for Netball World Cup 2019.
The International Netball Federation released the latest rankings update, with the added significance of confirming the other nations who will not need to go through qualification for the event.
Australia, New Zealand, Jamaica, South Africa and Malawi complete the top six and England's victory over Australia to win Commonwealth gold means they have leapfrogged New Zealand in the rankings for the first time.
Northern Ireland, Scotland, Samoa and Fiji have already booked a place in Liverpool coming through regional qualifying tournaments earlier in 2018, and the confirmation of the five automatic nations joining England means the picture is becoming clearer.
Netball World Cup 2019 takes place in England at Liverpool's Echo Arena from July 12 to 21 next year and Monday's news means the match schedule for the Preliminaries Stage One group phase for the seeded teams has also been confirmed - https://www.nwc2019.co.uk/schedule/
Six more places are to be decided in the remaining three regions - Africa, Americas and Asia - and will be decided at regional qualifying tournaments held in August and September.
The final list of qualified teams will be confirmed by the INF in September 2018 when the final two seeds will be also be determined according to the world rankings and then the remaining eight teams drawn into groups.
Latest Netball World rankings and seeds for World Cup
Seed
(1) Australia
(2) England
(3) New Zealand
(4) Jamaica
(5) South Africa
(6) Malawi
It's all eyes on next week's Grand Final as the 2018 campaign reaches its dramatic conclusion live on Sky Sports Mix and Main Event with coverage of Wasps v Loughborough from 4.30pm on Saturday and centre pass at 5pm.
You can now receive all the latest Vitality Superleague news and more on your personal devices. The Sky Sports mobile app will keep you up to date with the latest news from your favourite sports, including netball - here's how to receive the alerts you want.