Tracey Neville reflects on a year of success on and off the netball court
Vitality Roses were named Team of the Year at the 31st Sunday Times Sportswomen of the Year Awards on Thursday evening
Last Updated: 22/11/18 3:34pm
After winning Commonwealth gold and claiming the Sportswomen Team of the Year award, Tracey Neville feels increased investment is the ultimate reward for England Netball.
The Roses pipped the women's British Wheelchair Basketball team, Chelsea Football Club and Team GB's 4x100m relay team to the post after their historic gold medal at the Commonwealth Games on the Gold Coast in April.
England memorably beat hosts Australia to claim a first major gold medal, and Roses head coach Neville spoke to Sky Sports about the journey and the benefits that are now being reaped, not only with awards but, more importantly for the sport, sponsorship.
Ama Agbeze, Helen Housby, Jo Harten and Geva Mentor took to the stage to collect the award - which England last won in 2013 - on behalf of the entire squad, and it comes just weeks after a spate of good news.
Increased participation figures, trailblazing sponsorship deals, and a growing profile for netball in the UK that saw more than 1.8 million people watch the gold medal match, will not have hurt in the campaign to increase recognition of the sport.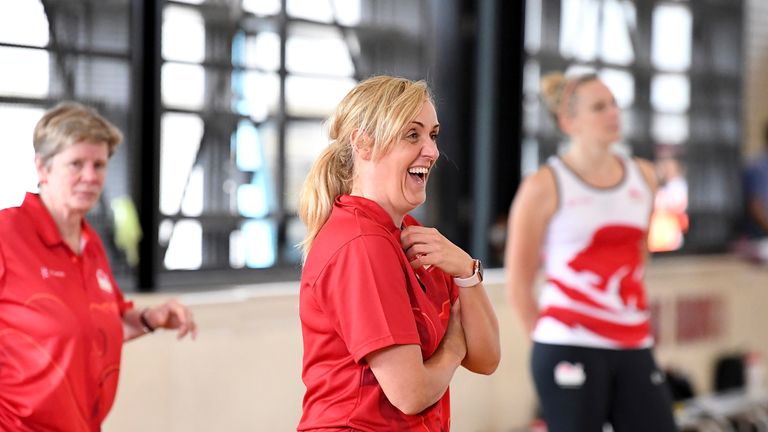 "We need to be world class both on and off the court."
Tracey Neville, England Head Coach
Neville is the brains behind the gold medal, moulding a squad that beat the world No 1-ranked side on their own patch, but, to her, the three-year deal with Vitality, which is thought to be one of the largest deals in women's sport in the UK, is a sign of greater things to come.
"For them to increase funding is huge. Sustainable income is absolutely crucial in sport and that has to come from generated revenue, so that is a massive plus," she told Sky Sports.
"Vitality have been with us from the start, they've really invested in our sport from the beginning of my reign with England Netball. The way they market everything is superior to any other sponsorship.
"They actually take a real look at where we're going with the sport - not just on a performance level but more on a participation level and that's something they're great supporters of."
The increasing sponsorship and participation is huge for England Netball - it is the golden ticket to growing the sport in every facet, from grassroots to elite level, which is vital ahead of and beyond a home Netball World Cup in Liverpool next July.
With another landmark sponsorship deal set to be announced later this year, alongside the gold medal and now the Team of the Year award, England Netball are proving a point, that they are only just getting started, and they are here to stay.
England are back in action on home soil and on Sky Sports Action later this month with the three-Test Series against Uganda which gets underway on Thursday November 27 at Liverpool's Echo Arena.
A huge 2019 will feature another thrilling Vitality Superleague which is just two months away and starts with the Super 10 on Saturday January 5. live on Sky Sports.
You can now receive all the latest Vitality Superleague news and more on your personal devices. The Sky Sports mobile app will keep you up to date with the latest news from your favourite sports, including netball - here's how to receive the alerts you want.